Avaliação de Hotel do Oyster
Cambridge Beaches
Local
A luxurious haven spread along a 23-acre private peninsula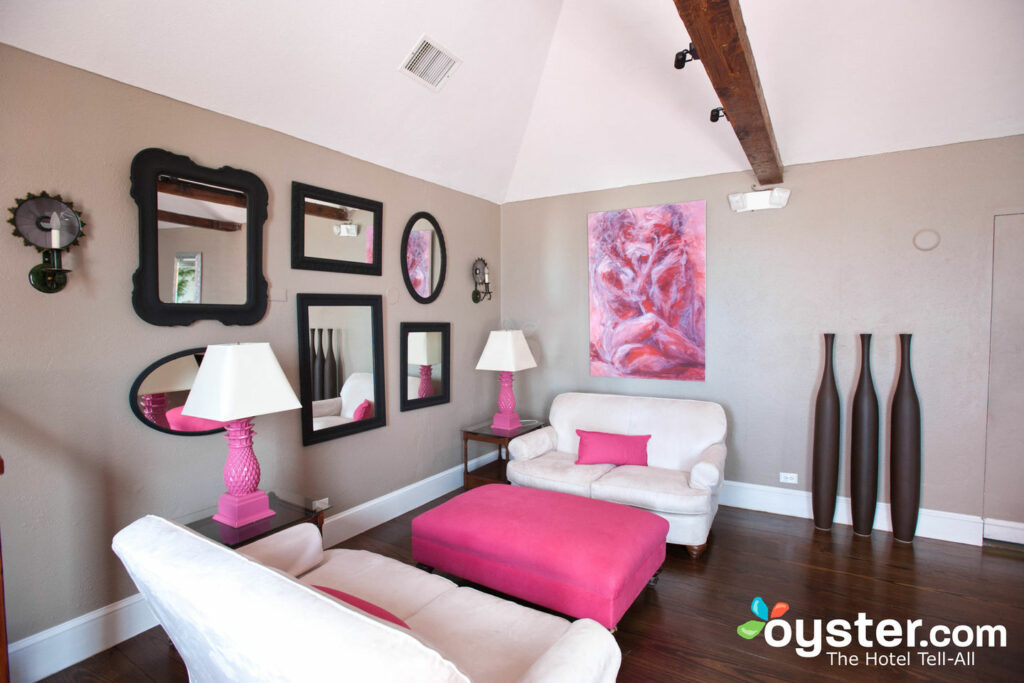 Bermuda is a decidedly proper island when compared to its closest neighbors in the Caribbean. Here, afternoon tea is a daily ritual and jackets are often required for dinner. Nowhere is this chic elegance more emphasized than at Cambridge Beaches Resort, a 30-acre retreat located on the island's westernmost edge.
This 86-key resort's sophistication is palpable from the moment you arrive in the reception area, which is comprised of a handful of tastefully furnished connecting rooms that range in decor from old English library (massive gilt-edged books and antique globes), to country manor (vaulted wood-beam post ceilings and comfy wingback chairs), to trendy lounge (a collection of ornate mirrors and funky pink accents). This mishmash of styles continues throughout, whether in the classic Bermudian bar, the pretty salmon-colored formal dining room, the perfectly manicured cricket lawn, the decadent spa and indoor pool complex, or the crisp and colorful rooms.
Like many resorts on the island, Cambridge Beaches has a fascinating history, dating back to the 1600s when a former sea captain and one-time island governor placed this coveted parcel of land along Mangrove Bay for sale. Today, the resort, though modern and even somewhat trendy, has lovingly maintained the former owner's residence, converting it into one of its most expensive guest units, the two-bedroom Pegem Cottage, which features its own private gardens and traditional Bermudian decor. Most of the remaining units are significantly smaller (and several of them do not have the same stunning ocean views), however, all have marble bathrooms and colorful interiors.
Elegance, charm, and heritage, of course, come at a price, and Cambridge Beaches certainly has a high one. In fact, the resort rivals the newer Rosewood Tucker's Point for the most expensive rates on the island. Nonetheless, four private beaches, three restaurants, two pools, an on-site marina, and a neighboring nature preserve work hard to justify the wallet-slimming cost. The recently completed main pool is especially alluring with its waterfalls, multi-level decks, sexy slender palm trees, and beachfront location; as is the tranquil 10,000-square-foot Ocean Spa, which features a Roman-style solarium and holistic treatment menu.
If anything, the resort-wide level of relaxation is almost a bit too much, and you might just feel compelled to whisper when you open your mouth. (During breakfast, for instance, the Tamarisk restaurant was full, and yet you could have heard a pin drop). Those looking for something less prim and more energetic might think twice about this isolated and (mostly) kid-free option.
Ver Mais Local
Lugar
Along a private 23-acre peninsula in the westernmost part of Bermuda
Situated in Sandys Parish along the "hook" of the island, Cambridge Beaches claims to have the best sunset views due to its westernmost location. Unfortunately, such isolation comes with a total lack of activities within walking distance, and hefty cab fares will be a considerable issue for those hoping to see the rest of the island during their stay. Luckily, between April and October, the resort offers its own free ferry to downtown Hamilton, where the majority of city life takes place. Moped rentals are also available on-site.
In an effort to permit as few vehicles as possible on the island, car rentals are strictly forbidden. Even locals are allowed only a single car per household -- something you'll notice when you see the never crowded lush, winding roads that unobtrusively snake through the island. Taxis are reliable and metered according to state law, so there is no need to negotiate fares; however, rates are exceptionally high.
Those looking to save on few cab fare might consider renting a moped, the islanders' preferred mode of transportation. While safety may be an issue for some, a local speed limit of just 35 km (about 21 mph) will likely assuage most fears. Consider the less expensive ferries and local pink-and-blue buses to cover longer distances between "the hook" (Bermuda's westernmost island), the main city of Hamilton, and the beaches along the southern side of Warwick and Southampton.
45-minute drive to Bermuda International Airport
10-minute walk to public ferry in Somerset
10-minute drive to the Royal Naval Dockyards, which features the Bermuda Maritime Museum, Dolphin Quest, and Snorkel Peak Beach
10-minute drive to Port Royal Golf Course
15-minute drive to Gibbs Hill Lighthouse
15-minute drive to Horseshoe Bay
30-minute ferry ride to Hamilton (provided free directly from the resort between April and October)
Ver Mais Lugar
Quartos
Eclectic decor -- ranging from light and airy to rich and sophisticated -- with balconies or patios in all rooms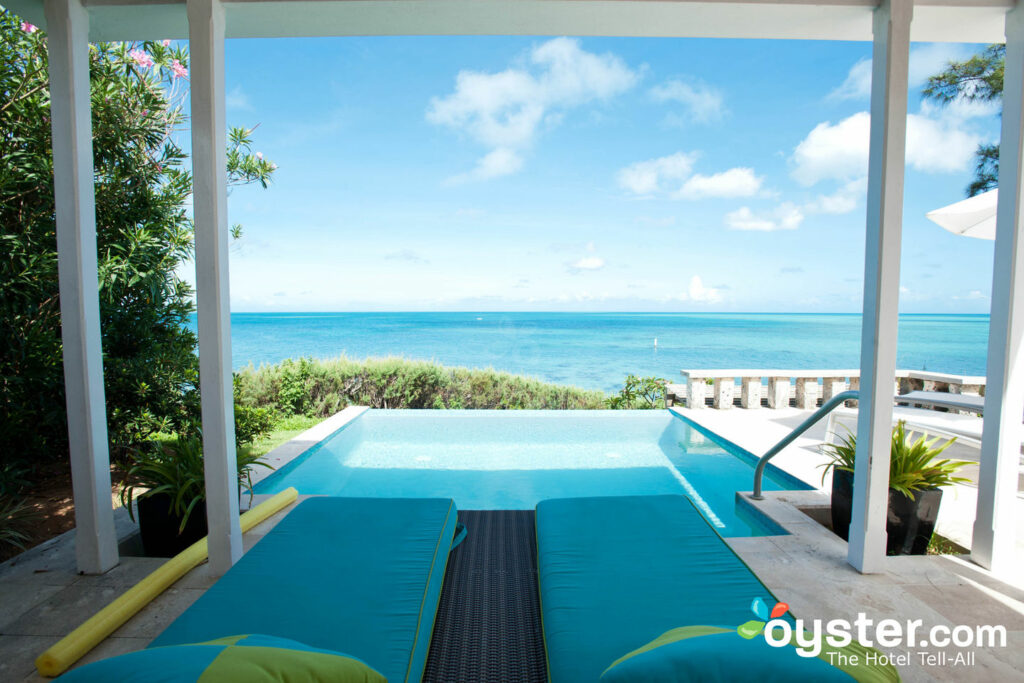 Bermudian resorts are an easy sell when viewed from the outdoors. But more often than not, beyond the crystalline blue waters, dramatic peaks, and overgrown jungles are some seriously shabby rooms. Cambridge Beaches is different. Although some cottages date back as far as the 17th and 18th centuries, all rooms are modern with crisp linens, colorful pillows and lamps, luxurious marble bathrooms, and garden- or ocean-view balconies. The more expensive rooms have the best views, but it's the suites and cottages that really impress with Jacuzzis, expansive floor plans, and even private infinity-edge pools in some units.
Private terraces or patios, some with garden views and others with ocean views.
Spacious marble bathrooms with high-end Molten Brown bath amenities. All have jetted soaking tubs, but these are combined with the showers in the lower-level rooms.
Plush robes and slippers
Nespresso Coffee Machines
Free Wi-Fi
Ceiling fans
The cheapest rooms are the Standard Garden Views, which start at 400 square feet and include jetted soaking tubs in the bathrooms and private patios. For an ocean view, you'll need to upgrade to a Standard Water View, which is otherwise essentially the same.
The 500-square-foot Deluxe Rooms, and 575-square-foot Deluxe Premium Rooms have an additional sitting and dressing area, as well as ocean views.
Nine ocean-view suites (including three Pool Suites, each with its own infinity-edge pool) measure around 800 square feet. These units are the newest, and include Bose surround-sound systems and spa bathrooms with deep soaking tubs, dressing rooms, his and hers vanities, and bidets.
Three two-bedroom Signature Cottages include full kitchens. The Pegem Cottage is a 300-year-old sea captain's house overlooking the bay.
Ver Mais Quartos
Recursos
Two pools, three restaurants, and four beaches make for a glamorous.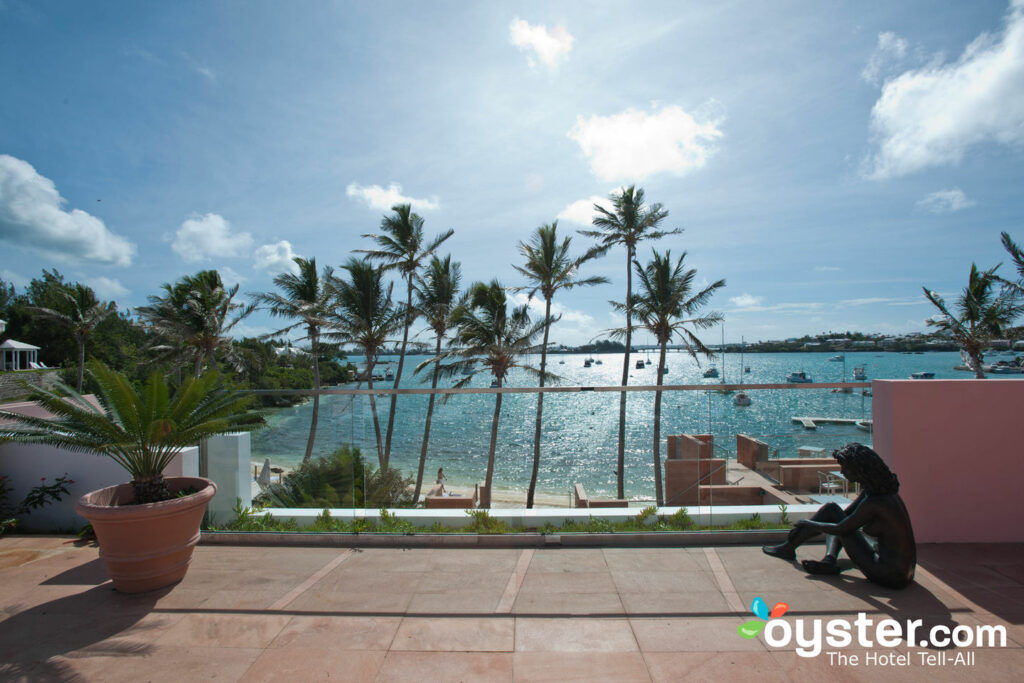 Four private beaches -- the intimate Turtle Cove Beach, the dockside Pegem Beach on Mangrove Bay, and Long Bay Beach, which includes a waterfront restaurant and bar
A multi-level infinity-edge pool surrounded by waterfalls, massive palm trees, an open-air restaurant and bar, and a private beach
A 10,000-square-foot Ocean Spa featuring a Roman-style solarium with retractable roof, current lap pool, Jacuzzi, six treatment rooms, steam room, mist room, sauna, and various "experience rooms" that use aroma, light and crystals to engage the senses
Fitness center with Cybex cardio equipment, weight machines, dumbbells, and yoga balls
On-site moped and bicycle rentals
Three lighted sport courts with Tennis, Pickle-ball and Basketball
An on-site marina with boat rentals and water sports, including snorkeling, kayaking, windsurfing, and fishing
An adjacent natural preserve shares the resort's property line.
On-site putting green and croquet lawn
Elegant, immaculately tended gardens and grounds
Free Wi-Fi throughout
A cozy library with Internet station and extensive volumes on Bermuda's history
Ver Mais Recursos
Tudo Incluído / Comida
Three restaurants, each with a distinct setting and menu, offering everything from elegant seafood to casual beachside bites and poolside tapas
The highly rated Tamarisk à Sunken Harbor Club -- The Bermuda chapter of the renowned New York City cocktail bar is now open at Cambridge Beaches as a dockside tavern and tropical cocktail bar with an adventurous menu. Highlighted by authentic Bermudian fare and local ingredients, Sunken Harbor Club offers a one-of-a-kind dining experience featuring vibrant flavors and innovative libations in a lively waterfront setting overlooking the sparkling Mangrove Bay.
More casual fare can be found at the seasonal beachside Breezes restaurant, which is located on Long Bay Beach right next to the Seaview Gardens Nature Preserve. The menu here is a simple yet delightful mix of surf and turf.
Shutters à Pastel Poolside bar and restaurant is a pastel-hued wonderland featuring an infinity-edged pool and private beach surrounded by sun, sand, and sky. With transfixing water views, we invite you to experience an array of Pastel delights – poke bowls, fish tacos, a sushi selection, spritzy cocktails, and our own house-made rainbow sherbet.
Ver Mais Tudo Incluído / Comida
Fotos de Hotéis e Comodidades
Comodidades
Academia

Ar-condicionado

Balcony / Terrace / Patio

Banheira de Hidromassagem

Bar na piscina

Cable

Centro de Negócios

Internet

Limpeza a Seco

Meeting / Conference Rooms

Piscina

Porteiro

Praia

Quadra de Tênis

Quarto / Sala de Estar Separados

Serviço de Bebidas ao Lado da Piscina

Serviço de Quarto

Spa

Televisão Básica

Transporte para o Aeroporto
Aviso: este conteúdo estava correto no momento em que o hotel foi revisado. Por favor, verifique nossos sites parceiros no momento da reserva para verificar se os detalhes ainda estão corretos.