Best Value Hotels on Anna Maria Island
Affordable beach vacations are even better when hotel perks like free Wi-Fi, laundry, parking, coffee, and beach gear are thrown into the mix. Take a look at the top value hotels on Anna Maria Island, on Florida's Gulf coast.
See All Anna Maria Island Hotels
1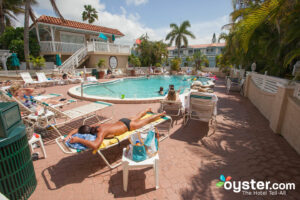 Right across the road from a white-sand beach, Tortuga Beach Resort is a family-friendly value hotel with 55 spacious and cheery apartments and studios. Every unit features a fully equipped kitchen, patio or terrace, and beach-y decor (think: wicker furniture and tropical prints). Water sports are available at the hotel's dock, and coffee, breakfast items, and snacks can be purchased at the small cafe. The convenient location and large rooms -- as well as three pools, a pet-friendly policy, and freebies like Wi-Fi and beach equipment -- make the property a favorite among families.
2
Located a block from the beach, An Island Getaway at Palm Tree Villas is a friendly and laid-back family-oriented property. White stone paths lined with lush plants and the occasional rope hammock lead to the three low buildings housing the eight homey apartment-style studios and villas. All units feature fully equipped kitchens (no cooktops in studios), private patios, flat-screen TVs, and free Wi-Fi (plus free coffee and cookies). Island Getaway's small heated outdoor pool, two grill areas with tables and chairs, and wide array of great freebies -- including laundry, beach chairs and umbrellas, and parking -- make it a convenient value pick for families and groups. For closer beach access, more pools, and an on-site dining option, consider Tortuga.
3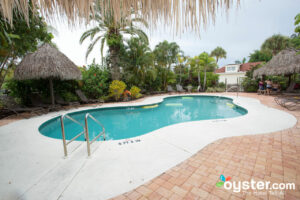 The Sunrise Garden Resort is a peaceful hideaway with 15 apartment-style studios and one- and two-bedroom units near the beach. All units have fully functional kitchens with refrigerators, microwaves, coffeemakers, and stoves, as well as outdoor patios or balconies. Decor throughout is basic and beachy, with pale walls, stained wood trimmings, antique anchors, and wood signs with kitschy sayings. A lagoon-shaped pool, surrounded by thick greenery, is at the center of the property, but as there is no restaurant, bar, or fitness center, the word "resort" in the name is a touch misleading. There does tend to be a generally older crowd, probably due to the fact that guests have to be at least 25 years old to check in. An Island Getaway at Palm Tree Villas is a bit closer to the beach, and offers free beach chairs and umbrellas.
4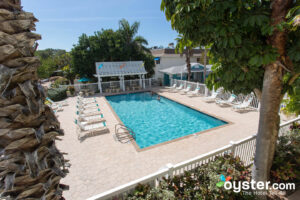 Tradewinds Beach Resort is a homey, beach-themed hotel that stretches between a private beach on one side and a bay (ideal for fishing) on the other. The 33 apartment-style rooms are a bit dated, but they're spacious and include flat-screen TVs, full-size kitchens, and living rooms with sofas. The hotel has an outdoor heated pool and offers beach accessories for guests to borrow, plus free Wi-Fi and a guest laundry room. But be aware that Tradewinds lacks on-site dining. Travelers may also want to consider Tortuga, which provides a small cafe.
5 Open since the 1950s, Haleys Motel and Resort has a quaint, intimate atmosphere and a charming tropical vibe. The property is just a few minutes' walk from the beach, and beach gear is available to borrow at no cost. When guests aren't at the beach, they can swim in the outdoor pool and barbecue in the lush garden. The 15 homey, coastal-themed rooms have mini-fridges, coffeemakers, and toasters (most also have stoves or cooktops). Some have small patios and all have free Wi-Fi. But bathrooms are small, some decor is dated, and rooms aren't cleaned daily. As an alternative, Tradewinds provides rooms with full-sized kitchens and patios and daily housekeeping.