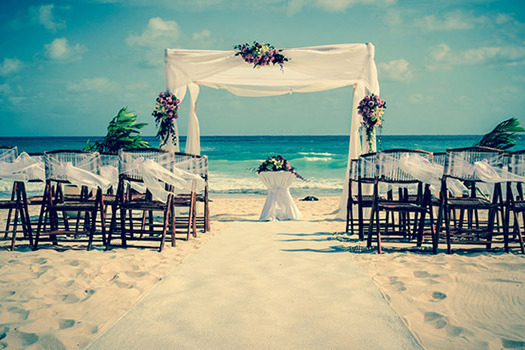 This story by Kate Sitarz originally appeared on SmarterTravel.
What isn't a destination wedding these days? Even if you're traveling just a few hours to a wedding, chances are you won't want to drive back that same night—especially if the reception includes an open bar.
My wedding wasn't a destination wedding by your typical standards (Rhode Island is a far cry from the resorts of Mexico or beaches of Costa Rica), but it did require us and many of our guests to fly from around the country to attend the ceremony and reception. Here's what we wish our guests had known—and what we would never do at someone else's destination wedding.
Don't Break A Commitment
Commitment isn't just between the two people getting married. When you say yes to going to a destination wedding, it's a big deal. It's on you to commit either way—going or not—by the RSVP date. Bailing at the last minute, even in a non-destination wedding situation, can leave the couple with an unnecessary expense (not to mention stress).
If you're asked to be involved in the wedding party but aren't sure you can do it, have an honest dialogue with the couple. Wishy-washy faux commitments make it hard to plan. It's difficult to say no to people you care about, especially if you really want to say yes. But your friends will be more appreciative of a firm answer one way or another rather than having to track down your answer after the RSVP date—or figure out what to do if you bail a few weeks before the wedding.
Related Link: How to Pack Formal Wear for a Wedding
Don't Bring Your Kids If They're Not Invited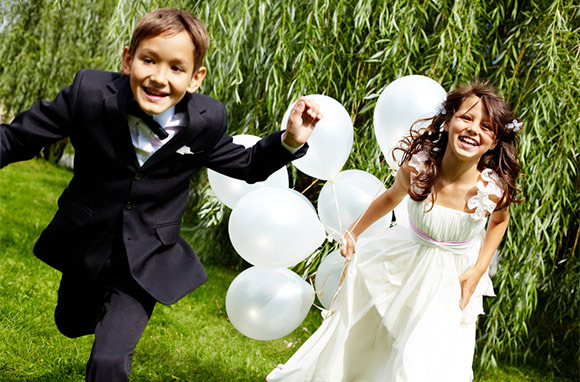 As a rule, the names on the invitation are the names of the people invited to the wedding. If you have kids and don't see their names on the invitation, you can safely assume they're not invited. Remember that the soon-to-be-married couple is forking over a small fortune to pull off the wedding and/or honeymoon of their dreams, and many couples now opt for childless weddings because it's more fun for all involved. (And you don't run the risk of unhappy children spoiling the ceremony or reception.)
Don't expect the couple to pay for babysitting services at the destination, either. While some couples may opt for this, many don't. Wouldn't you rather vet your own childcare arrangements, anyway? Couples may opt to have children attend the wedding as ring bearers or flower girls, but generally the no-kids rule—if that's what the couple wants—should apply to everyone else attending the wedding.
You Might Also Like: 10 U.S. Waterparks Your Kids Will Love
Don't Bring A +1 Just Because You Can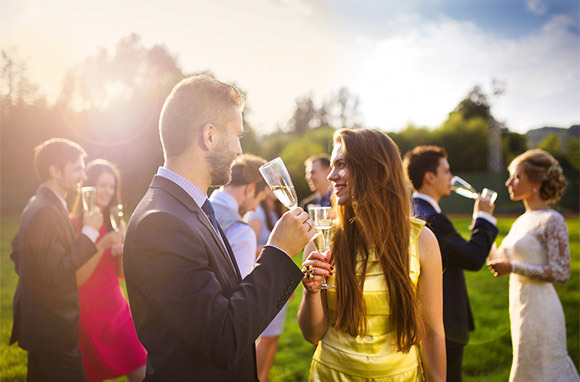 No doubt it's expensive to attend a destination wedding—even before you factor in a gift. It may seem like the best thing to do is bring a date and split the costs of your hotel, car rental, and other travel expenses. But if the couple only addressed the invitation to you, it means they're hoping you can attend, sans guest. Reach out to the couple to see if you know anyone else who'll be attending the wedding, or if the couple can get you in touch with other friends looking to split costs.
Not everyone knows the rule about the name on the envelope being the only people who are invited. Before my wedding, I received several texts from single friends asking if they were allowed guests. I replied immediately with an honest response: We were planning a small wedding and wanted to recognize all of the faces at our ceremony. That meant only allowing +1s for those in long-term relationships or with live-in significant others.
Weddings, while they may seem scary to attend alone, are a great time to meet new people. If you bring a guest, especially if the guest doesn't know the couple, you may not be as likely to branch out to meet new people. And it bears repeating: Weddings are expensive. The costs would add up quickly if the couple gave everyone a +1.
Related Link: North America's Most Romantic Small Towns
Don't Feel Obliged To Bring A Gift
When you're paying to travel to a wedding, no matter how far it is, the costs—gas, lodging, flights—add up fast. You may still decide to give the couple a gift from a registry (if they have one) or cash, but it's understood that you made the effort to attend the wedding and support the couple, so it's acceptable to arrive without a gift.
Still, you should at least purchase or make a card and write a note of congratulations to the couple. If you aren't able to travel to the destination wedding, sending a gift (or even gifting frequent flyer miles toward a honeymoon trip) is a thoughtful gesture. Either way, if you do choose to give a gift, consider sending it to the couple's home versus lugging it with you to the wedding. That way they won't have to lug it back with them.
A note for the couple: Creating a wedding registry is not the best idea if you're asking guests to travel to Europe or the Caribbean. That said, you can still give your family and friends a heads up about what you may find useful, should anyone ask for guidance. But opt to keep it off your wedding website. If guests want to give a gift and you don't have a registry, they know cold hard cash is always useful and appreciated, especially by newlyweds trying to purchase a house or go on a honeymoon.
Did You Honeymoon in One of the 5 Most Popular Honeymoon Destinations?
Don't Leave Before Dessert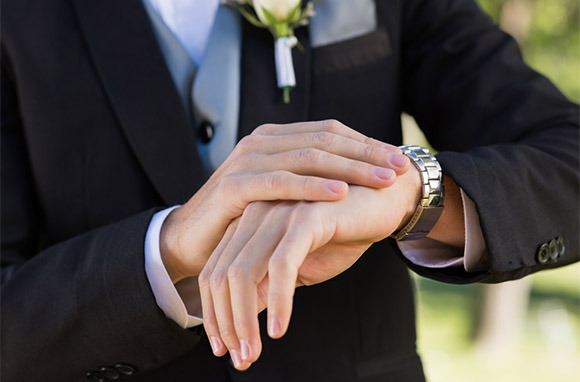 The cake cutting (or any other dessert) is the traditional indicator that it's okay to leave a wedding without seeming rude. Given you've traveled so far, it doesn't necessarily make sense to leave until the bitter end unless you're feeling under the weather. Even if just 20 people are attending—small by many standards—it's hard for the couple to spend as much time with everyone as they want.
When you stay longer, it gives them more time to make the rounds and provide you with the one-on-one time they want to give every guest. It'll also mean you don't miss out on any delicious desserts. We had very few guests leave before cake cutting, but we felt very bad that we didn't get more time to chat with those who did.
As for any activities leading up to or following the wedding, don't feel obligated to participate in everything, especially if it costs money. It's nice to show up to a welcome dinner if the couple is hosting one so you can meet other wedding guests. But this is a vacation for you, too, and if you want to go off on your own to relax, you shouldn't feel like you have to be at specific places at specific times.
On the other hand, if you want to spend one-on-one time with the couple, remember that so does everyone else. A little empathy can go a long way.
Related Link: 10 Signs You're Not Compatible with Your Travel Partner
Don't Post Pictures On Social Media Without Permission
Ask the couple's permission before posting all your photos to Facebook or adding a photo of the bride walking down the aisle to Instagram with the Crema filter. They may not want photos of the wedding going up all over social media in real time since it broadcasts the event details to those who weren't invited. At my wedding, we had a hashtag so we could keep track of what we knew was inevitable: wedding selfies.
Turn off and put away all mobile devices and refrain from taking photos during the ceremony, too—especially if capturing the photo requires standing up and blocking someone else's view of the event. We had our officiant ask our guests to turn off all cellphones and let the professional photographers do their job during the ceremony. Enjoy being in the moment. Your new profile picture can wait.
Don't Be An Idiot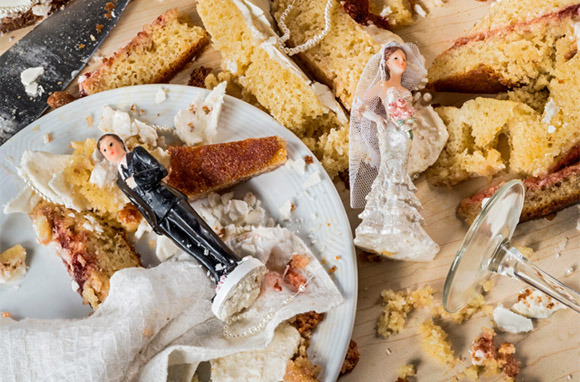 Lots of contracts are involved in planning a wedding. If the couple is renting a facility for the wedding, any damage—accidental or otherwise—that you inflict is going to cost them. So if you think you've done something that may cost the couple unnecessary expense, own up to it as soon as possible and offer to pay for any damages. Your friends are relying on you to act like adults.
For the couple: Wedding liability insurance exists for damages inflicted on property by guests. It can also can cover damage to a gown (you never know what can happen if you're flying to your wedding!) and the need to postpone the entire wedding itself. We had one guest imbibe a little too much and attempt to get on the roof of our venue. Luckily his plan was thwarted, but with open flames (candles) we almost wish we'd gotten some insurance.
Related Link: 10 Most Annoying Things You Do While Traveling
Don't Discuss The Wedding With Uninvited Friends
Having a destination wedding often helps weed down a large guest list, but sometimes couples opt for the destination wedding as a way to keep the guest list small from the get-go. So while you may be invited, other mutual friends of the couple may not be. Keep it to yourself unless it comes up, or ask the couple who else is invited. Avoid talking extensively about the wedding to uninvited friends.
If uninvited friends pester you for information about why they weren't invited, simply tell them you don't know and direct them to ask the couple—after giving the couple a heads up, of course—if it's really bothering them. You don't want to put the couple in an awkward position where they feel like they have to invite someone, but you also don't need to put yourself in the position of fending off questions that aren't yours to answer. The couple should be prepared to face these folks and will appreciate a direct line of conversation.
A note for the couple: You may get questions from uninvited friends ("Was my invitation lost in the mail?") that make you uncomfortable. Even though the conversation may be hard, honesty is best. If you're keeping the wedding small, let them know it was extremely difficult to narrow down the list. If it's a large wedding, let them know you still value your friendship.
Everything You Need to Know About Destination Weddings
Don't Dismiss Travel Insurance
Whether it's a death in the family, health issues, or a lost job, unexpected calamities do come up. Treat your travel plans for a destination wedding like any other vacation and purchase travel insurance if you're concerned you may need it.
Unlike other vacations, people are depending on you to make it to the wedding if you've agreed to attend. As with RSVPs, tell the couple as soon as possible if something happens that may prevent you from coming to the wedding. If you're honest, they'll understand. And while it may be a hard conversation, they'll appreciate knowing in advance that you may not be able to attend. In fact, many catering companies allow couples to add guests until just a few days before the wedding. That means the couple can leave you off (and then add you back to) the guest list while you figure out if you're a definite.
When booking your itinerary, plan to arrive at least a day ahead of the wedding to ensure you don't miss it due to unexpected travel problems. Depending on the season (hurricane, winter), you may want to pad your trip with additional time upfront.
Related Link: Is Travel Insurance a Waste of Money?
Don't Ask Unnecessary Questions
With any destination wedding, you're sure to have a ton of questions. But before shooting a half dozen texts to the couple or leaving them lengthy voicemails, check their wedding website. Often the site will answer any questions you may have. If you don't find your answer there, ask others attending the wedding or even the couple's family members. The couple has enough to plan and think about, and giving you recommendations for places to stay—especially if your questions are already answered on their website—just makes you look lazy.
Don't expect the couple to hold your hand in finding things to do, either (or even, for that matter, finding you a place to stay). While they may have activities leading up to and after the wedding, or have a block of hotel rooms reserved, they also may not do this. Many couples realize their family and friends have different opinions on where they want to stay and how much they're willing to spend.
More from SmarterTravel:
All products are independently selected by our writers and editors. If you buy something through our links, Oyster may earn an affiliate commission.