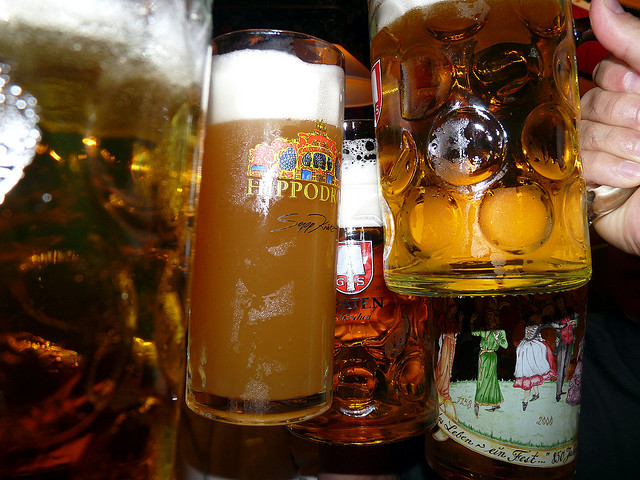 Heading to Oktoberfest? Why not take advantage of Bavaria in between a few of those gigantic steins of Hofbrau? We know you're pretty focused on the brew, but Munich is so ideally located that it would be a crime not to check out some of the awesome stuff nearby -- and don't worry, a lot of it still includes pints and steins of delicious German beer. Follow our directions to six spots within two hours (or less) of Munich's Oktoberfest madness. On these excursions, you can live out a fairytale, clink glasses above cloud level, stroll along canals, learn the ghastly and ghostly stories of those who have gone down in history, and raise a glass to centuries-old Benedictine monk brewing methods -- to name a few.
BONUS: You don't even have to drive (read: you can still have a bit of a beer-bestowed buzz) because they are all easily reachable by train, bus, or both. Prost!
Bamberg: Take a Walking Tour of Brew Houses and Venetian-like Canals
Just under two hours by train from Munich, Bamberg is like a beautiful, delicious playground full of crazy clocks, lots of brew houses, hearty traditional plates, and gorgeous walks. Don't forget your camera or map as you drink your way through as many of the town's 10 brew houses as possible, making sure to stop by the Hecht Schenkerla Braueri to try the town's signature Rauchbier — a dark, smoked beer that tastes a little like a Sunday ham in a glass. If you're still hungry, grab a plate of schnitzel or potato dumplings to keep you going after you cross the bridge into Little Venice. This picturesque section of town is filled with historic alleyways, Glockenspiel shops, and canals. Also, remaining an astonishing 80-percent intact after World War II, Bamberg's city center is a registered UNESCO World Heritage Site, so you can soak up some history while you slurp down some boozy suds.
How to get there: Several Bamberg-bound trains leave from Munich's main station every day and, including a switch in Nuremberg, take two hours. For a fourth of the cost (but double the time), you can also hop on a bus — though be sure to check times as there are only four each day.
Also take a look at the most scenic train routes in the US >>
Dachau: Visit the Concentration Camp Memorial Site
For a more sobering (and moving) day trip, head 12 miles outside of Munich via train and bus to the Dachau Concentration Camp Memorial Site. Initially designed and built in 1933 to house political prisoners, Dachau became Germany's first concentration camp and was used as a model for all camps going forward. Dachau was one of the most feared camps as it was not only the training site for concentration camp guards, but also the experimenting grounds of several "scientific" crippling, disfiguring, and sometimes fatal tests on prisoners. Its brutal reign as the longest running concentration camp in Germany ended in 1945 thanks to a troop of American soldiers. This is an exceptional and educational way to spend either a half or full day break from the madness of Oktoberfest.
How to get there: Trains leave Munich's main station every 10 minutes during the day. You can either grab the 22-minute "S" train or the 11-minute high-speed RB train to Dachau. At the station, a 15-minute ride on bus number 726 to Saubachsiedlung will take you directly to the memorial site.
Andechs Monastery: Sip Benedictine-Brewed Beer with a View
At foot the of the "Holy Mountain," the Andechs Abby Benedictine monks have been brewing beer since 1455. Committed to organic and sustainable practices, the monks have perfected the integration of long-standing brewing methods and the use of modern equipment. Currently, there are seven different and distinct brews available (though all may not be available to taste during a visit or tour) that include four hells (ironic, much?) and three types of dunkel (dark beer) — including a curious Weissbier Dunkel. Be sure to pack a lunch or snack as these beers are best drunk outside at one of the long shared tables on the mountaintop terrace, overlooking the green valley below.
How to get there: Grab the S-Bahn S8 to Herrsching (trains leave every 15 minutes or so, so don't worry if you miss one). From here you can either follow the "Fußweg nach Andechs" (Footpath to Andechs) to take a scenic two-mile hike up the mountain to the monastery, or grab one of the private company buses right outside the station that will drop you directly at the monastery. If you've got a MVI day pass and want to save on extra fares, you can opt for the public bus 951, which makes a few extra stops in town before dropping you at the Klosterbrauerie's parking lot. The total journey is about an hour (unless you hike, of course, and then it depends on your pace).
Fussen: Take Scenic Hikes and See Fairytale Castles
And here are 11 hotels that are fit for a fairytale >>
The quaint town of Fussen is most famous for Neuschwanstein, the nearby fairytale castle high on the hilltop. Chances are one glance might have you thinking you've been here before — and for good reason. Legend has it that this 19th-century castle was part of Walt Disney's inspiration when creating the now-iconic Cinderella Castle at Disney World in Orlando, FL. But Fussen is much more than a gateway to this fairytale-come-true; it's forest trails are great for hikers and bikers, and the grassy banks of Lake Forggensee are an ideal place to plop down for a picnic or watch surfers, sailors, boaters, and fishers (the lake is stocked with eel, pike, and trout).
How to get there: Trains bound directly for Fussen leave Munich's main station every two hours and it takes about the same to reach Fussen.
Munich: Take a Night Walk through the City's True History of Ghosts
Okay, so this one is technically not a day thing nor does it require leaving the city, but we still think it's worth your time, and a solid option as a respite from the chaos of Oktoberfest. Since Munich is easily considered one of the most haunted locales in Germany (and even in Europe, depending whom you talk to), a creepy historical nighttime walking tour of the city is a no-brainer — and a must for history buffs. What makes this tour so great is the fact that most of the stories are historically accurate, centered around shocking tales of murder, wrongfully accused and executed citizens, come-to-life curses, after-war apparitions, and more. As you walk down the dark stone streets, every building seems to have a story.
How to get there: You're already there! (Okay, most tours leave from Marienplatz under the Glockenspiel — which you'll learn has its own creepy story.)
You Might Also Like: The Most Haunted Hotels in the World
Garmisch: Prost Above the Clouds and Step into Austria
Less than an hour-and-a-half from Munich lies Garmisch-Partenkirchen, home to both Germany's highest mountain and Germany's highest beer garden. There are two ways to get to the top: either a winding train ride up the mountainside, or a scenic cable car journey. Once at the summit, visitors can take in stunning, panoramic, clouds-eye views of the snow-covered mountain tops. Garmisch is so close to Austria that you can even "walk" over via the observation deck. While you're up there, you might as well enjoy a cold brew to celebrate. And once you come down, you can stroll along the lake, nibble on vendor wursts, or pick up a little souvenir from a local shop…there's even hang-gliding for those who are so bold.
How to get there: Trains leave Munich's main station every 30 minutes, and you can board and be in Garmisch in just under an hour-and-a-half. Oddly, the bus also takes about 90 minutes, though they are less frequent, running every three hours.
All products are independently selected by our writers and editors. If you buy something through our links, Oyster may earn an affiliate commission.