The third largest city in Morocco, Marrakech is a popular tourist destination for bargaining with vendors in the lively souks (markets), watching snake charmers, and exploring the many lavish palaces throughout the fortified city. Whether travelers opt to stay in one of the unique riads (guesthouses with internal courtyards) or a large hotel, there are many upscale options that nonetheless have budget prices. Besides having great service and comfortable rooms, when you factor in perks like free breakfasts and/or airport transfers, these nine hotels definitely hit the mark for a luxury stay at a low cost.
Deep in the labyrinthine streets of the medina, the Riad Ambre et Epices, like so many other riads, cannot be reached by car. But once guests get inside the classic courtyard sanctuary here, they can relax by the fireplace or the tiny plunge pool, and be attended to by a staff dedicated to personalized hospitality. Since the riad experience is designed to resemble more of a stay in a home than a hotel, rooms lack such standard hotel amenities as mini-fridges, coffeemakers, and TVs (hospitality is what counts here), but the rooms do have luxurious bathrooms that include private hammams. Free breakfast, airport transportation, and Wi-Fi are nice perks, as is the use of a cell phone for local calls.
An upper-mid-range, 18th-century riad in the heart of Marrakech's historic Medina, the five-suite Riad les Orangers d'Alilia Marrakech has been lovingly restored by its French owner into a chic, modern hideaway within walking distance of the city's major sights. The original architecture and ornate detailing have been maintained, and the courtyard and rooftop terrace are accentuated by the riad's signature fragrant orange trees. Guest rooms and common areas have been painted calming whites and creams and decked out with simple, modern furnishings. A homemade breakfast (included in the rate) is served each morning, and traditional Moroccan meals can be enjoyed for lunch and dinner upon request.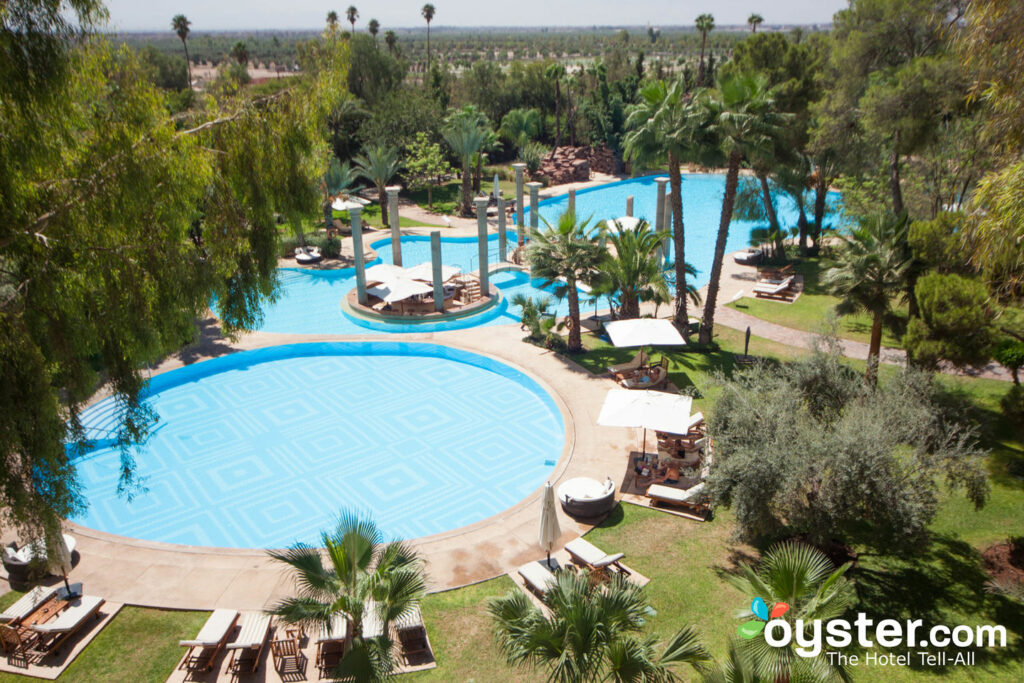 The 92-room Es Saadi Gardens & Resort – Palace is quite luxurious; an historic property with a famous casino that was once a celebrity playground, with attention still paid to every visual and sensory detail, it mixes modern amenities with exquisite traditional decor and handcrafted furniture. The spa is a high-end destination with gorgeous private hammams and even a slow-food restaurant. Rooms are individually decorated with care and exquisite taste, and have private balconies. Some can get noisy, though.
This brilliantly designed three-and-a-half pearl riad adds upscale amenities to a thoroughly traditional Moroccan experience. Travelers who want to explore Marrakech on their own terms will appreciate the medina location, and the restored 18th-century building is an attraction in itself. The characteristic riad courtyard and rooftop terrace have an elegant ambience, and the Riad El Mansour adds a full-service spa and small fitness room to the mix. The rooms are equally impressive, though light sleepers may want to avoid the ground floor, especially if other guests are using the pool late at night.
Located just outside Marrakech's old city walls, the Sentido Kenzi Menara Palace is a serene, modern luxury hotel. It has all the facilities of a full-service resort, including lush grounds with several sports facilities, a palm-fringed pool, a spa with a traditional hammam, and four different gourmet bars/restaurants. With 236 rooms, the building itself resembles a Moroccan fortress, and the interiors are filled with traditional decor accents, from inlaid furniture to carved domes. Rooms are modern and understated, each with a private balcony. Breakfast is included, and the myriad business-friendly amenities attract conferences and business travelers, while the understated luxury attracts couples and older families as well.
The 315-room luxury Hotel du Golf is beautifully designed and decorated in an ultra-modern style, with a traditional Moroccan streak. There is a 27-hole golf course on the property, as well as a golf club with instruction available — although greens fees are not included in the room rate. Rooms are lovely, though, with a sleek design aesthetic, private balconies, and gorgeous bathrooms. The huge Palmeraie Spa offers a variety of Eastern and Western body treatments and massages, as well as beauty treatments and fitness classes, like spinning, and an indoor pool.
There's a little bit of everything going on at the all-inclusive, five-pearl Pullman Marrakech Palmeraie Resort and Spa — which has surprisingly affordable rates considering all that's offered. The resort shines in its activities for children, while adults can chill out in the spa and traditional hammam. Spacious and contemporary rooms include furnished patios or balconies. Large grounds are family-friendly with a big pool, but quiet and relaxing enough for couples or business travelers attending on-site conferences. The food is surprisingly good, though service can be slow and inattentive.
Deep in the medina, amid a tangled web of narrow red streets, Riad Kheirredine fashions itself as a doorway to the soul of Morocco. The secret's out (and the prices are up — though they're still reasonable considering the upscale nature) on this traditionally styled, four-pearl guesthouse. The staff is a dream come true, and the riad's white-linen opulence could be the setting of a fairy tale — maybe your next dream vacation?! Unlike many riad rooms in the old city, these have minibars and Bluetooth music systems, but like most, they're narrow (as they're built around a courtyard or garden), and don't have TVs or coffeemakers. Riad Kheirredine is not as ornately furnished, nor that close to Jamaa El Fna Square (some might consider this a plus) as other riads, but its rooftop terrace and fantastic service stand out.
The Palmeraie Palace is a sprawling, self-contained village that comes with a plethora of kids' activities and plenty of pampering to indulge parents in between rounds of golf or games of tennis. Marble-decorated rooms are large and have a few Moroccan touches, but cracks in the infrastructure are hard to dismiss at a four-and-a-half pearl property (although this may partially account for the reasonable rates). There are both indoor and outdoor swimming pools, and a large spa and fitness center, as well as many restaurants. This resort is a golfers' paradise, and there's tons to entertain the kids, but travelers more interested in exploring the local culture will likely be lining up to get on the free shuttle into town.
All products are independently selected by our writers and editors. If you buy something through our links, Oyster may earn an affiliate commission.