School may be back in session (groan...), but students don't have to wait until Spring Break for their next set of adventures. Though most colleges encourage students to venture out of the classroom for hands-on experience in with their majors, finding the funds isn't easy on a student loan budget. That's why we've found amazing value destinations for college students in need of a little field training. So close the books and get out on the road instead -- it's time to put those lessons into play!
Your Major: Business The Place to Visit: Atlanta
Atlanta is an "alpha city" driven by several Fortune 500 companies
With a $304 billion economy and the third largest concentration of Fortune 500 companies in the U.S., Atlanta is one of the most business-driven cities in the country. Hotlanta is known as an "alpha" city (i.e., an important economic city) thanks to major brands like Coca-Cola, Home Depot, Delta Airlines, and UPS setting up headquarters in the Georgia capital. So for business students trying to get some early networking experience, Atlanta is the best city to start handing out cards.
In the heart of Atlanta's downtown Business District, this Marriott is an affordable option on a student budget, and boasts an impressive gym and business center – perfect for power-lunch prepping.
Your Major: English
The Place to Visit: Boston
Boston is the "Athens of America" thanks to its great literary minds
Few U.S. cities can boast a literary history as great as Boston. Known as the "Athens of America" because of the great minds to have walked the tree-lined brick roads, Boston has strong ties to everyone from Nathaniel Hawthorne to Henry David Thoreau to Jack Kerouac. For a visit to the world's oldest publishing house at Cambridge University, or to get a little Beantown inspiration for a post-grad novel, the Massachusetts capital is perfect for bringing out a little inner-Dickens (whose first reading of A Christmas Carol took place at the Omni Parker House).
This budget-friendly Cambridge hotel may not have an on-site library like some of the other Boston-area hotels, but the free breakfast buffet and shuttles to Harvard Square are certainly perks worth writing home about.
Your Major: Finance
The Place to Visit: New York City
When it's not being occupied, Wall Street is the charging bull of the financial world
It's no secret that New York City's famed Wall Street is one of the top economic hubs of the financial world. The famed lower Manhattan district is home to the New York Stock Exchange (NYSE) and the Federal Reserve Bank of New York, and has seen countless high-powered firms throughout its extensive history. So for undergrads who already have a closet full of suits and can crunch numbers on cue, New York's financial district is best place to test the stock market waters.
Lower Manhattan's Holiday Inn is perfect for the financier-in-training, with free computer access, gym, the on-site Federal Café, and, most importantly, a supreme location — just five blocks from the NYSE.
Your Major: Physics
The Place to Visit: Orlando
More than just Disney, Orlando is a center for the scientific world
Less than one hour's drive from Orlando, on eastern edge of Florida, is the Space Coast, named for more than its 3-2-1 (liftoff!) area code. Here, NASA's space programs have been taking flight for more then 60 years, with the most famous recent launch coming from the Mars rover Curiosity at Cape Canaveral, back in November 2011. With so many of the country's best and brightest flocking to the Sunshine State, the Orlando area is a leading force behind scientific and aeronautical innovations, making it a ideal destination for future physicists.
The Orlando business hotel is not only an affordable option for students, but offers tons of perks for the aspiring scientist including its close proximity to the Orlando Convention Center, and shuttles to several of the nearby theme parks, which are filled with roller coasters and other real-life physics experiments.
Your Major: Political Science
The Place to Visit: Washington, D.C.
Washington, D.C. is where power and politics blossom
Election season is heating up (Who didn't watch Clint Eastwood's rambling "conversation?"), and Washington, D.C. is at the epicenter of the action. The nation's capital, no matter what time of year, however, is a bustling metropolis of politics and power, sure to excite any young mind. To get a first-hand look at how the law of the land comes to be, students interested in politics need not look any further.
Just a short walk from most major attractions and museums, the D.C. hotel is a fraction of the cost of other nearby options, and has direct Metro access and an on-site Starbucks for all those late nights on Capitol Hill.
Your Major: Information Technology
The Place to Visit: Silicon Valley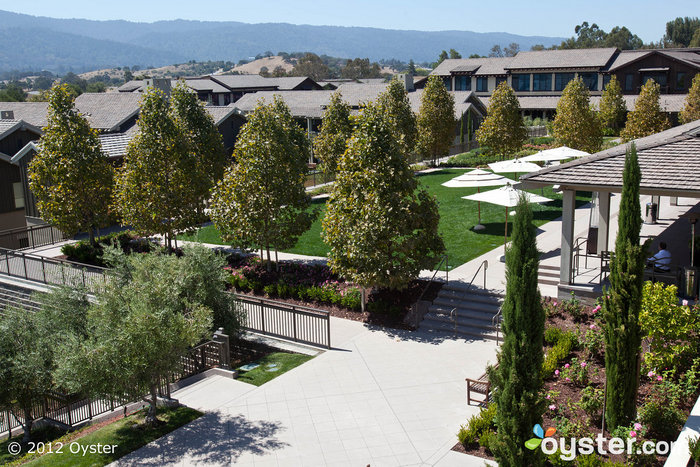 Silicon Valley is infamous for its Google, Facebook, and Apple residents
Named for the most common element used in computer manufacturing, Silicon Valley is synonymous with the tech world and Internet startups. At the southernmost point of the Bay Area, Silicon Valley is a draw for young capitalists with their fingers on the pulse of technology. To see how companies like Facebook, Google, Apple, and Adobe took off, a trip to this California hotspot could inspire the next great social network or technology craze.
This funky boutique hotel is not only budget- and geek-friendly — with cool techie touches like iPod docks, laptop tables, and toy robot décor — but has free Wi-Fi and a nightly wine reception.
Your Major: Fine Arts
The Place to Visit: Dallas
No, not NYC or San Fran. Dallas is home to the largest Art District in the country.
New York and San Francisco may have their share of artists, but it's actually Dallas that has the nation's largest Art District. Home to countless galleries and art centers, including the Dallas Museum of Art and Nasher Sculpture Center, downtown Dallas is a hotbed for artistic minds. Between a thriving nightlife and prominent art community, the Big D has no trouble attracting young creative types, making it a perfect stop for art students.
Hotel Indigo is a popular boutique hotel for young visitors thanks to budget-friendly prices, central Art District locale, and trendy décor throughout the hotel and on-site restaurant.
Your Major: History
The Place to Visit: Philadelphia
More than just cheese stakes and cream cheese, Philly is the birthplace of America.
As America's first capital, Philadelphiahas seen some of the most important national events in the history of the United States. Philadelphia is known as the birthplace of America for hosting the Founding Fathers, who wrote and signed the Constitution in the same statehouse the George Washington signed the Declaration of Independence. For young history buffs, the past comes alive in each landmark and monument throughout The City of Brotherly Love.
In addition to student-friendly prices and National Historic Landmark status, this Raddisson has old-world architecture and décor, and is a short train ride from sights like the Liberty Bell, Independence Hall, and the Constitution Center.
Your Major: Culinary Arts
The Place to Visit: Napa Valley
Good food and good wine make a great pairing in Napa
California's Napa Valley attracts only the utmost epicureans thanks to its world-class wineries and locally-focused cuisine. For foodies and culinary artists alike, Napa is premier gastronomic destination and a great place to develop a more sophisticated palette. And though the area may be known for its high-brow attitude, California's wine country has a little something for everyone, including those just barely pushing 21.
The Chablis Inn is not only close to several notable wineries and local restaurants, but the value hotel also has great free perks like Wi-Fi and Wolfgang Puck coffee – an incredibly great pairing.
RELATED LINKS: