Africa is the second-largest continent in the world, after Asia. In addition to the mainland, Africa is also surrounded by a plethora of islands, many with their own special set of geographic features, plant and animal species, and mix of cultures. Whether you're looking for a thick jungle, volcanic coastline, idyllic beach, great architecture and history, or just some crystal-clear underwater views, Africa likely has an island that can deliver. Here are nine of the best islands in Africa.
Located off the coast of East Africa, the island nation of Mauritius is comprised of the main island of Mauritius and several other smaller islands. In fact, it has become one of the most popular island destinations in Africa, due to the wide variety of plant and animal species — many of which can only be found here — and overall safety. One the islands' most famous former residents is the long-extinct dodo bird. Visitors now flock to this lush destination for its idyllic shorelines, plus excellent diving, kitesurfing, and fishing opportunities. The Black River Gorges National Park offers up rainforest hikes and the possibility of spotting flying foxes soaring between the trees. In the towns, architecture buffs will find a unique style that blends influences from the Dutch, English, and French colonization periods, as well as India and Africa.
Our Mauritius Hotel Pick: The 89-room Constance Prince Maurice is a secluded luxury property located off a stunning lagoon. There's a floating restaurant, a kids' club, a beautiful beachfront, several lovely pools, an Asian-themed spa, and tech-savvy room amenities like iPad minis.
2. Comoros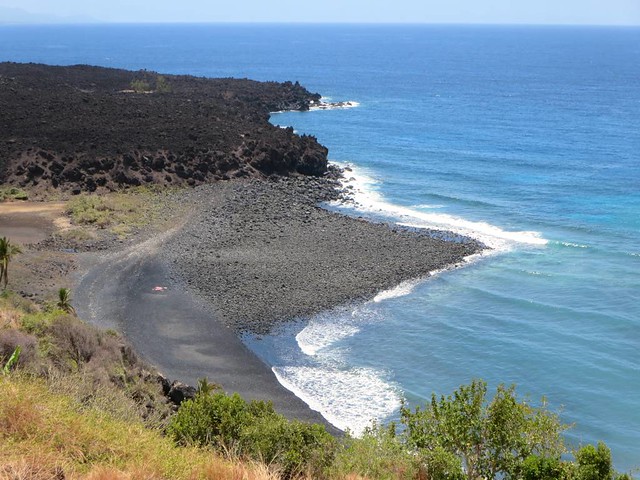 Vacationers searching for a rugged island paradise should consider Comoros, a small collection of islands off the southeastern coast of Africa. Expect stunning natural beaches with volcanic rock, a rich French and Arab heritage, and a few active volcanoes. High season occurs between May and October, when rains let up and humidity is at its lowest. Wildlife here is spread out among the different islands, though overall, there are nearly 30 native bird species, nesting sea turtles, dolphins that can sometimes be spotted from shore, and even lemurs. Many visitors like to island hop, but getting between the islands can be a bit tricky, and often requires unreliable boat and flight options. However, getting here — at least from Europe — isn't too hard since there are several flights operating from Paris.
Chances are, you've seen the Seychelles' swoon-worthy beaches — packed with pristine white sand and jaw-dropping emerald waters — on computer screens, cell phone backgrounds, or even just in your dreams. It's easy to see why this 115-island paradise is an African island hot spot. The crystal-clear water makes for superb snorkeling and diving conditions, which is a huge draw, especially for those hoping to see blacktip reef sharks, sailfish, sea turtles, rays, and over 1,000 types of fish. A few notable endemic land animals include the Aldabra giant tortoise and tons of beautiful birds. Conservation is a huge priority here, so please pack reef-safe sunscreen, if you plan to go into the water, and tread lightly on hikes. For a bit of local flavor, add a side of shark chutney (a condiment made with fried onions, lime, mashed-up boiled shark, and juice from a local tree) to your curry.
Our Seychelles Hotel Pick: Set along a stretch of white-sand beach on a secluded peninsula, MAIA Luxury Resort & Spa is home to stand-alone villas with ocean views and beach access. All-inclusive packages, private plunge pools, a small spa, and daily activities make it an easy-breezy vacation pick.
Located off the western coast of Senegal and Mauritania, Boa Vista literally translates to "good view" in Portuguese. It's the third-largest island in the Cape Verde archipelago, and its big, beautiful beaches are a huge draw for visitors. Lots of tourists use this desert-like island as a jumping-off point for exploring the other Cape Verde islands, as it has its own international airport that serves mostly European countries (and also the neighboring island of Sal). Spring has the most enjoyable temperatures, but is largely loved for the migrating humpback whales that fill the waters around the islands. Windier winter months are great for wind-based water sports, while folks hoping to spot nesting sea turtles should come during the hot days of summer. Fishing, snorkeling, and ATV tours are also popular activities on the island.
Our Boa Vista Hotel Pick: The Marine Club Beach Resort has a remote, beachfront location with mountain views. Rooms are simple, and family-friendly features include a saltwater pool, all-inclusive food options, and organized activities.
5. Sao Tome and Principe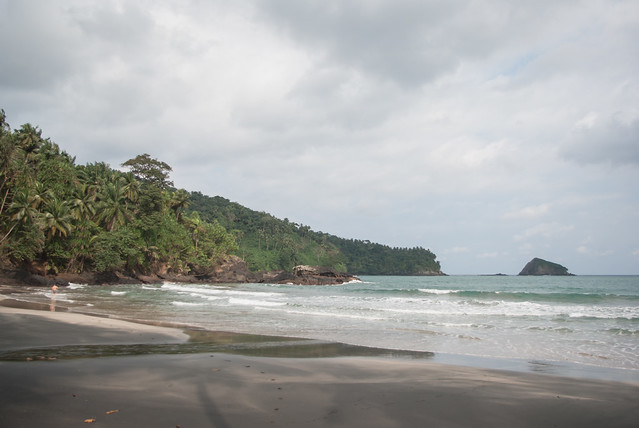 The two-island country of Sao Tome and Principe is located close to the equator, off west-central Africa in the Gulf of Guinea. It's covered in gorgeous green jungle and exudes an unspoiled island vibe. Here, you'll find soft-sand beaches swapped out for rugged volcanic coastlines, and stunning rock formations, like the plug peak of Pico Cao Grande, which stacks up to a whopping 2,175 feet above sea level. Adventurous types will love exploring the jungle here, and although there's not an incredibly high amount of biodiversity, folks can try to spot the world's smallest ibis or the world's largest sunbird.
Zanzibar, an archipelago off the coast of Tanzania, happens to be the birthplace of Freddie Mercury, but it has much more to offer than its pop culture appeal. The food here is a mix of Indian, Arabian, African, Chinese, and European cuisines — hence its nickname of Spice Islands. Stone Town, the center of Zanzibar City (the capital), is a UNESCO World Heritage site full of historic buildings, mosques, and narrow streets. While visiting, check out the isle of Changuu, explore the underwater world on Mnemba Island, stroll through the many bazaars, and hike through the Jozani Chwaka Bay National Park. Visitors can also take advantage of the fun party scene — on the beaches and in the bars and nightclubs.
Our Zanzibar Hotel Pick: The Zanzibar White Sand Luxury Villas & Spa is a rustic-chic property located right on the beach. There's not much within walking distance, but the hotel does have a restaurant and spa, plus there are private pools in each of the 15 rooms.
Located off the coast of Tunisia in northern Africa, Djerba has a bit of a different look and feel than several other islands on this list. The island has a rich history for both Muslims and Jews, as is reflected in the several synagogues and mosques throughout. In fact, the overall culture and importance of the island is so great that Tunisia has been vying for it to become a UNESCO World Heritage site. While most African islands can be found in the Atlantic or Indian Ocean, this stunner is situated in the Mediterranean Sea. As such, expect to share the sand with several vacationing Europeans. Top activities include lazy beach days, checking out the many museums, and wandering through local artisan markets.
Our Djerba Hotel Pick: Located at the foot of the Taguermess lighthouse, Seabel Rym Beach is an all-inclusive property with a private beach, swimming pools, and a spa. There's also a kids' club and several dining options, including a pool-facing restaurant and terrace cafe, and some rooms feature panoramic views.
Sal, an island in Cape Verde, is known for its golden-sand beaches, blue waters, and laid-back, secluded atmosphere. Most of the island's hotels are located in Santa Maria, along with the main selection of shops, bars, and restaurants with great seafood. In addition to relaxing on the beach, snorkeling, surfing, yoga classes, and island tours are available. It's also worth noting that you can drink the tap water here.
Our Sal Hotel Pick: With a convenient beachfront location that's also close to plenty of restaurants and bars, Hotel Morabeza largely attracts European tourists. On-site features include a tennis court, bocce, archery, mini-golf, a volleyball court, and bright and airy rooms have private furnished balconies.
9. Madagascar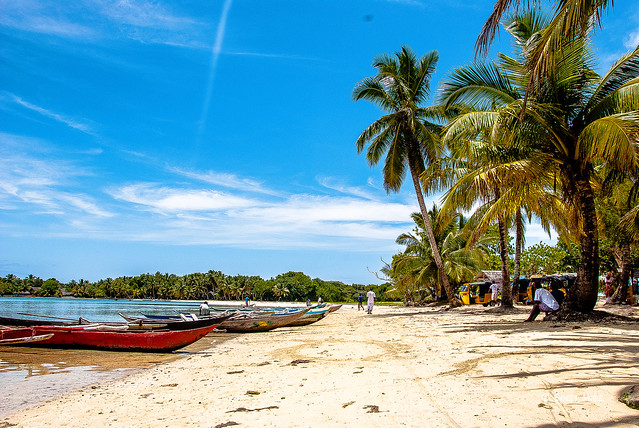 Arguably the most famous island in Africa, thanks to the eponymous animated films, Madagascar often finds its way onto bucket lists of adventurous travelers. While you won't find scheming penguins or overly awkward giraffes here, it's quite possible to spot a ring-tailed lemur or some of the other types of this small, swinging primate. All in all, Madagascar is teeming with an array of plant and animals, including approximately 300 bird species, 260 types of both reptiles and amphibians, and 200 mammals — many of which can only be found on the island. There's plenty to do here, from hiking, boating, and lounging on the beach to snorkeling and exploring the rich culture. However, know that tourism and other human interaction has placed many of the island's plant and animal species under threat, so choose your activities wisely and be kind to this island and its natural inhabitants.
You'll Also Like:
All products are independently selected by our writers and editors. If you buy something through our links, Oyster may earn an affiliate commission.