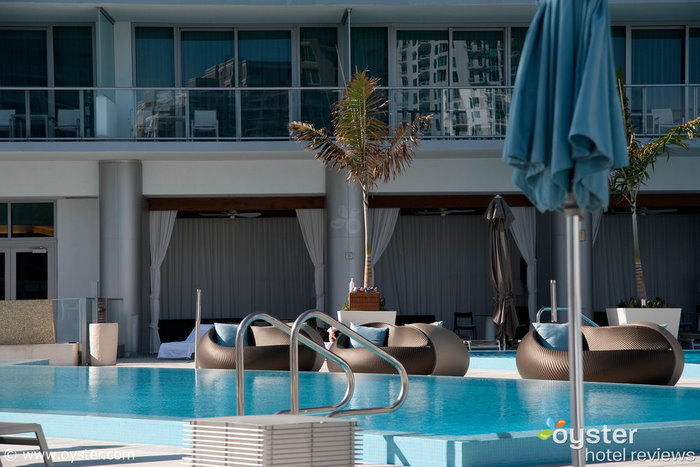 Miami's Epic Hotel closed indefinitely over the weekend after a guest died from Legionnaires' Disease, which he apparently contracted at the hotel. The bacterial disease is contracted via drinking water and leads to pneumonia. Two other guests contracted the illness at the hotel and are still sick.
In an unfortunate twist of irony, the Epic Hotel recently installed a strong water filter in order to remove chlorine from its water supply, but the removal of too much chlorine wound up fostering bacterial growth, the Miami Herald reported on Sunday. The hotel has closed indefinitely and has stopped taking reservations until it can resolve the water problem. The 300 guests at the hotel were moved to nearby hotels.
When we visited this Kimpton hotel last year, it impressed us with stunning bay views, gadget-filled guest rooms, and a 16th-floor terrace with three pools. In fact, we liked Epic so much that it's included on nine of our "Best of Miami" lists, including Best Luxury Hotels and Most Romantic Hotels.
After the jump, we'll make suggestions on where to stay in Miami while Epic is closed.
UPDATE: Epic Hotel reopened in late December after health officials said that the hotel's water is safe for everyday use. The health department is still unsure that the hotel is to blame for the contraction of Legionnaires' Disease.

If you need to stay in downtown Miami (where Epic is located):
Hotel: Conrad Hotel
Location: Downtown, Miami
Price: $280
Taking up 17 floors of a 36-story downtown skyscraper, this Hilton luxury offshoot has some swanky touches — a rooftop pool, a top-notch spa and gym, 500-thread-count linens, and spacious standard rooms. It goes toe-to-toe with the neighboring JW Marriott. What's the difference? The Conrad has a better bar and restaurant; the Marriott has better service.
Hotel: JW Marriott Hotel Miami
Location: Downtown, Miami
Price: $311
A fine-tuned hospitality machine, Miami's JW Marriott nears perfection — flawless service, comfortable rooms, and great amenities. (Or at least it beats the Conrad, Hilton's competition down the road.) Sure, it's styled like an office building, but that makes it easy to get some work done.
If you can stay elsewhere in Miami, may we suggest:
Hotel: Mondrian South Beach
Location: South Beach, Miami
Price: $331
Debuting in 2009 and designed by Marcel Wanders, the off-the-beach Mondrian is as stylish as its party-centric South Beach siblings, the Delano and Shore Club, but lacks the hyped-up clubbers. Its impeccable service, kitchen-equipped rooms, and notable after-parties at the Sunset Lounge draw well-heeled singles but also families seeking more than the PG-13 kitsch of most family hotels.
Hotel: Regent Bal Harbour
Location: Northern Beaches, Miami
Price: $292
Sure, it boasts a 10,000-square-foot Guerlain spa, $4 million worth of modern art, and some of Miami's grandest rooms. But the 124-room Regent, which opened in 2008, brings a low-key, Four Seasons-type luxury. It's more romantic and understated than the nearby Acqualina, but its beach is far worse. Trade-offs, trade-offs.
All products are independently selected by our writers and editors. If you buy something through our links, Oyster may earn an affiliate commission.