When daughters are young, playtime often revolves around tea parties and fairytale palaces. We say, it's time to book the ultimate upgrade -- a weekend trip to London. England's capital lets you tap into all the girlish fun of a full, proper tea heaped high with sugary treats plus a visit to a real palace (Buckingham, naturally). Moms and daughters of all ages can enjoy riding on the London Eye or rummaging through Harrods and Liberty. Here's our breakdown of the perfect London weekend for mother-daughter bonding.
Friday Afternoon: Arrival
Welcome to the capital of jolly ol' England! Sort of. If you're arriving in Heathrow or Gatwick Airport, they're both situated well outside the city center. For the former, the Heathrow Express train tends to be the fastest and cheapest way to reach the city, especially when compared to taxis. The ride is somewhere around 15 to 20 minutes. The similar Gatwick Express is the best option for those touching down in Gatwick, but it's a bit of a longer trip — around 30 minutes.
Friday Afternoon: Check-In
Considering you're just here for a weekend, you'll want a hotel that packs in oodles of atmospheric details. And the Georgian House delivers. Exteriors are pure Victoriana, and interiors have dollhouse charm. Feminine wallpaper adorns the lobby, the dining room, and several of the guest rooms, which are also individually decorated with details like brass bed frames and turned-leg desks. One room is even done up in a Harry Potter theme (a favorite of daughters and their "mums"). A charming little courtyard provides an alfresco nook, too. And it's all a 20-minute walk from major sites like Big Ben.
Friday Evening: Dinner and a Show
After a long day of traveling, you'll want to save your on-foot sightseeing for later in the weekend. The plan for your first night? Take in some of the city's best experiences while seated. Head to J. Sheekey for special-occasion dining that's refreshingly unpretentious with plenty of top-shelf seafood. Or, indulge in London's famed Indian food at Delhi Grill or Dum Biryani House. After dinner, enjoy a show. For true throwback entertainment, head to Shakespeare's Globe, a theater dating back to 1599 that still showcases the Bard's plays. Or, you can go to the West End to see splashy musicals like Kinky Boots, Strictly Ballroom, or Matilda the Musical.
Saturday Morning: Sightseeing Along the Thames
After a good night's sleep and a full English breakfast (courtesy of Georgian House), it's time to take a twirl around the Thames to knock out London's top landmarks. Start out with the London Eye. Lines are shorter if you opt for a ride first thing in the morning. (It's best to buy your tickets in advance online.) Be sure to take your mother-daughter selfie in the capsule as it goes around the top. After your ride, cross Westminster Bridge to see Big Ben, Westminster Abbey, and Green Park, where you'll find Buckingham Palace. Stick around for the changing of the guards, and if time allows, tour the Royal Mews, where you'll see Her Majesty's carriage collection.
Saturday "Lunch": Afternoon Tea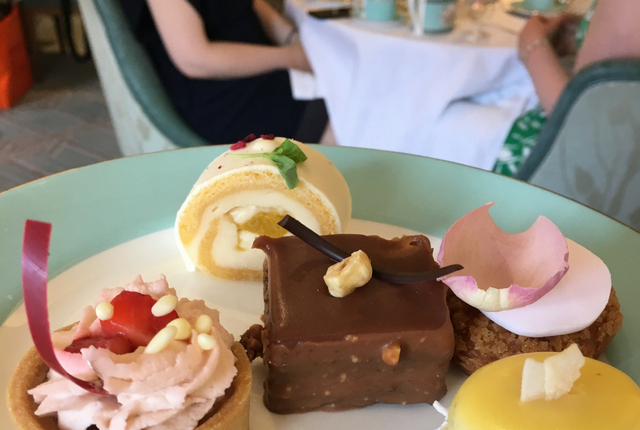 Afternoon tea is the main event for any mother-daughter trip to London. Trust us: Skip lunch. Instead, schedule an early teatime. You'll find that a proper afternoon tea is a meal unto itself, and if you do it right, you'll leave the table absolutely stuffed. There's a dizzying amount of venues serving up every type of tea for every type of traveler. For a classic, Downton Abbey-style tea, head to Brown's or Claridge's. The Oblix at the Shard serves a sleek, modern version alongside skyscraper views. And Sketch and Mr. Fogg's add loads of Alice in Wonderland whimsy to the event. Our pick? Fortnum & Mason's jewel-box tea salon, which is both elegant and playful and doles out some of the best scones in the U.K.
Saturday Afternoon: Shopping
Now that you're fueled up on caffeine and carbs, it's time for a marathon shopping event! If you went for tea at Fortnum & Mason, the browsing can begin straight away on the ground floor. Here, you'll find an emporium of British goodies, from jam to "biscuits" (cookies) to a rainbow of teas — all excellent souvenirs. Another worthy shop nearby is Cath Kidston, with her iconic floral prints and knickknacks like mugs, tea towels, and notebooks all set with quintessentially British iconography (Union Jacks, double-decker buses, corgis). But save time and foot power to rummage through some of London's emblematic department stores. Harrods has a dazzling array of women's and men's fashion plus an incredible food hall, and Liberty, housed in a Tudor revival building, is also crammed with floor after floor of fashionable treasures.
Saturday Evening: Dinner with a View
What's the best way to cap off a full day of blazing through the city? Looking out over the skyline and soaking in the view. And Blueprint Cafe offers and affordable way to do it. The dining room here has five-star views with three-star prices. If you overdid it at tea time, a starter of heritage tomatoes and an entree of smoked trout salad might be just the thing. But if you worked up an appetite while shopping, the grilled rump of Hereford beef and "naughty" chips (fries) paired with hollandaise sauce has got you covered. The view here, right on the Thames with the Tower Bridge looming in the distance, only gets more spectacular as night falls.
Sunday Morning: Themed Walking Tour
You've checked off the typical London sights, so now it's time to indulge in something a bit more quirky. A thematic tour will show you a completely different side of the city. Sherlock Holmes fans can make a pilgrimage to 221B Baker Street, while Harry Potter devotees can visit Platform 9¾ at King's Cross during thematic tours. True crime aficionados will appreciate the spooky thrills of a Jack the Ripper Ghost Walk. Meanwhile, adult mother-daughter duos may enjoy a guided crawl through London's historic pubs. If none of these niche interests sound appealing, spend the morning doing an in-depth tour of the Tower of London, which unpacks its history in the company of a Beefeater.
Sunday Lunch: Traditional Fish and Chips
It would be an absolute crime to leave London without eating the city's ultimate dish: the humble fish-and-chips. Plenty of counters around the city serve up their own version, but Poppie's is the classic, dating back to 1952. Pick from cod or haddock battered and fried to a buttery crisp. Pair it with a large order of chips (fries), doused in vinegar, as the locals do. More adventurous eaters can try the Brit mainstay, mushy peas, or even jellied eels. But the main course is hardy enough that it should sustain you in your trek back to the airport.
Sunday Afternoon: Departure
Take the Express train back to the airport and say cheerio to London while doing a mother-daughter royal wave to the city as you fly home.
You'll Also Like:
All products are independently selected by our writers and editors. If you buy something through our links, Oyster may earn an affiliate commission.