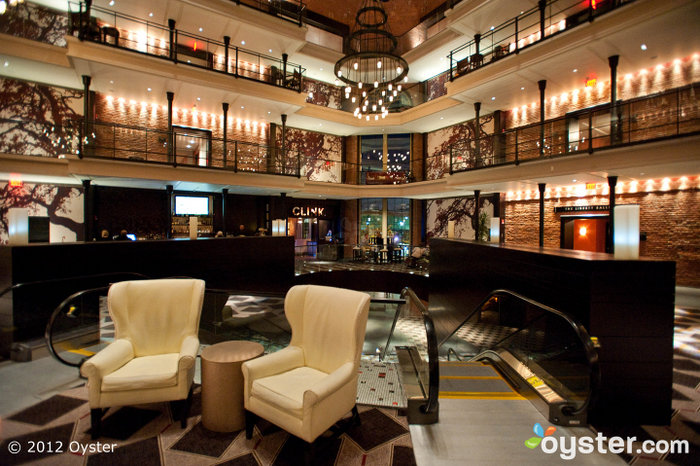 [js_single_hotel_rates_cta hotel="15427" /]
Lobby at Liberty Hotel; Boston, MA
1. FACT OR FAKEOUT? The Liberty Hotel in Boston was busted last month for offering guests a welcome glass of champagne, which violates a Massachusetts law that bans free liquor.
2. FACT OR FAKEOUT? The new "Stay Well Rooms" at the MGM Grand Hotel & Casino in Las Vegas include amenities such as shower water infused with vitamin C to promote healthy hair and skin.
3. FACT OR FAKEOUT? The Hotel St. George in Brooklyn was New York's smallest hotel in the 1940's, with just two rooms and a tiny bar.
4. FACT OR FAKEOUT? Throughout September and October, guests staying at participating Kimpton Hotels can learn kitchen knife skills with lessons from the property's chef.
5. FACT OR FAKEOUT? Mindy Kaling and John Mayer were spotted making out at the Trump SoHo New York's new restaurant, Koi.
Check out the answers after the jump!
1. FACT! The city did force the hotel to stop serving bubbly briefly, but the Boston Licensing Board has ruled in favor of the hotel and the luxurious welcome has resumed. Cheers to that!
2. FACT! The new rooms promote wellness and serenity not only with the fancy shower water, but also with high-tech lighting that "improves the body's internal clock by assisting in the regulation of melatonin production," dawn simulator alarms, and air purification systems.
3. FAKEOUT! The hotel was actually New York's largest hotel, with over 2,600 rooms and a number of restaurants that — combined — could sit up to 10,000 people at a time. The hotel is no longer in operation, but has remained a Brooklyn landmark.
4. FACT! Kimpton Hotels, including Hotel Vintage Park in Seattle and Hotel Palomar DC, offer guests the opportunity to learn everything there is to know about kitchen knives, from how to select the best one to the best way to filet and scale a fish.
5. FAKEOUT! The actress and singer did have lunch together at Koi, but there was no love connection that we know of — Kaling was actually reportedly picking John's brain for dating advice.
All products are independently selected by our writers and editors. If you buy something through our links, Oyster may earn an affiliate commission.