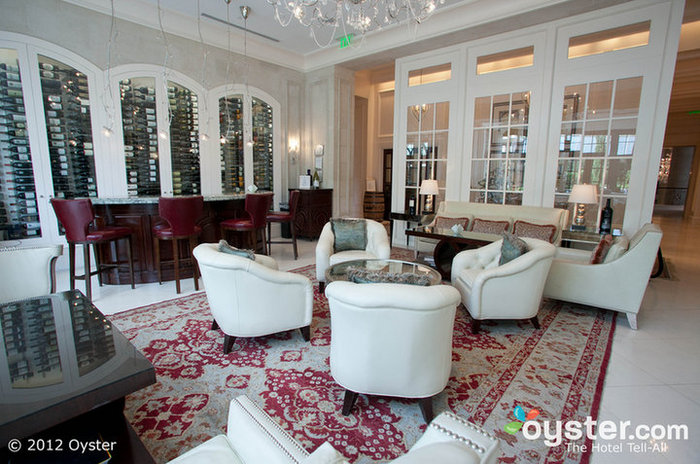 [js_single_hotel_rates_cta hotel="71680" /]
The Wine Room at The St. Regis Atlanta; Atlanta, GA
1. FACT OR FAKEOUT? Some scenes of Flight, starring Denzel Washington and coming to theaters on November 2nd, were filmed at The St. Regis Atlanta.
2. FACT OR FAKEOUT? Blancaneaux Lodge, owned by movie director Francis Ford Coppola, is home to the only natural waterfall in Belize.
3. FACT OR FAKEOUT? The Hotel Savoy Berlin's ballroom is were Greta Garbo and Thomas Mann celebrated the reception after their wedding.
4. FACT OR FAKEOUT? Diners at The Fairmont Kea Lani Maui's restaurant had to be rushed to a safer area after the tsunami alert went off last Saturday due to the 7.7-magnitude earthquake that struck off the British Columbia coast.
5. FACT OR FAKEOUT? The Ritz-Carlton Georgetown has offered a special $299-rate to flight passengers stranded in D.C. due to Hurricane Sandy.
Check out the answers after the jump!
1. FACT! At least three of the scenes were shot in the Wine Room, the hotel's classy wine bar which offers wine tastings and tasty bites.
2. FAKEOUT! The Blancaneaux Lodge is home to a waterfall, but it's manmade. There are dozens of gorgeous waterfalls — natural and manmade — in Belize, not just this one.
3. FAKEOUT! Garbo and Mann probably never even met. But both were guests of the hotel in separate trips to Berlin.
4. FACT! Guests staying in the oceanfront villas also had to be evacuated and were whisked off to higher ground. The tsunami warning was later lifted and guests were allowed to return to their rooms.
5. FACT! The special rate includes free on-site parking and free Wi-Fi. Other properties, including the Kimpton Hotels in Boston, New York and Washington D.C., are offering discounted rates to stranded passengers as well.
All products are independently selected by our writers and editors. If you buy something through our links, Oyster may earn an affiliate commission.