Few cities have neighborhoods as diverse as those in Buenos Aires, which means that no matter your interest, you'll likely find a barrio perfectly suited for you. Seeking tango? Look to San Telmo. For chic shopping and hip coffee cafes? Palermo Soho. History? Recoleta. Here's a guide to our favorite parts of Buenos Aires, and the best hotels in each.
If You Want to Be Hip…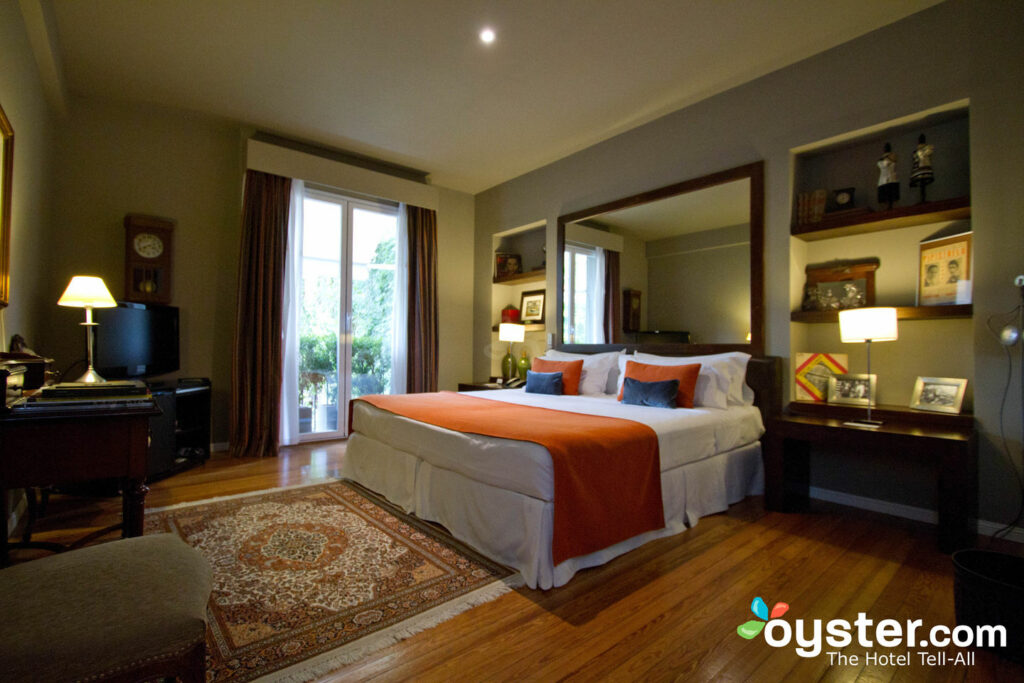 Stay in Palermo Soho, a notoriously trendy
neighborhood that attracts la slew of young artists, cafe-goers, and shoppers. The
tree-lined streets here are super adorable and there are great options for
nightlife in the area. Legado Mitico Buenos Aires is a fun (and hip!) option for something
different; each room here is dedicated to a significant figure in Argentina history,
with themed decor to match.
If You Want History and Luxury…
La Recoleta is one of the most beautiful neighborhoods in Buenos Aires, and is home to the world-famous cemetery in
which Eva Peron (among other notables) is buried. Despite being a little touristy near
the cemetery, La Recoleta is pretty widely considered to be an affluent part of the city
and is home to several upscale hotels and boutiques. It's also close to Palermo
and the city center, which makes it a great place to stay if you only have a
few days. If you decide this is the place for you, Casa Sur Art Hotel is a sleek option with free Wi-Fi and sophisticated touches.
Related Link: 7 Stunning Historic Hotels in Buenos Aires
If You Want to See Tango…
There's really no better neighborhood for tango than San
Telmo (except maybe La Boca, but it's super touristy and there's not really
anywhere to stay overnight there). San Telmo is the oldest neighborhood in Buenos
Aires, and there are several museums, cafes and, of course, late-night tango
shows that will keep you moving throughout the evening. Be cautious when you're
going out though, because some parts of San Telmo can be a little dicey at
night. If you're staying here, look into Ayres Portenos Tango Suites, a good
option for budget travelers and hostel-goers that includes free breakfast and
an on-site bar.
If You Want to Be in the Heart of the Action…
Stay in Retiro, which is just north of Buenos Aires Centro
and just east of Recoleta. This urban barrio is surrounded by subway lines and bus stations, so getting around is never a problem. Many find it worth spending an afternoon people-watching at Plaza San Martin, a popular hangout for
workers young and old. Sofitel Buenos Aires, a luxe spot on a tree-lined street, puts you in the
middle of everything.
You Might Also Like: 9 Awesome Honeymoons No One Takes
If You Want a City Vibe…
Another great alternative to Retiro is Monserrat, which
stems from Plaza de Mayo and includes the famous Avenida de Mayo and its
gorgeous low-hanging trees. As you stroll along this section of Buenos Aires, you may want to stop in Cafe Tortoni, the city's oldest cafe. There are several government buildings in this
neighborhood, but there are also a ton of hidden gems that offer an authentic look into the true pulse of Buenos Aires. InterContinental Buenos Aires is a large, luxury property here; it may attract business travelers (thanks to various amenities and the Monserrat location), but families are also drawn to this hotel due to its large rooms and indoor swimming pool.
Ready to Take Your Trip? View 67 Buenos Aires Hotels
All products are independently selected by our writers and editors. If you buy something through our links, Oyster may earn an affiliate commission.