The New Year's resolutions "spend less money" and "travel more" seem to contradict each other. But travel experts know there are certain tricks to make these two goals align. One is to put your everyday purchases on a credit card with great rewards. Using a card to buy things you're already spending on -- maybe fresh veggies to stick to resolution number 3 (eat better) -- you can tally up miles, points, or cash that will let you take a trip without putting a dent in your savings. But here's the thing: There's no one card that suits everyone. The key is to pick the card that offers perks that reflect the way you actually travel. We consulted several travel experts to see what they carry and how they put that plastic to work for them. Read on for their top picks.
Best for Miles Without Yearly Fees: Capital One Visa Signature
"I've had Capital One's Visa Signature card for years and I love it! This free card is good for anyone who wants to earn miles, but doesn't want to be tied down to a specific airline. You earn miles for every dollar spent on this card, but then you can use them to erase any travel-related purchase you've made. I use this card on pretty much every trip — there's no foreign transaction fees. I also use it any time I rent a car, since it allows me to confidently waive the overpriced insurance most rental companies try to stick you with."
— Caroline Morse, Senior Editor at SmarterTravel
Best for No-Frills Cash Back: Capital One Quicksilver
"I use a Capital One Quicksilver card that gives me 1.5 percent cash back on all purchases and has no annual fee. I'm not particularly loyal to any airline or hotel brand (in fact, I prefer staying at small, locally owned places), so I prefer to get cash rewards that I can spend however I want. Over the past year I've gotten several hundred dollars back — enough to pay for a few hotel nights, but with no blackout dates or brand restrictions! Besides the cash back, the best thing about the card for travelers is that it doesn't charge any fees to make purchases in a foreign currency. It also has some other nice travel perks such as trip cancellation or interruption insurance up to $1,500 per trip, luggage delay coverage, and roadside assistance in the U.S. and Canada."
— Sarah Schlichter, Senior Editor at IndependentTraveler.com
Best for Free Starwood Hotel Stays: American Express SPG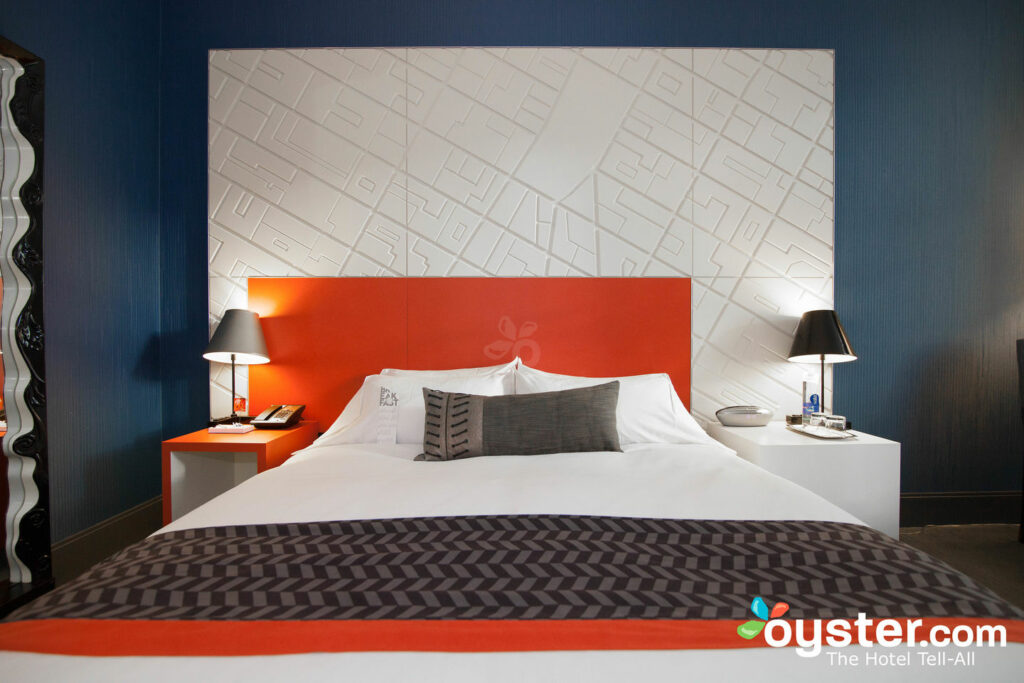 "My go-to card is the American Express SPG card, which is ideal for travelers who frequent Starwood hotel properties, a family that includes Sheraton, Westin, W, St. Regis, Four Points, and Aloft, among others. Marriott's recent acquisition of Starwood means perks apply at Marriott properties as well. Amex SPG users get 25,000 points after spending $3,000 in the first three months, which translates to two nights in a pretty swanky hotel (or more nights at a slightly less posh hotel). You also earn points just for spending: one point for each dollar spent on everyday purchases and two points for every dollar spent on Starwood or Marriott purchases. The card comes with a $95 annual fee, which is waived the first year. It's also worth noting that while it's a great card to have in your wallet for travel, a lot of establishments overseas don't accept American Express. I carry a United Airlines MileagePlus Explorer Visa card as my backup for international travel."
— Colleen McDaniel, Senior Executive Editor at Cruise Critic
Best for Military Families: USAA Military Affiliate Visa Signature
"If you qualify for USAA banking [card holders must have served or have a direct relative that has served], it's worth getting this credit card. I get one percent cash back on all purchases, which I can use for air travel, hotel, car rental, cash redemption, merchandise or gift cards, charitable donation, and cruse tickets. Other features include no annual fee or foreign transaction fees. It also has a relatively low APR, depending on your credit score, and no APR for the first year. Points have varying redemption levels, but all are pretty low — for example, the minimum for air travel is 15,000 and 100 for cash. And points don't expire or cap off. Note: if you have certain brand loyalty to an airline or hotel, this card might not be for you. Travel must be booked through the USAA Rewards Service Center, so not all airlines qualify. And cruise rewards must be redeemed and booked through Explore Cruise & Travel via phone."
— Ashley Rossi, Associate Editor at SmarterTravel
Best for American Airlines Loyalists: Citi/AAdvantage Gold World Elite MasterCard
"I've had a Citi/AAdvantage Gold World Elite MasterCard for more than a decade and the reward trips I've taken over the years include a $70 round-trip non-stop flight from JFK to Tokyo and two tickets for my friend and myself from JFK to New Zealand and back (with a stopover in Hawaii). I chose an AAdvantage credit card because American is the airline that I flew with the most before I had an air miles credit card, and because the potential rewards are to destinations that interest me. The Citi/AAdvantage Gold World Elite MasterCard has a low annual fee compared to other cards I looked at ($50 a year), but it's waived for the first year, so I'd say join and happy travels!"
— Caroline Trefler, Travel Editor
Best for Flexible Rewards Without Yearly Fees: Bank of America Travel Rewards
"I personally look for credit cards that offer extremely flexible travel rewards and no yearly fees. Whenever you have to book travel through the credit card's travel portal, it tends to be very limiting — it might not have the best flight times, for example, or even the airline you want. But some credit cards let you get cash back from your travel purchases after the fact. So you can go ahead and book your hotel or airline wherever you like and redeem the points you accrued on those purchases for cash. The Bank of America Travel Rewards credit card allows this — and without a yearly fee, which can be steep. Pay attention to how many points you get for each dollar spent on travel to maximize your savings."
— Kelsey Blodget, Senior Executive Editor at Oyster.com
Best for Free Hilton Hotel Stays: Hilton HHonors Surpass Card
"My go-to travel rewards credit card is definitely the Hilton HHonors Surpass Card from American Express. Hilton hotels are everywhere, and since this card makes points easy to earn, it's a great excuse to splurge. On a recent trip to Hawaii, I splurged at the Grand Wailea, A Waldorf Astoria Resort. Not only was I able to cover my stay with points, but I earned 12 times the points on every dollar I spent at their 50,000-square-foot spa and restaurant that serves tropical fish and lobster fresh from the lagoon below it. It's a great card for anyone who enjoys the Hilton brand and since they're currently offering a 75,000 point sign-up bonus, now is a good time to get on board — if you spend a fair amount on travel and dining. The card does come with a $75 annual fee, so make sure that you spend and stay at Hilton often enough to make this card worth the investment."
— Meg Butler, Managing Editor at Frugal Travel Guy
Best Card for Regular Transatlantic Flights: British Airways Visa Signature
"When I lived in Europe, I was relatively loyal to my British Airways Visa card because that was the airline I took most frequently for long-haul flights back to the U.S. I loved using the Avios points I earned from those transcontinental flights toward the base fare on short jaunts around Europe. This card offers a sign-on bonus of 50,000 points, if you spend $3,000 in three months, and three points per dollar spent on British Airways, Iberia, or OpenSkies purchases (one point per one dollar for all other expenditures). I typically earned enough points to cover one or two round-trip flights around Europe each year."
— Rachel Doyle, Deputy Editor at Atlas Obscura
Best for All-Around Travel (and the Most Popular): Chase Sapphire Preferred
"Although there are many choices available to travelers, the card that makes the most sense to me is the Chase Sapphire Preferred card. With a $95 annual fee that starts in the second year and a generous sign-up bonus, the Chase Sapphire Preferred [card] allows travelers to earn unlimited Ultimate Rewards points on everyday spending, and double points on all dining. What I love about Ultimate Rewards points is their flexibility: the points can be transferred to airlines in all three major alliances as well as three hotel partners. In addition, the merger and alliance between Marriott Rewards and Starwood Preferred Guest means those points can be transferred even further."
— Joe Cortez, Senior Writer at FlyerTalk
"One of my favorite cards is the Chase Sapphire Preferred Visa. That's because you can earn a lot of points relative to the money you spend, and those points are valuable and easy to use. The type of person who will get the most out of this card is someone who travels frequently, dines out a lot, and wants to use their points for United or Star Alliance flights, or for premium-cabin award seats on Singapore or Korean. Chase Sapphire Preferred might not be the best card for you if you've got most of your miles with American Airlines or Delta. While you can transfer Chase points to American's partner British Airways with the goal of using them for flights within the Oneworld alliance, or transfer them to Delta partner Korean Air with the goal of using them for flights within the SkyTeam alliance, that process isn't as easy as it is with United."
— Wendy Perrin, Founder of WendyPerrin.com
"I've been religiously using the Chase Sapphire Preferred card for years now. I've gotten a ton of free travel out of it, but most recently my (now) wife and I used it to get to our wedding, which was in Greece. I transferred the points to United and we flew business and first to Athens via Vienna on Austrian Airlines (a United alliance partner), which has some of the best airline food I've ever had. This sounds strange, but their sea bass is incredible. And their lie-flat seats were more comfortable than some hotel beds."
— Jeremy Tarr, Editorial Director at Fodors.com
Related Stories:
All products are independently selected by our writers and editors. If you buy something through our links, Oyster may earn an affiliate commission.