Los Cabos is one of the most beautiful beach destinations in Mexico. Here, rugged desert landscapes crash into the sparkling blue sea. However, while the shoreline in Los Cabos is picture-perfect, swimming in most of the region can be perilous. The surf and undertow can be fatal up and down much of the coast between Cabo San Lucas and San Jose del Cabo -- the two towns that anchor the region. Luckily, we have the inside scoop on where you can swim safely. Read on for our definitive list of swimmable beaches in Los Cabos.
Medano Beach (Playa Medano)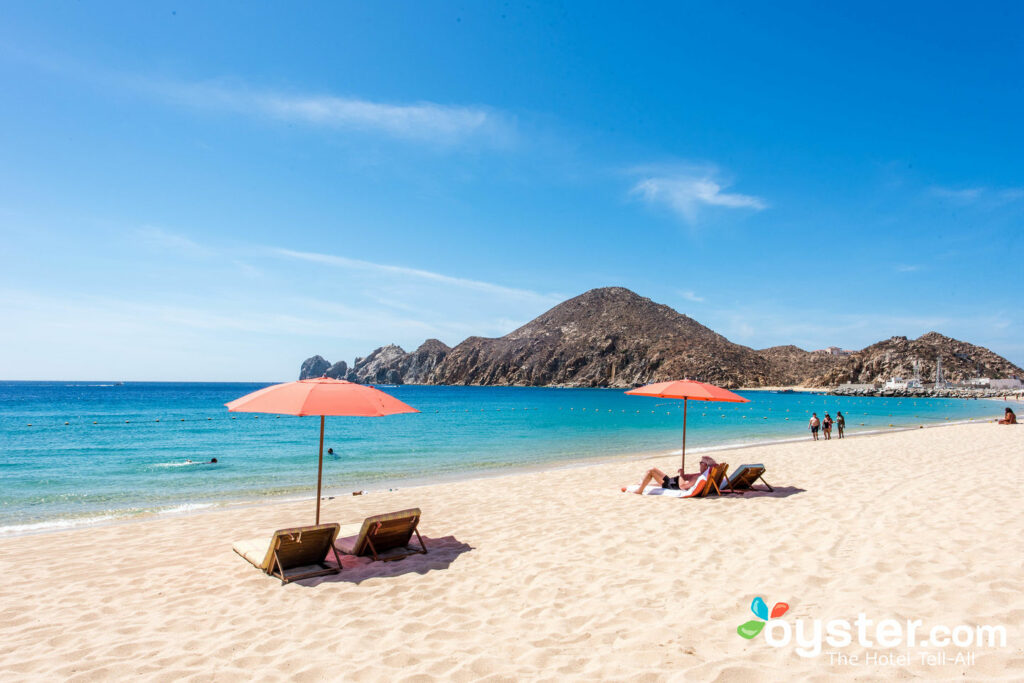 If you want to experience the longest stretch of calm, swimmable water in Los Cabos, then Medano Beach (Playa Medano) is the place for you. Several hotels line the golden sand here, while vendors ply their boat trips, bracelets, and other tourist-ready wares all day long. It's not the most peaceful beach in the region — you'll hear the excited partiers on booze cruises in the harbor most of the day, and all sorts of motorized water sports take place just offshore. Plus, you won't find beachside parking, and the nearby streets of Cabo San Lucas can be packed. You may have to trek several blocks with your beach gear. But if you wish to swim without worrying about your safety, Medano Beach is the region's most famous spot.
Hotel Pick on Medano Beach: Hacienda Beach Club & Residences
Chileno Beach (Playa El Chileno)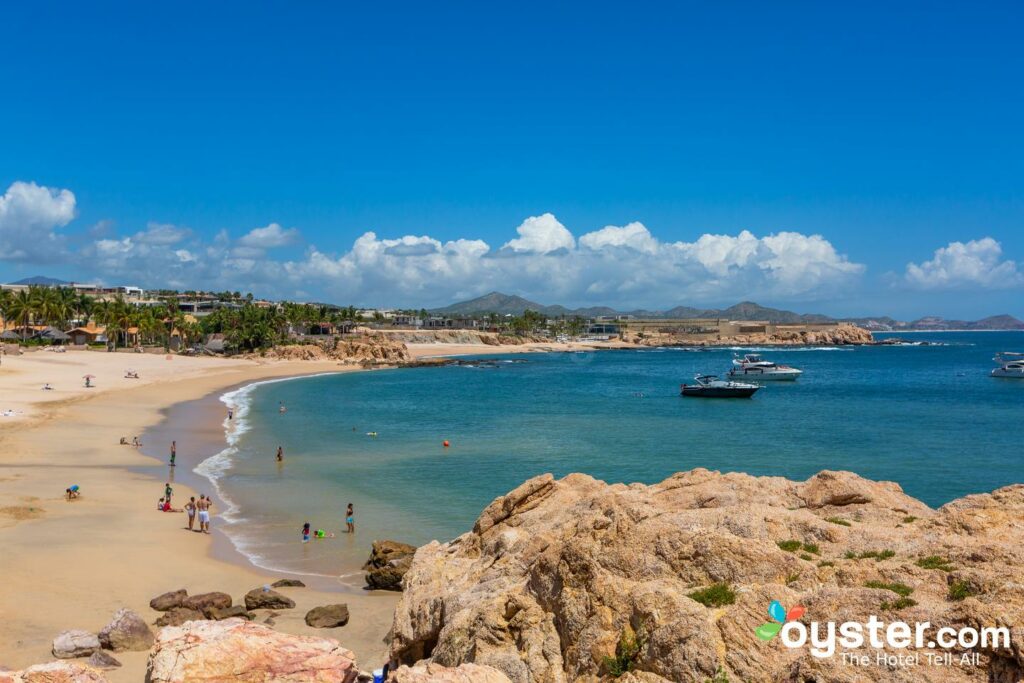 One of the few Blue Flag beaches in the region, Playa El Chileno (or Chileno Beach) is a pretty little strip of sand in Los Cabos. Given its Blue Flag status, you can expect crystal clear (and incredibly calm) water, clean golden sand, spotless restrooms and showers, and even ramp access and wooden platforms for mobility-impaired beachgoers. There are roped-off swimming areas and lifeguards during daytime hours, making it suitable for families. The atmosphere is far calmer than Medano Beach, though a few non-motorized water sports, like kayaking and snorkeling, are available. Bring your own food and drink, as there are no restaurants nearby (except at the stunning Chileno Bay Resort & Residences next door). Parking is free and secure.
Hotel Pick on Chileno Beach: Chileno Bay Resort & Residences, Auberge Resorts Collection
Santa Maria Bay (Bahia Santa Maria)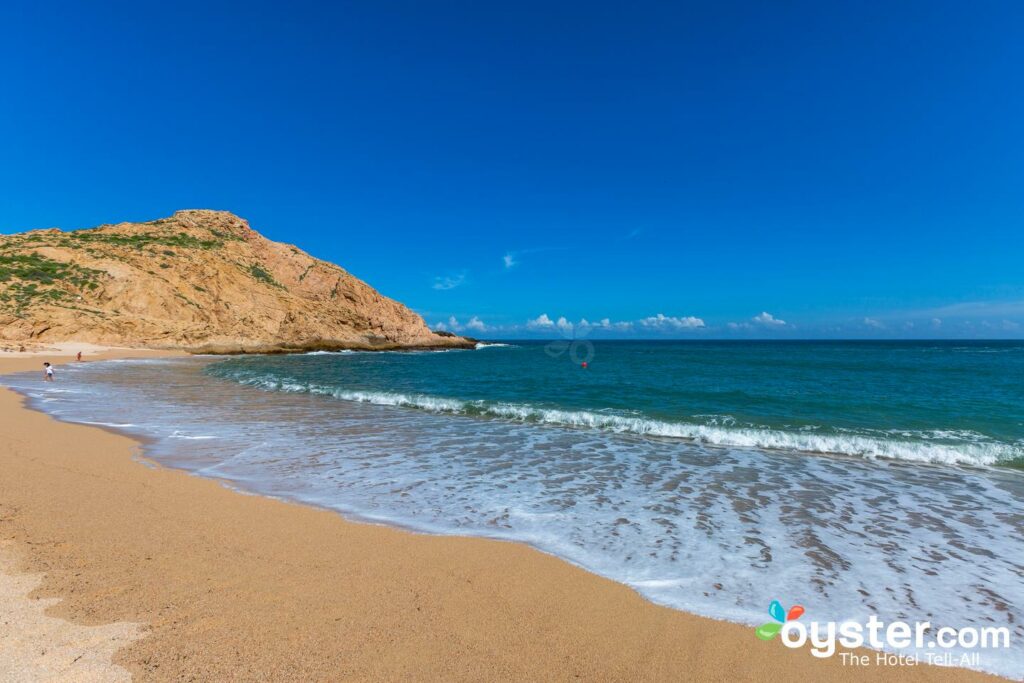 Bahia Santa Maria (or Santa Maria Bay) is just down the coast from Chileno Beach. It doesn't have official Blue Flag status, but the beach itself is less developed than Chileno Beach. There's only one resort development on the sand, which is flanked by rugged headlands that help keep the water calm. That makes this prime territory for snorkeling and swimming, without worrying about vendors or any noisy boats parked in the waters offshore. Bathrooms and changing facilities are available, and the beach has a parking area plus a paved walkway leading to the sand. You won't find wheelchair-accessible platforms on the sand here, though. Plus, the only food and drink available is at the posh Montage Los Cabos next door, but be prepared to pay a premium if you're a day-tripper.
Hotel Pick on Santa Maria Bay: Montage Los Cabos
Palmilla Beach (Playa Palmilla)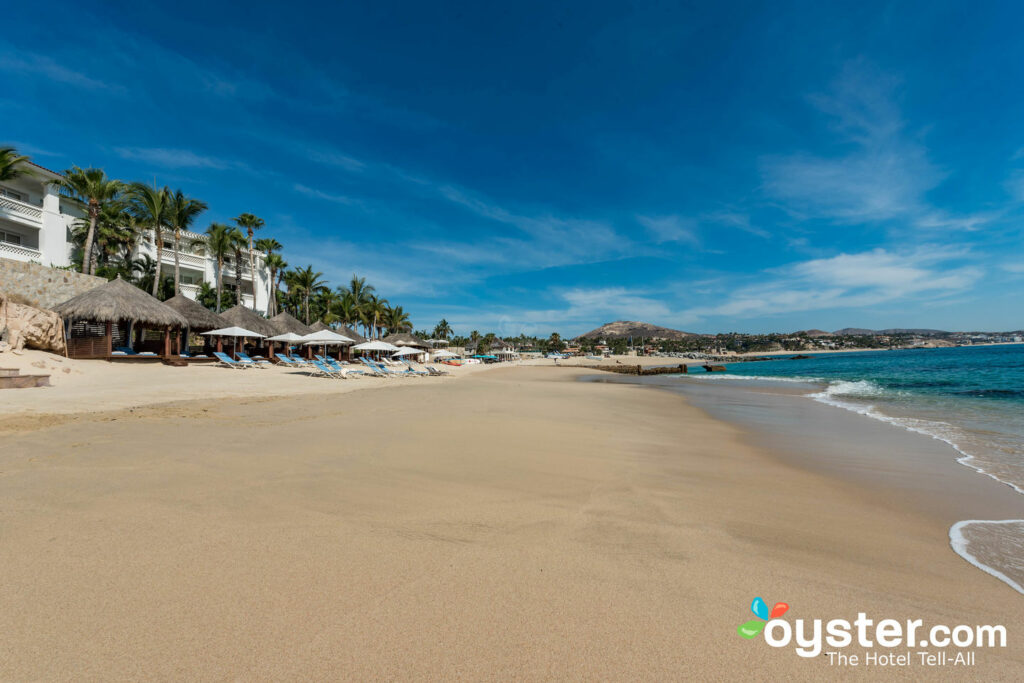 Tucked away in the incredibly exclusive Palmilla development, this is one of the nicest swimmable beaches near San Jose del Cabo — the charming town at the north end of the Los Cabos corridor. The beach is shared with the luxurious One & Only Palmilla, though the entire stretch of sand is open to the public. You'll find lifeguards on duty, as well as bathrooms and showers. The water here doesn't stay as calm as Chileno, Medano, or Santa Maria beaches, so you'll want to check which flag is flying over the shores when you arrive. When the surf is calm, the beach is one of the most popular in the region for families, and you can snorkel and paddleboard as well.
Hotel Pick on Palmilla Beach: One&Only Palmilla
Puerto Los Cabos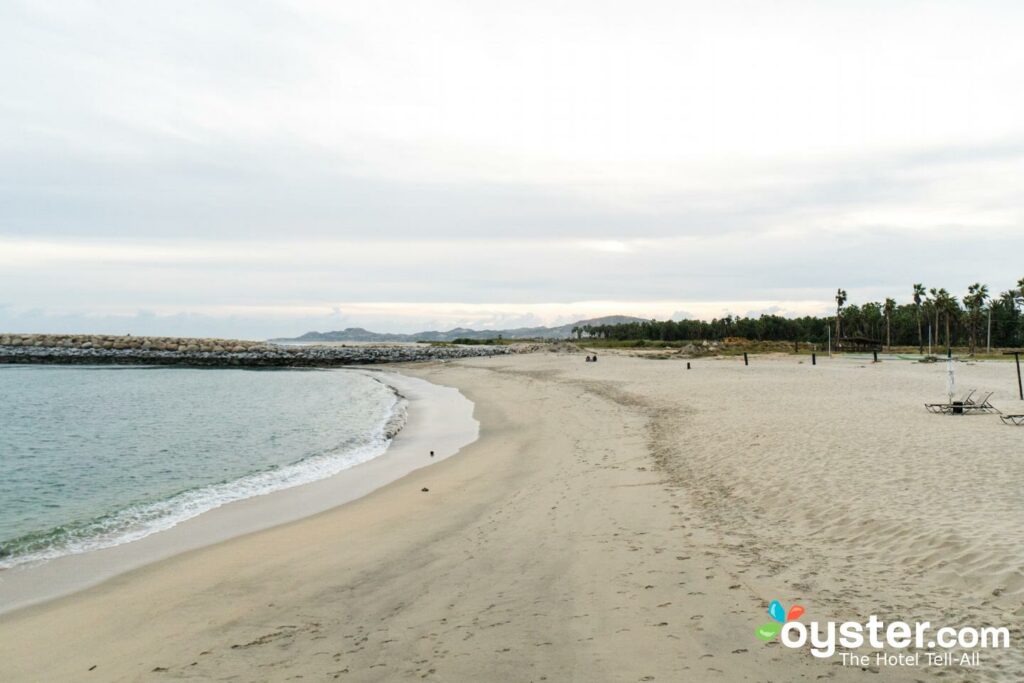 The majority of the beaches close to San Jose del Cabo are perilous for everyone but surfers (and even then can be wild), but this one is a bit of a secret in the region. If you head east across the San Jose Estuary from downtown San Jose del Cabo, you'll enter the new Puerto Los Cabos development. Several hotels and resorts can be found in this area, as well as a marina, a few simple independent restaurants, and a sculpture garden. You'll also find a beach that's part of a beach club operated by the boutique Hotel El Ganzo. Seating at the beach club is reserved for hotel patrons or those willing to pay minimums from the bar and cafe that's associated with it, though there's plenty of public beach space to the west of that as well. As of late 2018, the road here was only partially paved and there were no facilities aside from the beach club. Is it the prettiest beach in the region? No. But for a quick dip, it'll do the trick.
Hotel Pick on Puerto Los Cabos: Hotel El Ganzo
Lover's Beach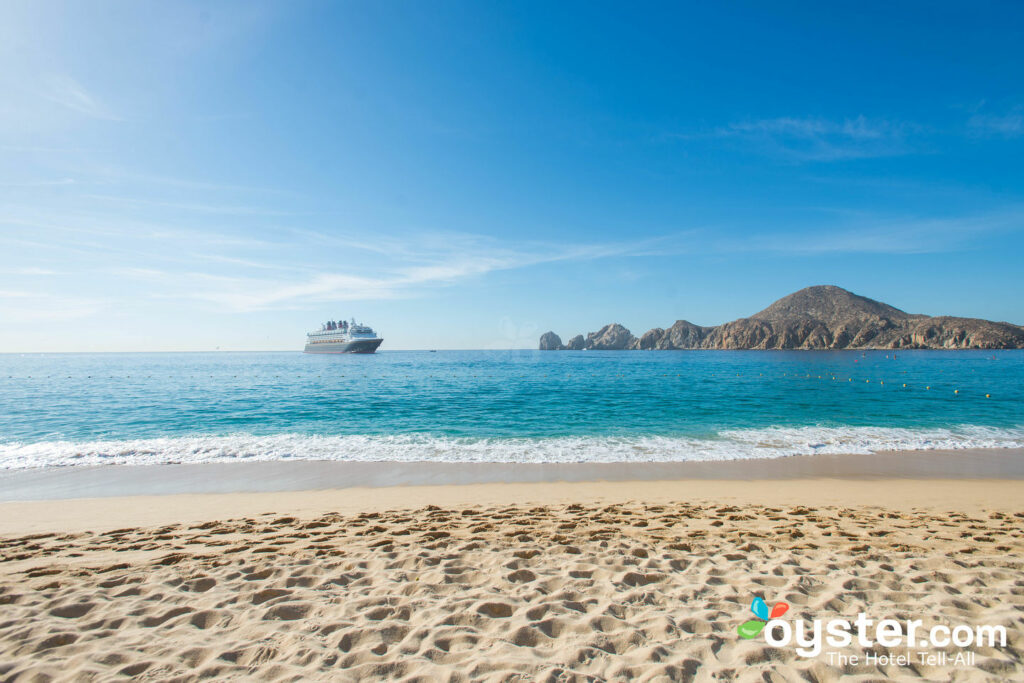 Easily one of the most famous beaches in Los Cabos, Lover's Beach has a postcard-worthy setting that draws tourists in droves. You can only access the beach by taking a water taxi from the marina in Cabo San Lucas (and it's not exactly cheap). Once you're there, you'll find water sports, food vendors, and drinks, as well as plenty of photo opportunities with the dramatic Land's End as your backdrop. Swimming and snorkeling on Lover's Beach are safe, but if you cross over to Divorce Beach (on the other side of Land's End), don't attempt to do either as the undertow is notoriously dangerous.
Costa Azul
Whether or not you can swim at Costa Azul is debatable, and only strong swimmers should attempt the waters here. During our 2015 visit to the region, we were able to swim, but conditions are highly variable. Costa Azul, just south of the San Jose del Cabo's Hotel Zone, is primarily known as a surfer's beach, and kicked off the surfer tourism boom that brought major development to the region decades ago. There are a few boutique hotels and simple restaurants near the beach, though other services are limited (don't expect bathrooms or paved parking). Again, it's worth noting that swimming here is touch and go — always be vigilant and check out conditions by talking to locals or surfers that day. Keep in mind that parts of the shore will also be packed with surfers — particularly Zippers and La Roca — though you likely won't be swimming in those areas as the breaks are generally larger.
Hotel Pick on Costa Azul: Casa Costa Azul Boutique Hotel
Ranging from sizes 2-24 and having a massive style selection, Summersalt is made for Cabo beaches.
You'll Also Like:
All products are independently selected by our writers and editors. If you buy something through our links, Oyster may earn an affiliate commission.