Evolving from a seedy and shameful open secret to a socially acceptable part of Japanese society, the love hotel has transformed itself since inception. Shaking off its negative stigmas it now holds mass appeal in cities from Osaka to Tokyo, with the concept inspiring trendy copycats all over the world.
Taking their iconic name from Osaka's original "Love Hotel" (or "Hotel Love" depending on which way around you read the establishment's
revolving neon sign), modern love hotels originated in the late 1960s. Sure, the world had seen casual hourly room rentals before, where
sex was the primary use, but these were generally associated with prostitution
and lacked the pizzazz of the new Japanese boudoirs. Influenced and encouraged
by societal pressures in Japan, the love hotel went on to establish itself as a
new, dare we say it, more wholesome chapter for free love, swapping its
original by-the-hour seediness for risqué couples' playrooms.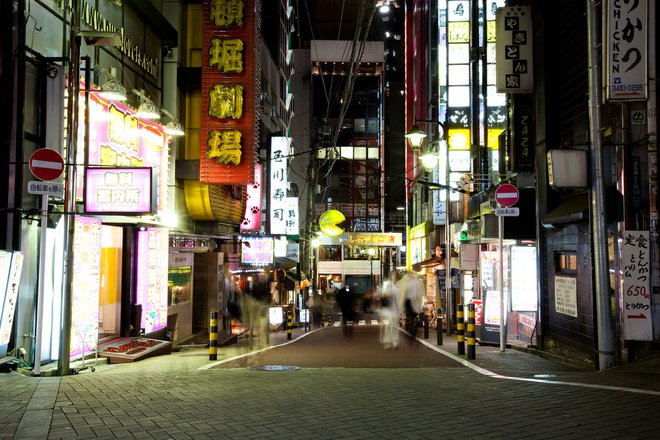 Popularized in Japan, especially Osaka and Tokyo (but also big in
South Korea and Thailand) love hotels were the answer to the problem of privacy
in Japanese households. Homes were — and generally still are — small, walls were traditionally thin, and
various generations occupied the same space, leading to a literal lack of room for
intimacy. Love Hotels became an answer as a semi-acceptable place for couples — for the most part — to escape to.
Either rented by the hour — known as the, ahem, "rest rate" — or
overnight should you be willing to check-in after 10 p.m., the hotels are so
popular throughout Japan that a University of Michigan study by Mark D. West
calculated that the Japanese make around half a billion trips to love hotels
every year, which could equate to the fact that around half of all sex in Japan
occurs in love hotels.
An Escape from the Home
Unlike the seedy, basic,
"no-tell" hotels in the U.S., like New York's questionable Liberty Inn Hotel (tagline,
"Your rendezvous for romance"), the appeal of the Japanese
love hotels became one of indulging fantasy and fetish. Both then and now,
rooms feature anything from anime characters to dungeon themes, appealing to a broad
range of tastes. Initially housed in garish, themed buildings (couple of hours
in a sex castle, anyone?), as their popularity rapidly grew, they evolved to
reflect their standing in society, and began opting for simple, understated
exteriors, with subtle off-street entrances and other gestures towards privacy.
Speaking to the Telegraph newspaper, Phil Cox, director of the
documentary "Love Hotel" says, "All types of people visit… There are 37,000
love hotels across Japan and the numbers of people going each day are quite
staggering — around 2.5 million a day!" Given that such a high proportion of
the population visits love hotels, it's unsurprising that the numbers represent
a cross section of Japanese society. They are visited by young and old, rich
and poor, married couples and naturally, those pairs for whom the private
entrances, frosted glass windows, and anonymous check-ins matter more than most.
Aside from accommodating couples, love hotels also attract singles, with Kim
Ikkyon pointing out to the Nippon Times that these days, when not playing the
dominant role in choosing the room for their respective couple, it's especially
women who appreciate the chance to spend a few hours, or a night alone, for a
relatively cheap fee.
The Tourist Experience
Where there are perceived weird, alien experiences to be had in
foreign countries, there are travelers and tourists looking to explore them.
The love hotel, with its cheap, quirky appeal, is too good to pass up for many. Talking
to Oyster.com, Sian Smith, a production manager from London told us about her stay
in a love hotel on a trip to Busan, South Korea with her female friend. "We chose to stay in a love hotel on Haeundae Beach ultimately because it
was really cheap and the rooms looked clean and
massive," she said. "Also, we liked the
novelty. And there was karaoke, which sealed the deal." Asked about the quirks
of the experience she said, "Aside
from the complimentary lube that came with the room, it didn't really feel weird at all.
Most of the other people we saw wandering about in the hotel were couples, mostly young, but no one looked
twice at us. And the staff certainly didn't
seem bothered that we weren't a couple."
A Change of Approach
In 1985, the Japanese government bowed to social pressure and sought to separately
regulate love hotels from regular hotels. Believe it or not, legal definition
cited "rotating beds, mirrored ceilings, and sex toys" as part of a love hotel's
defining qualities. The same University of Michigan study by Mark D. West
argues that it was this regulation that led to the growth and in turn, evolution
of love hotels to their current state of acceptability. In avoiding new
penalties imposed on love hotels, the latest breed of "couples hotels" simply
cleaned themselves up, removing the seedier accoutrements of the historic sex
hotels and conforming — at least on the outside — to look like regular hotels.
In the following decades, the new love hotels shook off their unwanted stigmas,
achieving a new respectable status — becoming incredibly profitable businesses in
the process.
Throwing out the rotating
beds, mirrored ceilings, and sex toys, you can now expect to find an increased
level of service on offer — not that you ever actually see the staff. Hot tubs,
huge TVs, imaginative decor, high-tech karaoke systems, and even viewable CCTV feeds
from the other rooms can all be part of the experience, as hotels strive to provide the most comprehensive offerings to stand out from the competition. And yes, you can still find the basic sex toys and movies on
the down-low.
The Love Hotel Influence
While the Japanese love
hotel phenomenon hasn't thrived to the same extent in other parts of the world,
it has been an influencer. Brighton's Pelirocco Hotel, with its themed rock 'n'
roll rooms — and Kraken's Lair complete with an eight-foot bed,
pole dancing area, and mirrored ceiling — has more than a passing resemblance to the type of love hotel you'll
find down a Shibuya side street. And at hip hotel chain, Mama Shelter, in a nod
to the more erotic side of hotel stays, the 'Sexy Mama' package will add a "caressing feather duster, a vibrating ring, two massage oil cartons, a lubricant, two erotic dices, and three condoms" to your room.
Even the hipsters have got in on the trend with
Parisian graffiti artist Andre Emmanuel turning a former by-the-hour
establishment in Paris's red light district of Pigalle into a stylishly seedy
homage to the love hotel. The fashion favorite Hotel Amour may no
longer be a by-the-hour sort of place but its theme reflects a fact that
everyone knows and accepts — that sex and hotels go hand in hand, wherever they
are.
The Day Use Trend
Aside from steamy afternoon encounters in erotic, sex-inspired
rooms, the hotel industry has seen a new by-the-hour trend develop that isn't necessarily
about sex at all. The "day use" trend, on offer at London's
stylish Indigo Hotel and New York's boutique Sohotel, is about the "hot desking," remote culture that connects
us, keeps us on the move, and perpetuates the idea that renting a room for a
couple of hours in London or New York — for something other than sex — isn't
out of the ordinary. Speaking to Oyster.com about her views on the rise of "day use" hotels,
Pavia Rosati, founder of travel site Fathomaway.com, explained, "We're living in a time when hotels around the world
are trying to become homes-away-from-home. Lobbies have given way to "living
rooms"; the check-in desk has been reduced to a keyless app. So it makes sense
that hotels want to let customers use hotels as they would use their homes, and
that includes short-term stays. For a layover, for a respite, and, yes, for an
afternoon quickie."
Visitors to Japan are always going to
be interested in indulging their curiosity when it comes to love hotels, but
beyond the kinks and quirks viewed through the eyes of tourists, they clearly
play an important role in the society in which they exist. However, while their
popularity remains, it's worth stating that their numbers have decreased.
Declining in line with a drop in the population of Japanese in their twenties — 18 million in 2010 down to 13 million in 2013 — love hotels have lost a noticeable slice of an
important demographic for their business, writes Robin Harding in the Financial
Times. For other countries, the day use trend is at the start of its trajectory. In this writer's opinion, it seems to fit the pace of life
perfectly and given time, the idea of holing up in a hotel for a few hours for
work, rest, or play (or all three?) might become a more common choice.
Would you engage with the day use
trend? Have you stayed in a love hotel? Let us know in the comments!
Related Links:
All products are independently selected by our writers and editors. If you buy something through our links, Oyster may earn an affiliate commission.