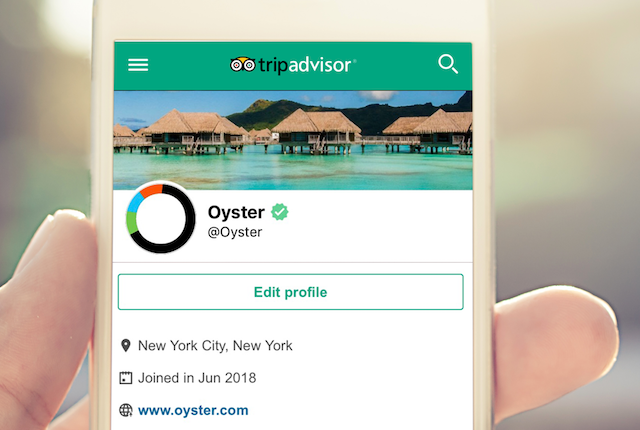 Gone are the days of keeping track of trips -- previous and prospective -- in email threads. Say goodbye to searching for vacation inspiration, hotel reviews, and restaurant recommendations on multiple platforms. TripAdvisor (Oyster's parent company) has launched a social stream that puts all your travel needs in one place. Referred to as the world's first travel feed, this new website and app is here to make the planning process seamless.
Here's how it works: Simply log into your account and follow your trusted fellow travelers as well as industry experts like National Geographic, Conde Nast Traveler, yours truly, and more. (That's right -- no more badgering friends, family members, and coworkers for their tips.) Think of it like a "personalized feed of information," TripAdvisor said in a statement. "For example, a member planning a trip to Paris on TripAdvisor will discover helpful information such as a food critic's article on the best restaurant in the city, an influencer's travel guide of must-do experiences, a friend's review of a new hotel near the Eiffel Tower, and more."
But 'I can find inspiration on other platforms,' you might be thinking. True, but TripAdvisor makes this wanderlust content actionable. "Simply click through to a business listing to reserve a table, book the adventure of a lifetime, or save money when booking the perfect place to stay -- all without ever leaving the site or app."
In addition to gaining expert advice, honest reviews, and stellar suggestions from people you know, users can share ideas publicly or privately, as well as create individual itineraries to share trips or compile and organize ideas for future getaways.
"Just as you have your go-to site or app for music and shopping, we are making sure TripAdvisor is now your go-to source for travel," said Stephen Kaufer, president and CEO of TripAdvisor. "We're very excited to be changing travel yet again."