A relaxing massage, toning body wrap, and a soothing facial are probably the usual treatments you would expect at a visit to a luxury spa. But what would you think of being massaged with common kitchen ingredients like salt, pepper, or coffee; having burning weeds placed on your body; or soaking in bathwater illuminated with different colors? These are just some of the more unconventional spa therapies currently on offer at hotel spas around the world. Here are six unusual and even downright weird wellness treatments that you certainly would not expect from a standard visit to the spa.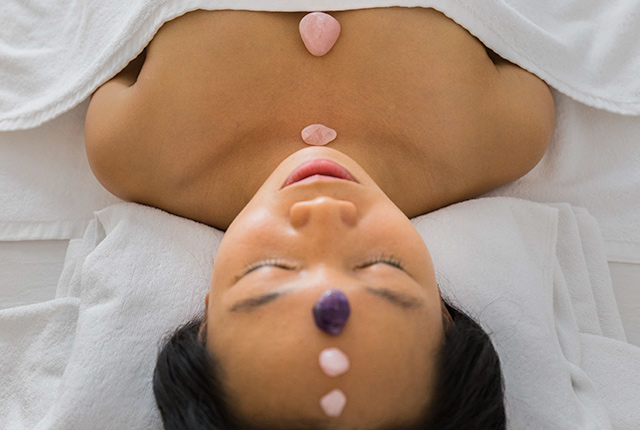 Did you know that mineral-rich pink Himalayan salt is believed to have significant healing properties? This is the main ingredient in Himalayan Heart Stone Massage, a wellness and relaxation therapy that uses heated heart-shaped stones made of pure pink Himalayan salt. The stones contain 84 natural minerals and elements, and therapists claim that their positive ions can neutralize harmful vibrations and balance the body's electromagnetic field.
Himalayan Heart Stone Massage is an unusual, but popular wellness treatment on the spa menu at Fusion Maia, a luxury spa resort set in tropical gardens in Da Nang, a coastal city of Vietnam. The warm, heart-shaped salt stones are combined with pomelo essential oil and placed on specific points of the body. The stones' radiant heat helps to relax aching muscles and reduce inflammation while giving the receiver a blissed out sensation of well-being.
At Fusion Maia, spa treatments are included in the room rates, and the spacious villas have their own private plunge pools and gardens –luxurious extras for the ultimate wellness escape.
Pepper is one of the most common spices found in any kitchen, but it also has medicinal properties. At Porto Elounda's Six Senses spa, red and black pepper are the surprising ingredients used as part of a healing treatment called lipolysis. Lipolysis stimulates a powerful detox in the body by breaking down and melting away fatty tissues, increasing blood circulation, and ultimately having a slimming effect. The "Red and Black Pepper Lipolysis" treatment involves a vigorous massage using red and black peppercorns, whose properties also have a pleasing moisturizing effect on the skin.
Situated on the Greek island of Crete, Porto Elounda is a beachside resort with panoramic views over Mirabello Bay. In addition to the on-site spa, there's a sauna to lounge in, a relaxing indoor massage pool and hot tub, an outdoor infinity pool with jaw-dropping sea views, and the resort's very own private nine-hole golf course.
Mugwort ("Artemesia vulgaris") grows in many places around the world as an invasive weed, but this perennial plant is valued in traditional Chinese medicine for its healing properties. Also called "moxa," it's specifically used in a treatment called "moxibustion" — a form of heat therapy. During the treatment, the leaves of the plant are burned in the form of a stick or cone and placed on acupuncture points or the affected parts of the patient's body. This creates a pleasant, warm sensation, and the moxa is quickly removed before the skin can burn. Moxibustion invigorates the flow of healing "qi" energy in the body that kick starts the healing process.
Moxibustion is one of the alternative treatments on offer at the swanky underground cave-like spa at Lefay Resort and Spa in northern Italy. This eco-friendly luxury retreat is perched on a hillside overlooking Lake Garda, about a two-hour drive east of Milan. After receiving a treatment, guests can relax in the spa's Turkish bath or sauna, or have a soak in one of the two outdoor salt water pools.
When was the last time you saw coffee on a spa treatment menu? At Six Senses Zighy Bay on the edge of the Gulf of Oman, Green Coffee Sculpting is one of the signature therapies on the carte du jour. Instead of providing a caffeine fix, the extract of raw, unroasted coffee beans is used as part of a massage treatment that helps to breaks down fat cells in the parts of the body where these tend to accumulate: the stomach, waist, thighs and butt. While fat cells are being zapped, bloating is also reduced, circulation improved, and overall metabolism given a boost, providing a holistic wellness high.
This two-part invigorating body treatment starts with dry skin brushing using a soft bristle brush to energize the skin, followed by a massage using a body oil of heat-stimulating chili and coffee. Hot towels are then placed over the body to enhance the heating effect of the chili and coffee oil. The second round of massage is more energetic and invigorating and focuses on cooling down the body with a body sculpting gel made up of toning ingredients that are rigorously rubbed into the skin.
Six Senses Zighy Bay is set in a secluded bay on the edge of a mile-long sandy beach surrounded by mountain scenery. The huge salt water swimming pool is ringed with palm trees. Guests can take advantage of other spa facilities like a steam room, sauna, ice cave, hammam, and fitness center.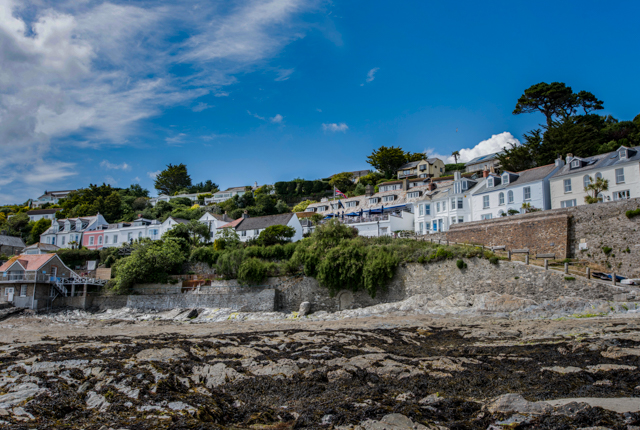 Chavutti Thirumal is an ancient Indian massage technique that the therapist delivers not with the hands, but surprisingly, with the feet! While holding on to an overhead rope to regulate pressure (and balance), the therapist slides his or her feet across the patient's entire body with long, firm strokes with the help of herbal oils. Also known as Indian rope massage, Chavutti Thirumal is traditionally used by practitioners of an ancient South Indian martial art called kalaripayattu. This intense massage relieves tense muscles, improves flexibility and circulation, and stimulates energy flow.
Hotel Tresanton in the picturesque port town of St. Mawes on the southern coast of Cornwall is the only spa offering this treatment in England. This sprawling villa-like property has beach views from many of the guest rooms and a large sun deck facing the ocean.
Chromotherapy uses colors to adjust the body's vibrations to specific frequencies that promote health. According to this alternative therapy, each color has a certain frequency and vibration that affects the body's energy and ultimately creates balance and healing.
At the romantic oceanside Jade Mountain Resort on the Caribbean island of St Lucia, each of the enormous guest rooms has its own chromotherapy whirlpool tub overlooking ocean beyond. Guests can choose which color to illuminate the tub depending on their mood or therapeutic need, then sit back and bathe in its healing color-tinted waters. Need a guide to choose your color? Green is restorative, white regulates sleep, yellow evokes feelings of well being, red is energizing, blue promotes calmness, orange is revitalizing, and magenta lowers anxiety.
You'll Also Like: