Tuscany is a dream destination for many -- rolling green hills, charming medieval towns, stone farmhouses, and acres of vineyards are what usually come to mind. But there's a side of Tuscany many may not know about -- a steamy side. No, not that kind of steamy (well, maybe that too), but steamy in the literal sense -- many Italians and Europeans flock to the little town of Saturnia for its natural thermal waters. These charming properties take full advantage of this unique geographical feature.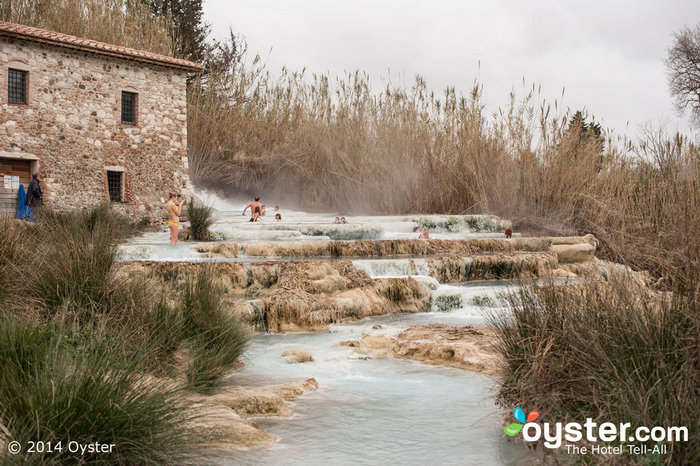 Set among olive and fruit trees in a quiet field, this bed and breakfast consists of four simple but clean, well-stocked apartments slightly set apart from one another, furnished with the basics. A few rooms are available for rent within the compound's main house. Wine made by the owner is available for sample and sale, and a much-lauded homemade breakfast is offered each morning at a very reasonable price. The main advantage of this location is its convenience vis-à-vis the Saturnia waterfalls (within walking distance), as well as its proximity to several towns of historical and cultural interest, including Pitigliano, Sorano and Sovana. The owner organizes full and half-day mountain biking excursions for guests for an extra fee.
This is one of the closest places to stay not only to the Saturnia spa complex (barring staying within the baths' own hotel), but also the Cascate del Mulino, the (free) outdoor waterfalls fed by the same thermal waters as the spa. The latter are accessible via a path through the woods. The apartment and rooms are outfitted with country touches, including antique wood furniture, floral bedspreads, and (in some) wood beam ceilings. A discount to the spa complex as well as the golf course is available, and the hotel has a limited number of bicycles for guests to borrow. The hotel is situated within a farm that produces oil, wine, and honey, all of which are available for tasting and purchase.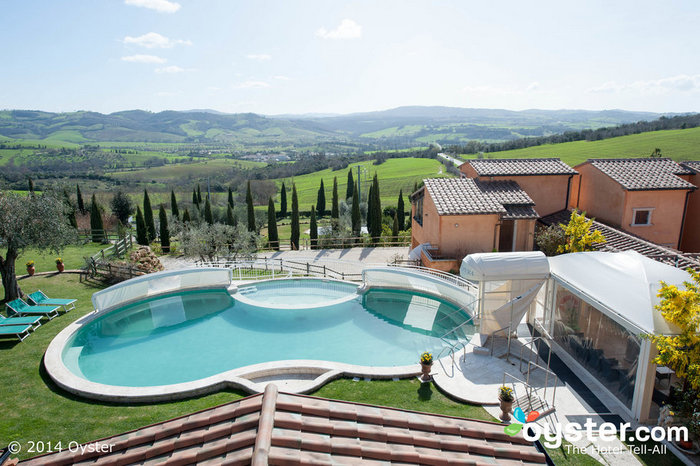 An intimate, family-like atmosphere pervades this hotel and spa in the Tuscan countryside. The 25 rooms are laid out around well-kept grounds, and the conscientiously maintained outdoor pools are sourced from the hotel's private spring, one of Saturnia's famous naturally occurring thermal waters. The excellent restaurant serves local fare in a country-style dining room. Hotel Saturno Fonte Pura is a simpler but very comfortable alternative to the the palatial and more expensive Terme di Saturnia Spa & Golf Resort, a better known hot springs hotel that is located three kilometers away.
Saturnia Tuscany Hotel's chateau-style building and small but well-designed spa are with easy reach of the Saturnia baths. The upscale hotel offers a clean, well-maintained and relaxing location from which to explore the nearby waterfalls and spas, and, further afield, several picturesque towns. While the hotel has its own spa, many guests have commented on its modest size; Terme di Saturnia, a considerably larger resort with thermal baths and its own set of spa offerings, is just down the road. Saturnia Tuscany's own restaurant is widely considered good, and has gluten-free options upon request.
Check out Oyster's page on Google+
To learn more about Kelsey Blodget, visit her on Google+
RELATED LINKS:
All products are independently selected by our writers and editors. If you buy something through our links, Oyster may earn an affiliate commission.