Major travel industries rarely crop up overnight. But since Colorado, Washington, and Oregon began legalizing recreational marijuana in 2012, businesses built around pot tourism have taken root -- and flourished. A staggering number of 420-focused ventures -- like tour companies and artisanal dispensaries (only in Colorado and Washington) -- have appeared in just a few years throughout those states, where anyone over 21 can legally purchase marijuana. (Alaska is expected to be ready for recreational sales next year.)
Today, travelers wanting to experience the "green rush" can not only browse and buy weed from dispensaries, but they can also visit marijuana farms and grow labs, take edibles cooking classes, attend cannabis dinner parties, stay in weed-friendly lodgings -- and even participate in a ganga yoga retreat on a former dude ranch! But for those who like their weed without a side of Warrior One, a marijuana tour is a great and easy way to get a high-level overview (pun very much intended) to the world of legal marijuana, which might feel like totally uncharted territory for out-of-state visitors.
Marijuana tours, which can range from three-hours guided walks to immersive, multi-day excursions, address the questions asked by most visitors, whether regular smokers or complete weed newbies: How does it work exactly? Am I allowed to smoke anywhere? Can I bring it home with me?
Here's the (drug) deal.
https://www.instagram.com/p/kkjAxrREK0/
Colorado was the first state to decriminalize the use of recreational marijuana, so it stands to reason that the pot industry is most extensive there, where it has had the most time to develop. Indeed, marijuana-based businesses — especially tour companies — are thriving throughout the state. Denver is arguably the state's pot-scene hub, with operations like 2 Girls Tours offering packages complete with airport pickup and pot-friendly lodging.
Southwest of Denver, in the picturesque mountain town of Telluride, Andrew Dolese founded Telluride Green Tours in 2014 as a response to meeting visitors who were intensely curious about Colorado's marijuana industry. "Tourists would always ask the same two questions: 'Where can I buy weed' and 'How does it work'," he says. "Green Tours explains the legal marijuana market, as well as tells a bit of the unique history of Telluride. — For instance, did you know that Western legend Butch Cassidy, the famous bank robber, robbed his first bank in Telluride? — About 95 percent of our customers are people over the age of 55 who have not tried weed since the 1960s or '70s and want to learn about what is happening out here. So we have a casual walk around town, stopping at all four of our dispensaries, and wrapping up at the oldest bar in town, The New Sheridan, established in 1895."
South of Telluride lies Durango, another quintessential Rocky Mountain town. "We're 6.8 square miles and we have 10 marijuana dispensaries," says Regina Wells, who founded Durango Artisanal Tours with her husband in 2015. "Durango voted by more than 70 percent to legalize the use of recreational marijuana, so we're a pretty cannabis-friendly town." Durango Artisanal Tours' walking excursions showcase the area's stunning natural scenery, while explaining the bud basics. "We talk about sativa versus indica, and the different strains, terpenes, edibles, oils, patches, tinctures, and so on, then guide folks through the purchase process, which can be confusing for first-timers. Then, we give them a wonderful place to enjoy their newly purchased herb." Durango Artisanal Tours' High Nooner Tour includes lunch in downtown Durango. "We spend the rest of the time kicking back under the pines, walking along the river trail, or meandering through our downtown section. Durango is a gorgeous little mountain town and we enjoy highlighting the best parts of it with our river and narrow gauge train running right through town."
Durango Artisanal Tours offers a number of specialty options, including the half-day Cannabis and Health tour that includes a massage at a local spa and the two-day Wild Foods Foraging Tour ("we go to the high country to find and eat edible gourmet mushrooms — not the psychotropic kind. We sauté them right there on top of a mountain while you relax and enjoy the view.").
https://www.instagram.com/p/BEW8X-qu7eE/
Soon after Colorado legalized marijuana, Washington state also gave recreational pot use the green light. When the vote passed, Michael Gordon founded Kush Tourism in Seattle, as a way to "support travelers interested in cannabis tourism. My favorite phrase is that everyone knows someone who has visited Amsterdam, and it's not because of windmills and bicycles! With that being said, Amsterdam has been very open that they do not like travelers coming to consume cannabis. We thought if we took the opposite approach, we could develop a new industry."
Today, the $150 Kush Tour is "by far the most popular tour that we offer," says Gordon. The three-and-a-half-hour experience includes a glass-blowing demo, and visits to a dispensary and grow facility. "We have a great mix of people on our tours, usually couples," says Gordon. "Most people have some experience consuming cannabis and are interested in the growing aspect, the culture, and how the industry works here in Washington." He notes that some tour guests are "policy makers from other states hoping to legalize medical or recreational cannabis in the coming years."
The sudden surge of pot tourism hasn't been without its, er, growing pains. There are advertising restrictions, though Kush Tourism advertises "in over 3,000 hotels and tourist attractions in three states," according to Gordon. He also says that "the U.S. bank dropped our banking even though our tours are one-hundred percent legal and we don't even touch cannabis. And [local tourism organization] Visit Seattle just accepted our membership, after more than two years of requests." (Kush Tourism tours are now available through Groupon, Goldstar, and Viator, in addition to Visit Seattle.)
For now, federal banking laws prevent dispensaries from making deposits, so be mindful that pot tourism is largely a cash-only industry (tour groups are in a different category since they don't buy, sell, or distribute weed, and most use credit cards). "Most dispensaries are cash-based due to banks not being able to deposit their money like normal businesses because of the [federal government's] scheduling of cannabis," says Wells. "When this changes, our dispensaries will finally be freed up to bank like other businesses."
Speaking of buying weed, purchasers should only get what they can consume on their trip: "You cannot cross any state border with cannabis — not even marijuana residue in a pipe," Wells warns. "Any form of cannabis must be consumed, thrown away, or gifted to someone in the state, so it's best for guests to buy in smaller amounts."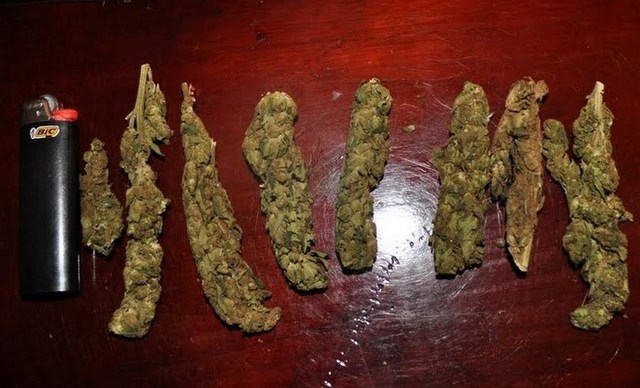 Something else to keep in mind: While recreational pot is legal, public consumption is not. (Though Dolese expects that public consumption will be legal throughout Colorado by 2017, and Gordon points out that the fine for public consumption in Seattle is less than the cost of a parking ticket.) "We always tell our guests that the public consumption of cannabis is still illegal," says Wells. "This means no consumption in bars, community parks, public outdoor smoking areas, on buses and airplanes, or federal land. The passing of Amendment 64 was supposed to regulate cannabis like alcohol, but this has not happened yet."
Despite these few setbacks and boundaries, Gordon describes the past few years as "a wonderful journey. When our guests go on the tour, they meet a master gardener who grows pot, but also used to be a curator for a butterfly house. The cannabis industry is comprised of regular, honest, hardworking individuals. When you meet them and hear their passion for the industry and knowledge about cannabis, the social stigma completely dissipates." Wells says that since starting Durango Artisanal Tours with her husband, it has "become absolutely clear to us how important legalization has become on so many different levels. What we thought was going to be a fun, light, playful, get-stoned-on-vacation kind of tour turned into so much more. We've had guests take our tours with the intention of getting high, yes, but the majority of our customers want to learn about the healing properties of cannabis."
Related Links: