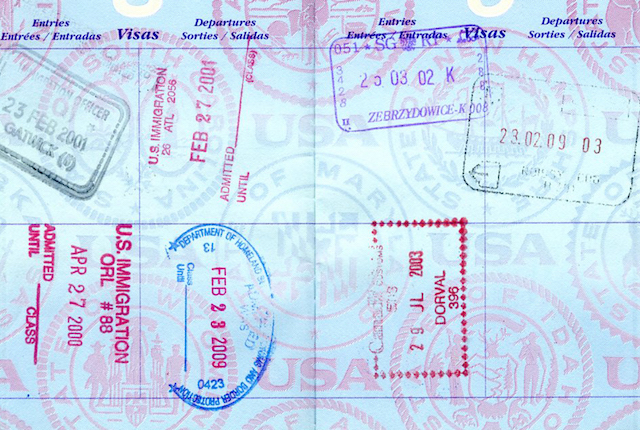 Are you a U.S. citizen? Is your passport close to expiring? If so, here's everything you need to know about passport renewals.
Renewing by Mail vs. Renewing in Person
The easiest way to renew a passport is by mail. Fill out a DS-82 form and mail it to one of the two National Passport Processing Centers, depending on which state you live in. Addresses and specifics can be found here. However, in some cases, you'll need to apply in person, using a different form (DS-11). Reasons include: if you lost your current passport, if you got your most recent passport before you turned 16, if it has been more than 15 years since you got your last passport, or if your passport is damaged beyond normal wear and tear. If you're renewing from overseas, you'll need to apply through your local embassy or consulate. Contact info can be found here.
What You'll Need
The first thing you'll need to do to get your passport renewal process going is collect relevant documents. First, you'll need your current passport (you'll get it back, cancelled, don't worry). You'll also need a color passport photo on a white or off-white background, measuring two by two inches. You can't wear glasses and your head must be positioned so that it takes up between an inch and one and 3/8 inches from the base of the chin to the top of the head. Your best bet is to get it done professionally rather than trying to do it yourself; unacceptable photos will only delay your application process. If you've changed your name since your last renewal, you'll also need legal proof in the form of a court document, a marriage certificate, or a divorce decree. You'll need to submit all of this along with a passport renewal form and a check or money order to cover fees.
If you're required to renew in person, you'll need a few additional pieces of documentation. First, you'll need proof of your U.S. citizenship. This could be a birth certificate, a consular report of birth abroad if you were born overseas to U.S. citizen parents, a certificate of naturalization or citizenship, or even your old passport (if it's not damaged). Bring the original, plus a black-and-white photocopy, printed on one side on standard office-size paper (8.5 x 11 inches). You'll also need an ID (think a driver's license or a military ID card) and a photocopy of that. Additional documentation depends on your circumstances (such as if your passport was lost or stolen or if you are requesting your gender be changed).
Turnaround Times and Expediting Your Renewal
Once you've submitted your passport, you can expect to get it back in about four to six weeks (though turnaround is often a lot faster). However, if you're in a rush, you can pay extra to have the service expedited. This means you can get your passport back in as few as two to three weeks, if you do it by mail or eight business days if renewing in-person at a passport agency. In-person appointments are available for people who have travel plans within two weeks (four weeks if they have to send their passport out for a visa before they travel). Proof of travel is required. Travelers with immediate needs to leave the country (such as death or illness in the family) can also make emergency appointments, but will need proof of the urgency of their situation (such as a letter from a hospital or a death certificate of a loved one).
When to Renew
If you are traveling, you should know that many countries will not allow you to cross their borders unless your U.S. passport is valid for at least six months after your date of entry. You can review the entry/exit requirements for your destination here. Keep in mind that a child's passport is valid for five years, while an adult's passport is valid for 10 years. Tip: According to the U.S. State Department, processing times are shorter from September to December.
You'll Also Like:
All products are independently selected by our writers and editors. If you buy something through our links, Oyster may earn an affiliate commission.