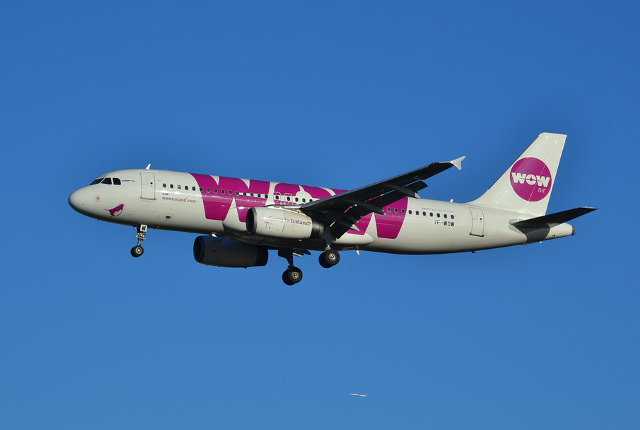 As you've probably seen all over your Facebook feed, $69 flights from the U.S. to Europe are here. Budget airline Norwegian Air has been promising that low trans-Atlantic fare for awhile, but it was Iceland-based WOW Air that delivered the goods first, releasing $69 one-way tickets yesterday. Before you go on a major spending spree and book weekend trips every month for the foreseeable future, there are a few things you might want to consider—not everything is as good as it seems.
Prices are one-way, not round-trip.
If you see a double-digit price for a plane ticket to Europe, you're probably looking at a one-way deal. The extremely lucky might find a return leg for the same price, but more often than not, flights back from Europe cost more than flights to it on budget airlines. For instance, at the time of publishing, if you take the $69 WOW flight from San Francisco to Edinburgh, Scotland, the cheapest flight back will run you an additional $199.99. That being said, a round-trip flight from the West Coast to Europe for under $400 is still an incredible deal, but not as great as the $69 fare you saw advertised.
There are limited discounted tickets available.
Can't find the $69 fares listed on WOW's site? That's probably because the cheap seats have already sold out. Only a limited number of tickets are available at that rate, and on very specific flights, at that. Forget about discounts on holiday weekends—you might have to settle for a Monday to Thursday trip. We imagine you'll find the same problems when Norwegian releases its own $69 flights. But WOW CEO Skúli Mogensen did tell USA Today that "[he doesn't] want to introduce this as a sale. It's really setting the stage for what is coming." Perhaps one day soon, these fares will be a lot more common.
Baggage rules are strict.
If you've ever flown one of the budget European airlines, like Ryanair or EasyJet, you've probably seen more than one traveler struggle to squeeze his or her bag into the contraption that measures suitcases. [Editor's Note: I've personally watched a passenger put on half of her packed clothing before boarding so her bag would fit.] That's because the airlines have extraordinarily strict rules when it comes to your luggage, and so do the trans-Atlantic carriers. While both Norwegian and WOW allow you to bring one carry-on and one small personal item for free with its cheapest ticket, WOW's size limit is tiny—your carry-on must be 17 x 13 x 10 inches, which is smaller than most U.S. fliers are used to. Everything else will be charged. Checked bags can run you upwards of $70, which might be more than your actual plane ticket. And if you pay for one on Norwegian, make sure it weighs less than 20 kilograms (44 pounds). Each additional kilogram over 20 will cost you $15. Pack light, or pay up!
You can't choose your seat.
Not for free, anyway. The discount fares mean you might stuck in the middle seat on an hours-long redeye. It might be a worthwhile risk if you're flying solo, but if you'd like to be seated near your travel companions, you'll have to pay.
Flights can be extremely delayed.
Both WOW and Norwegian have limited numbers of aircraft that can make the trans-Atlantic trek: WOW flies seven Airbus A321 and three Airbus A330, and Norwegian flies 12 Boeing 787 Dreamliners (with 20 more ordered). So if one flight is delayed or canceled, there likely won't be another plane available to replace it for its next route. This creates a snowball effect that can delay passengers for hours, if not days, as all subsequent flights on that aircraft will have to be pushed back. Major carriers, however, have more planes, which means a replacement might come more quickly.
There might be layovers.
Every single WOW flight between North America and Europe stops in Reykjavik, Iceland. This actually can be used to your advantage—the airline allows you to take a several-day layover there at no cost, which essentially adds a free destination to your vacation. Norwegian does have several direct routes to destinations like London, Oslo, Stockholm, and Copenhagen, but if you're flying elsewhere, you'll likely have to spend a few hours in one of those airports first.
Food isn't free.
This probably isn't too shocking to frequent fliers. Complimentary meals on board have become somewhat of a rarity these days. Both airlines do offer meals for purchase, but you can always bring your own snacks.
Availability of entertainment and Wi-Fi varies.
This is a major dividing point between WOW and Norwegian. WOW does not offer Wi-Fi, though they sometimes have outlets to power your devices (despite the fact their website claims to have them under each seat). Take advantage of that new Netflix download feature if you don't want to stare off into space for nine hours. Their website also notes that there are no in-flight entertainment systems available, but passengers have reported that flight attendants offer iPads for rent with pre-downloaded movies and games. Norwegian, however, has free Wi-Fi on most short-haul flights (you can pay to watch movies and live-stream TV), and a complimentary in-flight entertainment system on long-haul ones—and a great one at that.
At the end of the day, the discount flights to Europe are still a very worthwhile deal—if you can find them. You just need to accept that you'll get what you paid for. While the airlines have good safety records and new, state-of-the-art planes, you'll be nickel-and-dimed for other amenities that full-service carriers often offer for free. Just remember to read the fine print very closely to avoid any surprises.
Update 1/11/17: We amended this article to update the availability of outlets and iPads on WOW Air.
You'll also like:
All products are independently selected by our writers and editors. If you buy something through our links, Oyster may earn an affiliate commission.