A luxurious, 72-room converted palazzo in the northern edge of Venice, Boscolo Venezia Autograph Collection is a quiet retreat from the chaotic heart of the city. The rare, private garden and spa with hot tub, sauna, and steam room are highlights. Rooms have classic decor and Venetian portraits, but upgrading to a Junior Suite gets guests more space and style — these rooms have high ceilings and intricate crown molding. The hotel's location is far from Venice's main attractions, but it does offer free water taxi service to St. Mark's Square and Murano.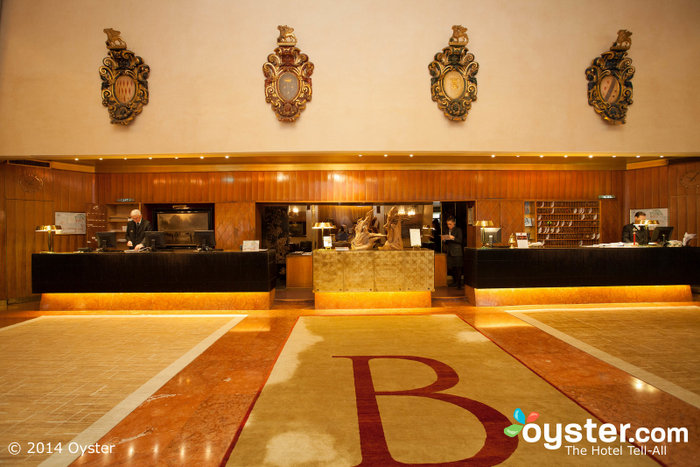 The 119-room Bauer Hotel is a convenient two-minute walk from St. Mark's Square in the heart of Venice. This exclusive Art Deco-influenced property has a grand lobby full of gold accents and chandeliers as well as traditionally decorated rooms with high ceilings and big, modern bathrooms. The hotel features a restaurant and two two bars; Bar Canale has an outdoor terrace and Grand Canal views. There is nice variety in the daily breakfast buffet, but rooms lack tea or coffee facilities. Rates are typically lower at the nearby Hotel Saturnia, but the Bauer is arguably a bit more elegant.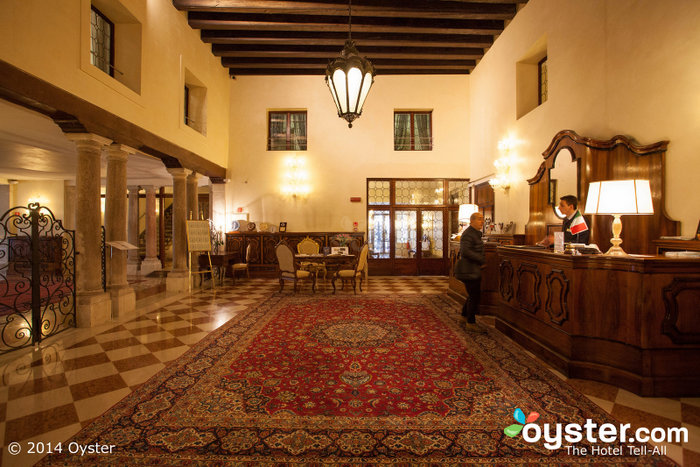 The 42 luxurious rooms of Ca'Sagredo were designed in aristocratic Venetian style. This restored pink palazzo on the Grand Canal has maintained its original grandeur, including salons filled with frescoes and sweeping staircases. Huge rooms have plush furnishings and marble bathrooms; the terrace along the canal is a scenic place for a drink. This is one of the most decadent hotel experiences in Venice, and it's right on the Grand Canal, within walking distance of St. Mark's Square.
This contemporary, 209-room hotel in Mestre is a 10-minute train ride from Venice. This urban location lacks the charm of central Venice, but does offer a parking lot. Rooms are either big and contemporary with a modern, minimal style or not renovated and dull. A welcoming restaurant has an open kitchen and a nice bar provides an evening gathering space. Breakfast and Wi-Fi are free, but some rooms experience noise from the nearby train station.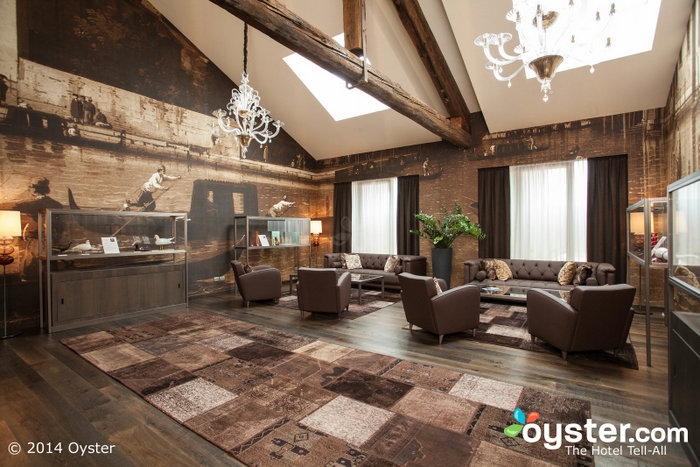 This upscale, charming 118-room hotel on Murano Island in the Venice lagoon is a chic, modern pick with a quiet atmosphere. This restored glass factory has bright, spacious interiors and displays local glass artwork. The polished rooms are decorated in soft, earth tones with big, modern bathrooms. The hotel offers free transport to the airport and mainland Venice.
A 97-room classic Venetian property, The Boscolo Hotel Bellini overlooks the Grand Canal near the bus terminal and train station. Rooms are traditional and elegant with small flat-screen TVs, Murano glass lamps, and big marble bathrooms — some rooms have nice balconies, too. A bright breakfast room overlooks the garden and breakfast is free, but Wi-Fi is only available in the lobby and bar. Just note that the Cannaregio location is a significant trek from many popular tourist sights.
Locanda Orseolo is a 12-room guesthouse located in the heart of Venice, a short walk from Piazza San Marco. Traditional, elegant rooms have theatrical wall murals, glass chandeliers, and small flat-screen TVs. This restored Venetian home has charming, original elements such as exposed beam ceilings. A quality free breakfast is served in a room overlooking a small canal, but there is no elevator and canal-facing rooms can experience some early morning noise. Rates are among the most competitive in the area for what you get.
Hotel Moresco is a 23-room boutique on a small canal near Venice's bus terminal. The tranquil bar with library and fireplace provides a welcoming setting where guests can relax with a drink and snack upon check-in. Spacious, bright rooms have fun names — such as The Scribe and The Gondolier — and include mosaics in bathrooms, flat-screen TVs, and big antique mirrors. But the hotel's location is somewhat removed from tourist attractions. Aqua Palace Hotel has a more central location, but its rates tend to be a tad higher.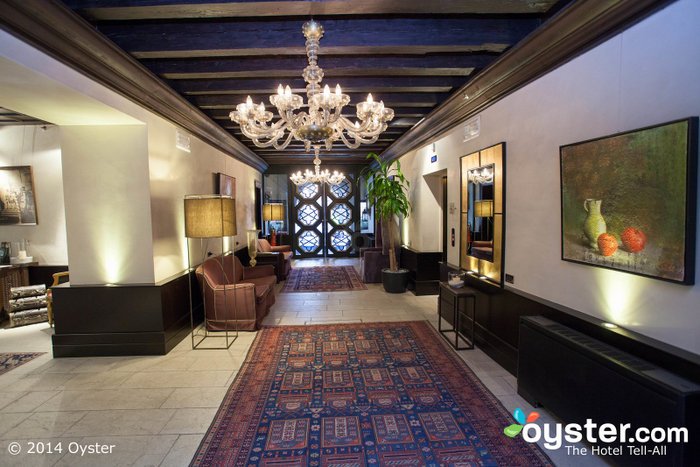 A 24-room restored palazzo in the heart of Venice, Aqua Palace Hotel is conveniently located halfway between the Rialto Bridge and St. Mark's Square. Soft lighting, elegant chandeliers, and classic Venetian architecture give this boutique a peaceful, romantic atmosphere. Refined rooms have small flat-screen TVs, stocked minibars, and inviting, big bathrooms. This charming hotel overlooks a small canal.
The clean, 67-room Carnival Palace Hotel near the train station in Venice is tucked away in the quiet north of the city, away from the tourist bustle. A big, well-kept interior garden and small bar in the lobby provide convenient places to relax. Rooms are bright and upscale with Murano glass chandeliers and either face the Cannaregio Canal or the garden; the garden side is quieter. This hotel is a good pick for visitors that want to explore a more local side of Venice. It's worth comparing rates with UNA Hotel Venezia, but rooms here are more modern.
A classic Venetian small palace turned 36-room hotel, the UNA Hotel Venezia is located in the charming Cannaregio district near a Vaporetto stop. A cozy café serves a big breakfast buffet and free afternoon refreshments — including Prosecco. Clean rooms have elegant, historical style (think: damask wallpaper, bed drapery, striped fabrics, gilded mirrors, chandeliers), but some may find the rooms with green decor a tad busy. There are pretty canal views from some rooms but there's a pesky fee for Wi-Fi. It's worth comparing rates with the Carnival Palace Hotel, which has free Wi-Fi and arguably more stylish rooms.
A 32-room boutique in a restored 17th century palazzo, Hotel Ai Reali is located in the heart of Venice halfway between the Rialto Bridge and Piazza San Marco. Rooms are big and elegant with gilded, carved headboards, original hardwood floors, and big marble bathrooms. An inviting restaurant and bar both have canal views; a top floor spa offers the rare features of a pool, whirlpool, and sauna. It's one of the best upscale picks in Venice.
An upscale 96-room hotel decorated in 18th-century Italian style, the Papadopoli Venice – MGallery Collection is a convenient pick near the train station and bus terminal. There is a grand, traditional lobby with piano and marble floors along with a restaurant set in a striking winter garden. Rooms are bright and spacious with Venetian chandeliers and big bathrooms, but some experience noise from the nearby bus terminal.
A seven-room residence on the Grand Canal, Al Ponte Antico Hotel is an elegant restored palazzo with a lovely shaded terrace overlooking the Rialto Bridge. Located on a quiet street in the heart of Venice (and just an eight-minute walk to St. Mark's Square), this hotel has huge rooms with flat-screen TVs, gilded-edge headboards, and traditional decor (wallpaper, upholstery, and bedspreads are all patterned). Guests get plenty of personal attention at this intimate, family-managed property, and the free breakfast includes homemade pastries, crepes, eggs, fruit, and cold cuts.
A 10-room boutique in one of Venice's most elegant neighborhoods, Corte Di Gabriela is a chic residence that blends modern polish with historical touches. Located in San Marco an easy walk from the city's top attractions, this quiet hotel has a pretty internal courtyard and lovely breakfast room with big buffet. No two stylish rooms are the same; some have frescoes on the ceiling while others have canal views — all have big, modern bathrooms, iPads, and free Wi-Fi. All in all, it's one of the best upscale choices in the neighborhood, but it's worth comparing rates with the Hotel Saturnia.
A 10-room boutique on a small canal, Hotel Al Ponte Mocenigo is an intimate, quiet pick in the Santa Croce neighborhood of Venice. Located near a Vaporetto stop and a 10-minute walk from the Rialto Bridge, this hotel has pretty historic details such as wood beam ceilings. Rooms have Murano glass chandeliers, small flat-screen TVs, and gilded mirrors. Both Wi-Fi and breakfast are free, but the traditional decor might not suit all tastes. All in all, it's a terrific value.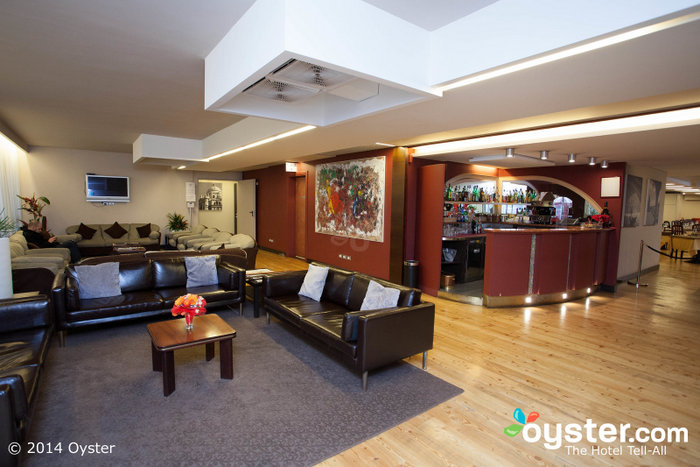 A simple 126-room hotel, the Quality Hotel Delfino is located outside of Venice proper in Mestre. A bus stop outside the hotel offers connections to Venice in 15 minutes. Underwhelming rooms lack style but are clean and efficient. This mid-range pick doesn't live up to its advertised four-star status, but the budget-friendly rates reflect that. The hotel has free Wi-Fi and free breakfast — though the quality of both receives mixed reviews — and supermarkets and restaurants are nearby.
This three-room bed and breakfast is a small, unfussy pick near a convenient Vaporetto stop outside the historic core of Venice. Access to a rooftop terrace and back garden is convenient for picnics or sunset drinks. The modest rooms with lace curtains are well maintained with small, but modern en-suite bathrooms. This value pick has a homey feel, with nice extras like free Wi-Fi and a daily breakfast buffet, but there's no elevator.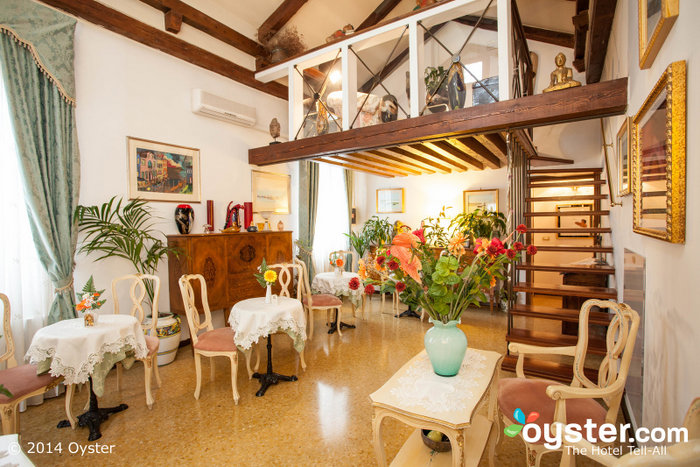 A six-room bed and breakfast in quaint, quiet Cannaregio, Ca'Riccio is a bright, homey pick filled with fresh-cut flowers and a variety of attractive art on the walls. Rooms are cozy and clean with wrought iron headboards, Murano glass lamps, and minibars. A free continental breakfast is served in a charming breakfast room and Wi-Fi is free, but there is no elevator. Its offers wonderful value considering its level of charm, and it's within walking distance of the Rialto Bridge and St. Mark's Square.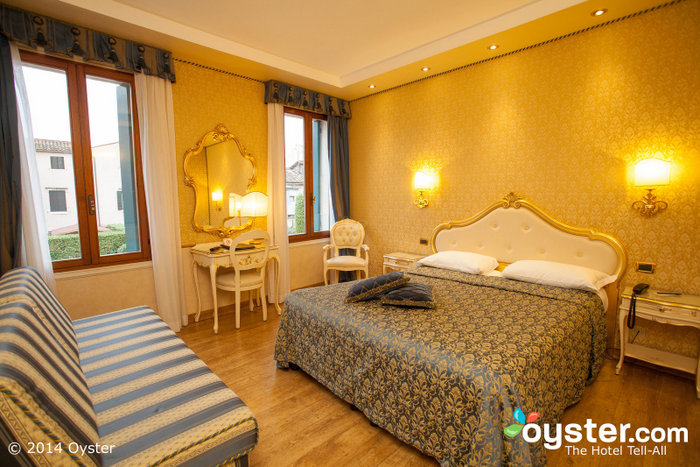 The mid-range, 35-room Best Western Hotel Olimpia has a rare back garden for in-season al fresco dining and sunbathing. The nearby bus terminal offers access to the airport, but main Venice attractions take some time to reach on foot. Rooms range from small and pleasant to big and elegant; all are decorated in an 18th century Venetian style and have nice modern bathrooms. A free breakfast has a wide variety and Wi-Fi is also free, but some rooms experience noise from the bus terminal.
A barebones guesthouse near the train station, Aloggi Gerotto Calderan is a no-frills hotel with both private and dorm-style rooms. There is no elevator, no breakfast, and a nightly curfew, but the spare rooms are clean and some overlook a pretty square. Wi-Fi is free, if unreliable, and some rooms have shared bathrooms. This basic, affordable hotel has a reasonably convenient Cannaregio location by the train station and a Vaporetto stop; many other budget options in Venice are further removed from the city center.
To learn more about Jane Reynolds, visit her on Google+
RELATED LINKS: