Known for its tropical weather, incredible beaches, and stunning natural scenery, Phuket is one Thailand's most visited provinces. Flights here may be pricey, but once you arrive you can find over-the-top luxury for much cheaper than what you'd pay for the same stateside, or in the Caribbean. So hop on a plane and get treated like royalty at these INSANELY luxe hotels.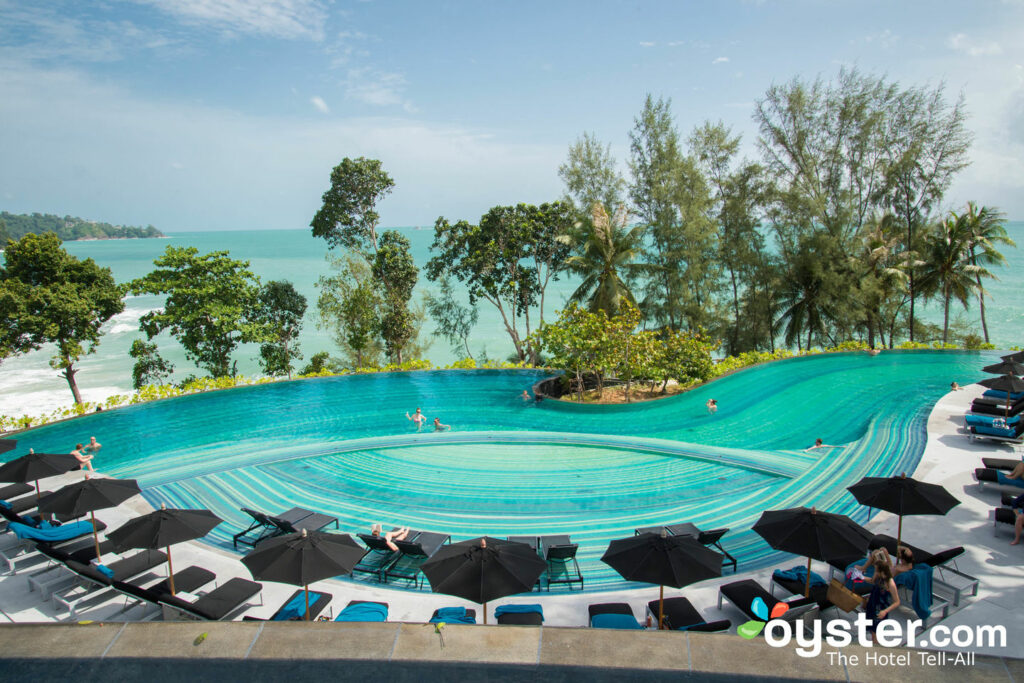 In a successful feat almost unknown in the hotel industry, the Pullman Phuket Arcadia Naithon Beach manages to be close to the airport and incredibly secluded, romantic and kid-friendly, ultra luxurious and (relatively) reasonable. This super stylish hotel is architecturally stunning and rooms are large, spotless, and incredibly well designed. There are six on-site bars and restaurants, including a spectacular breakfast buffet. The peaceful Dharti Spa has treatment rooms designed for couples, and the indoor/outdoor kids' club will keep the little ones entertained for hours. But perhaps the most striking feature is the hotel's glamorous infinity-edge pool with ocean views.
One of Phuket's most luxurious accommodation options, the JW Marriott Phuket Resort & Spa is nearly flawless. The friendly staff provides impeccable service, the pristine grounds are stunning, and the large rooms are well appointed with light woods and Thai accents. The resort has three large pools, including one with water slides and one for adults only. Twelve distinct restaurants and bars ensure a variety of on-site dining options, and there's even a cooking school where guests can learn how to prepare a traditional Thai meal. With so much to do, the resort can be a little overwhelming, and some guests complain that kids seem to have the run of the place. Guests seeking something a little quieter might want to check out the nearby Renaissance Phuket Resort & Spa, which offers the same services and amenities at comparable rates.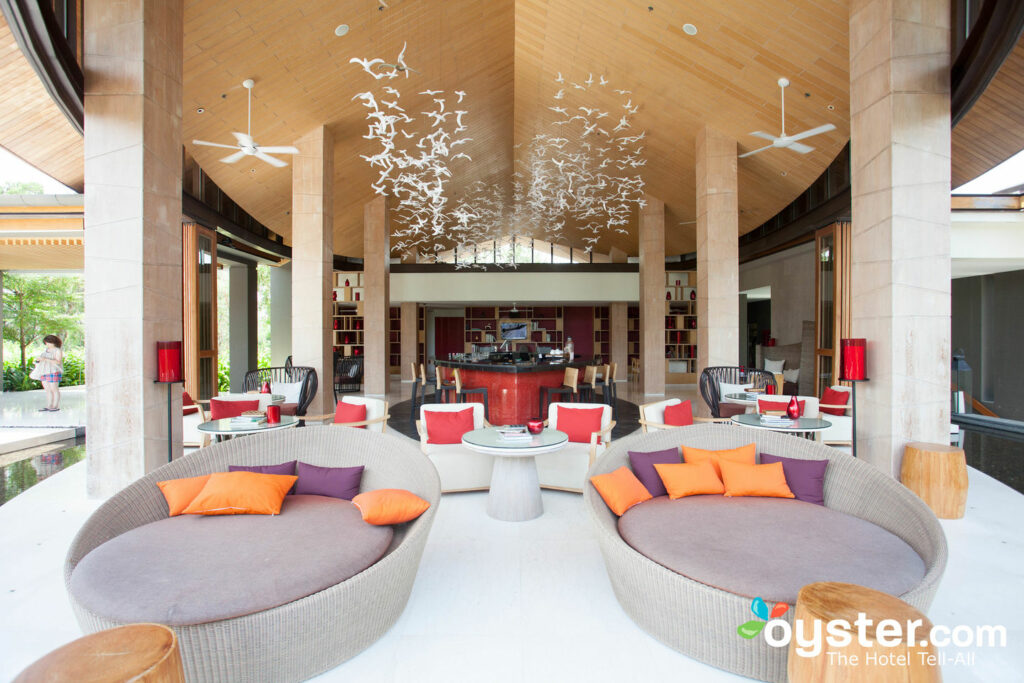 Smaller and quieter than the neighboring JW Marriott, the Renaissance Phuket Resort & Spa is ideal for families and couples looking for a tranquil, relaxing atmosphere. The Renaissance features bright, colorful decor, and guests rooms are spacious with large balconies. There are two pools (though they're on the smaller side for a resort of this category), and guests have private access to Mai Khao Beach. Each of the five on-site restaurants gets rave reviews, as does the nightly beach barbecue. Because it's close to the airport, guests should expect some take-off and landing related noise. Its location also means that the nightlife and activity of Phuket Town are a 40-minute cab ride away.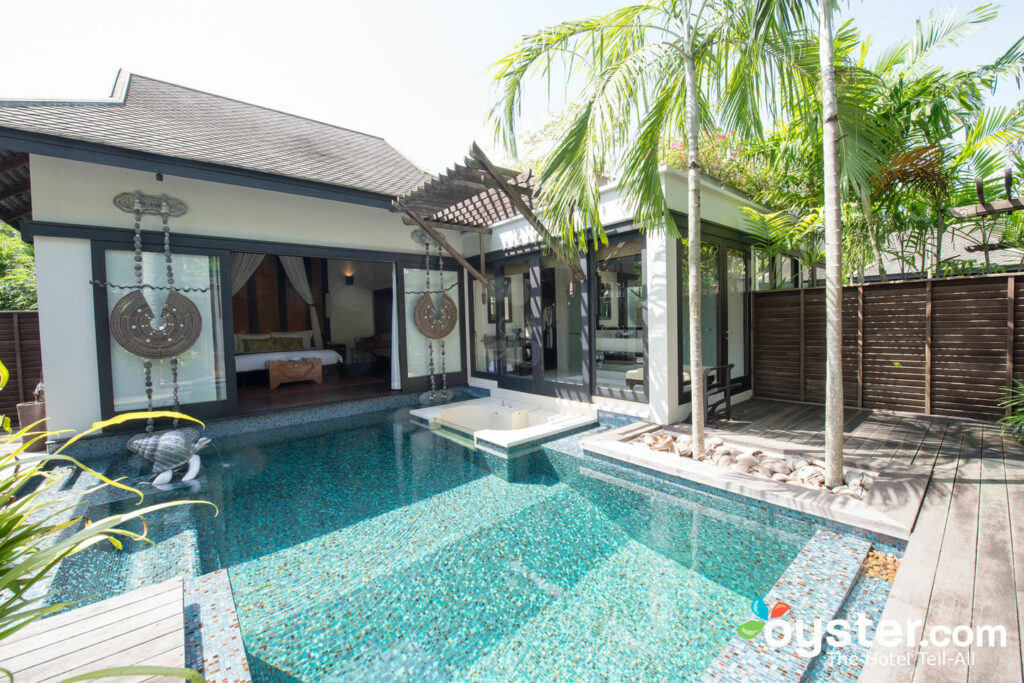 If waking up in a luxury villa, lounging by your own private pool, dining at gourmet restaurants, and receiving open-air spa treatments sounds like your kind of vacation, we highly suggest you check out Anantara Phuket Villas…ASAP. This gorgeous, all-villa property is one of Phuket's best, and its attention to detail doesn't go unnoticed. Intricately carved woods, open-air buildings, reflection pools, and pagoda-style structures make Anantara truly unique. It's major flaws? The tiny, red flag beach with an exposed drainage pipe is a tad unappealing, the two-bedroom villa is actually across the street at a discount hotel, and the resort's rates are often much higher than its luxury competitors. Still, a deal can be found here when comparing rates and amenities at similar spots in the Caribbean.
Outside of Vegas, it's often difficult to find party-focused hotels that offer luxury accommodations and quality service. But for those looking to add a little "Ibiza" to their Thai vacation, Twinpalms Phuket combines the perfect amount of fun and relaxation. This hip boutique features a stylish design and modern decor. Its two beach clubs, Bimi and Catch, provide an all-day party, but the rowdiness hardly ever spills over to the separate pool area. Perks like free Wi-Fi, a bright, spacious fitness center, a chic restaurant, and private plunge pools in most rooms make the Twinpalms a solid option. The party scene isn't for everyone, though, and families will probably prefer a hotel with a more kid-friendly scene.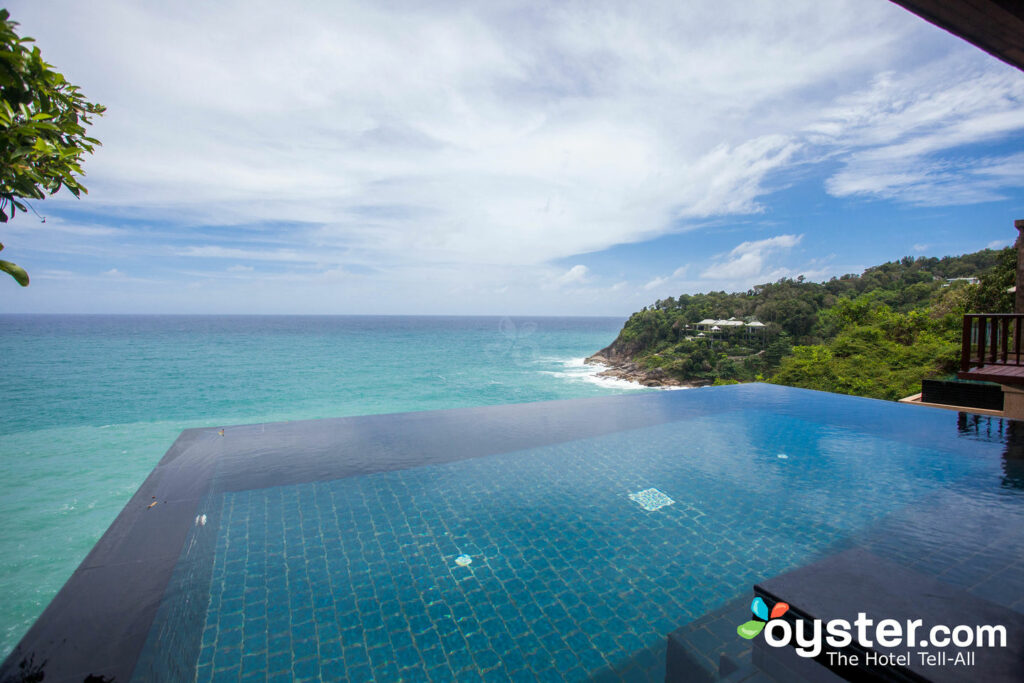 Meaning "heaven" in Thai, Paresa — with a staff that refers to themselves as angels, private luxury villas, incredible infinity-edge pools, and panoramic views of the Andaman Sea — is certainly a little slice of (expensive) celestial bliss. Each of Paresa's 49 villas are designed with a high attention to detail and a minimalist aesthetic. Warm wood tones, white walls, and Asian inspired art create a spa-like atmosphere in each of the rooms. The hotel's upscale restaurants offer both Thai and Italian cuisine, and for an additional fee, guests can accompany the chef to the local market to purchase fresh ingredients and prepare a traditional Thai meal. Paresa's only downside? It's cliff-top location means there's no direct beach access, though there is a free hourly shuttle to nearby Kamala Beach.
When arriving at your hotel requires a private speedboat, you know you're onto something good. Located on a small island about a five-minute speedboat's ride away from Phuket, The Naka Island, A Luxury Collection Resort & Spa Phuket consists of 67 private villas with private courtyards, plunge pools, and giant outdoor soaking tubs. A beautiful sandy beach, gorgeous two-tiered pool, incredible spa (probably Thailand's best), and three on-site dining options are as luxurious as they are necessary, since there's not much else for guests to enjoy on the island. For guests seeking a little exclusivity during their tropical vacation, therefore, Naka Island is the perfect choice.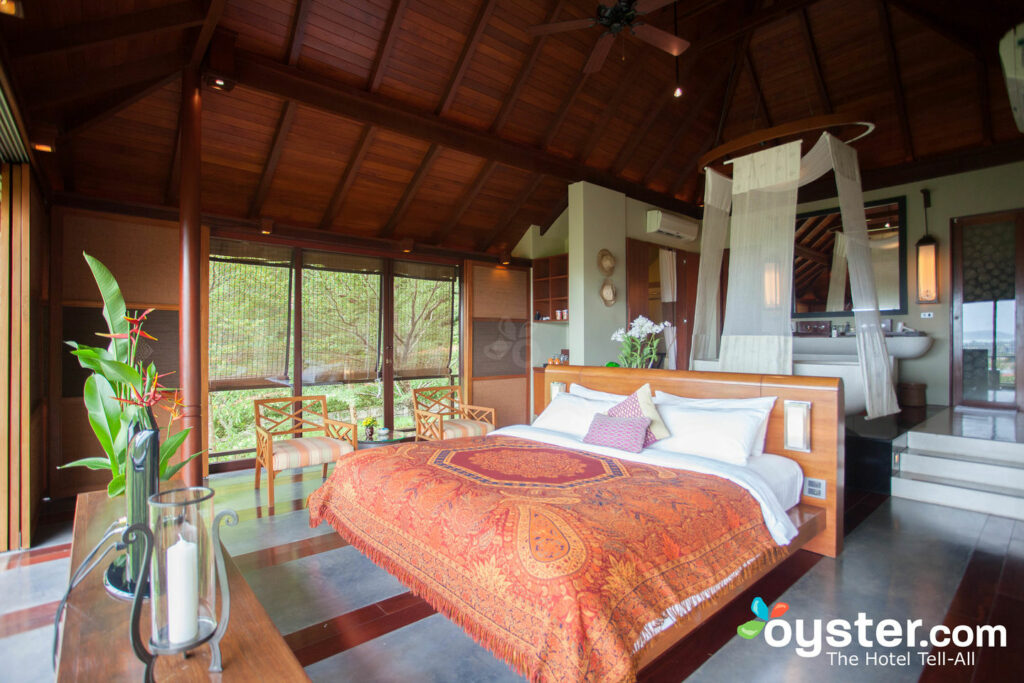 Villa Zolitude Resort and Spa is a luxurious all-villa property with one major difference from its competitors: it's set in the rainforest of Phuket and not on the beach. For travelers looking to visit Wat Chalong Temple, or play nine holes at Phukana Golf Course, Villa Zolitude's location is convenient; though guests who'd like to hit the beach will want to stay somewhere else, as the nearest one is a 30-minute shuttle ride away. But luxurious, Asian-inspired villas have lush rain forest views and the hotel's beautiful infinity pool features fiber optic lights that make night swimming quite the romantic activity. With a relaxing spa, candlelit dinners, and a Japanese onsen outdoor bathtub for two, couples are the resort's targeted guests, though families with children are welcome as well.
Andara Resort and Villas is easily one of the most expensive luxury options in Phuket, but with the high price tag comes over-the-top extras like private chefs and access to a fully staffed yacht. Huge (and we mean huge) villas overlook the gorgeous Kamala Bay, and the peaceful, rarely crowded infinity-edge pool is where most guests choose to spend their days. There is a relaxing, full-service spa, modern fitness center, and beautifully maintained tennis courts –but considering the resort's relatively high prices, visitors may consider the equally luxurious and feature-filled options in Phuket that often come slightly cheaper.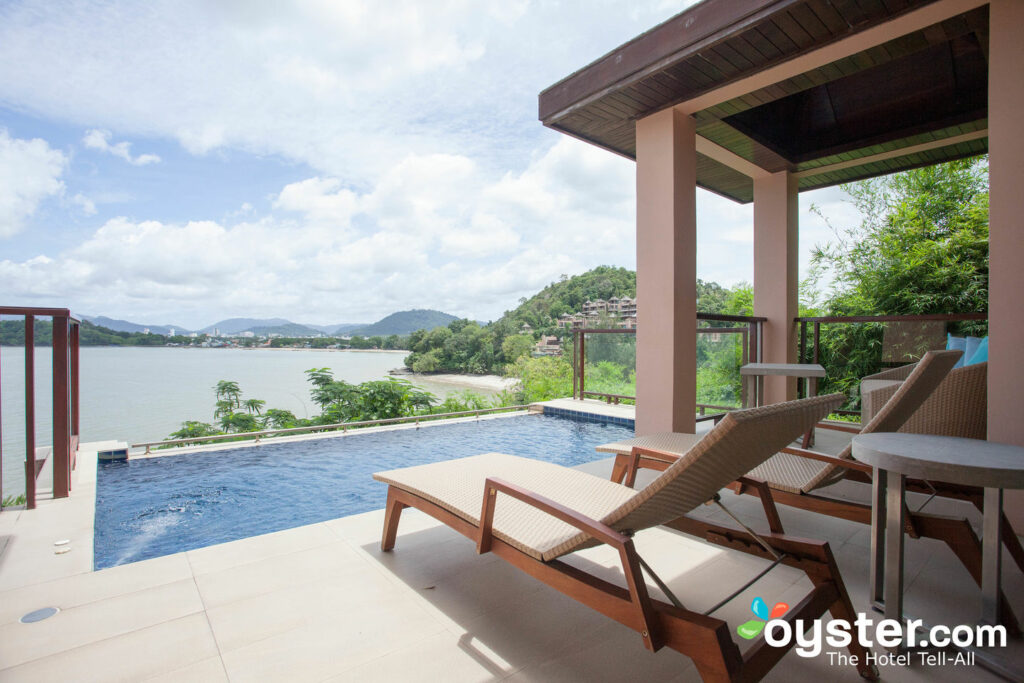 Built on a cliff overlooking Siray Bay, the aptly named Westin Siray Bay Resort offers stunning views of the Andaman Sea and access to a beautiful (albeit small) sandy beach. Rooms are large, spotlessly clean, and feature a contemporary design, though in typical Westin fashion, the white walls and white bedding are somewhat bland and unoriginal. All three of the resort's stunning outdoor pools have infinity edges that overlook the ocean, and each have their own distinct vibe as well. There are an array of on-site dining options, a relaxing spa, a cute indoor kids' club, and a modern gym that offers a workout gear rental program. Free parking and free Wi-Fi in public areas are other added perks. However, the resort's hillside location means lots of steps and it's a good 40-minute cab ride to any kind of nightlife.
All products are independently selected by our writers and editors. If you buy something through our links, Oyster may earn an affiliate commission.