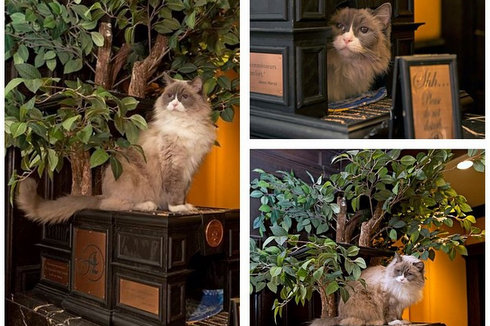 Unless you've attended one of the hotel's fashion shows in the past, you've never seen a runway like the one they put on every year at the Algonquin Hotel in NYC. That's because the models on this catwalk are, well, cats. Opened in 1902, the upscale hotel has long been known for its pet-friendly policies; the Algonquin became home to a stray cat that wandered in during the 1930s, and since then numerous cats (females named Matilda, males named -- by none other than John Barrymore -- Hamlet) have lived in the lap of luxury here, canoodling with guests such as Dorothy Parker and Maya Angelou. And, fittingly considering the cat's lavish lifestyle, the feline's birthday has been celebrated with a fashion show in the hotel's Oak Room every August since 2010.
You Might Also Like: Hotels with Adorable Resident Pets
This summer, the event is taking place on Wednesday, August 5. Tickets cost $30 and get you access to the show (where friendly felines will be rocking fire and police department-inspired duds), as well as a reception with small bites. All proceeds benefit the the Mayor's Alliance for New York City's Animals.
Read More at Gothamist.com
All products are independently selected by our writers and editors. If you buy something through our links, Oyster may earn an affiliate commission.