Most Romantic Hotels in Back Bay, Boston
Take a look at the most romantic hotels in Back Bay.
See All Back Bay Hotels
1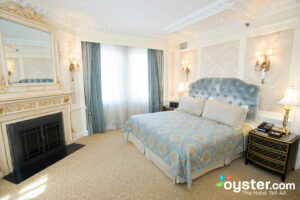 A prime downtown location and immediate proximity to shops, restaurants, and the Boston Marathon route, makes the upscale Lenox Hotel an ideal location from which to base a tourist trip to Boston. After a complete remodel in 2015, the entire Beaux Arts hotel -- including the 214 rooms, two restaurants, and common areas -- feels classic, vibrant, and chic. While it lacks an on-site pool or spa, the hotel provides a number of noteworthy amenities including free car services, free Wi-Fi, a 24-hour fitness center, wood-burning fireplaces in some rooms, and a legitimate Irish pub. The nearby Copley Square Hotel has a martini bar and is within walking distance to Fenway Park, and while its rates are similar it lacks the same upscale features.
2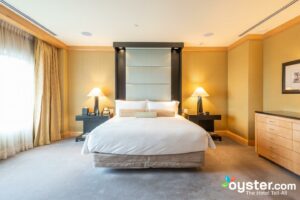 The 148-room Mandarin Oriental in Back Bay offers some of Boston's most luxurious standard rooms, plus a 16,000-square-foot spa and extraordinary service. It has no pool; and the views aren't as grand as those at the high-end properties on Copley Square. But it's as special as any hotel in Boston -- and a clear winner if you prefer contemporary to traditional decor and ambience.
3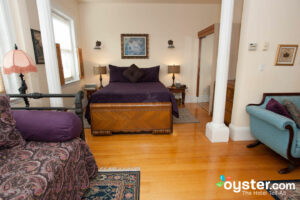 Gryphon House is a three-and-a-half pearl bed-and-breakfast near Kenmore Square, in the heart of Boston's Back Bay. It has eight spacious guest rooms, some of which overlook the Charles River. It's a quaint little place with old-fashioned charm, and a free continental breakfast. Be aware that there are four floors, and no elevator. Several major attractions are within a 10-minute walk from the property, including Fenway Park, the Skywalk Observatory, and Newbury Street. Travelers who like the neighborhood might want to also consider the nearby Hotel Commonwealth, which offers more services and amenities, though it's far larger and less intimate.
4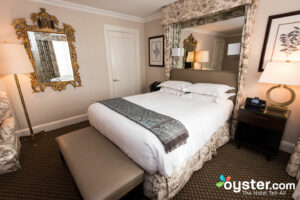 Just steps from from charming Newbury Street, this classy and historic boutique hotel housed in an elegant Neo-Georgian corner building offers mostly huge suites with (smallish) marble bathroom and an excellent Japanese restaurant overseen by a James Beard Award-winning chef. Guests here enjoy other nice extras as well, like free welcome chocolate cookies and nightly turndowns. Though the Eliot offers free passes to an around-the-corner Boston Sports Club -- a nicer gym option than competitor Fifteen Beacon's -- it can't beat Fifteen Beacon's long list of luxury amenities, including in-room gas fireplaces and free Lexus hotel car service. But you can stay at the Eliot for considerably less -- and the tradeoff may be worth it.
5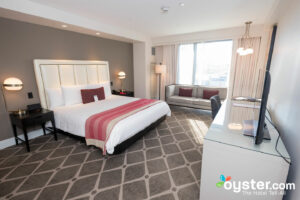 Hotel Commonwealth's proximity to Fenway Park, Kenmore Square, and the T's Green Line make it an ideal upscale base for exploring Boston. After several renovations from 2014 to 2016, the hotel's look and feel successfully blends classic and contemporary designs. All 245 rooms are modern and many offer excellent downtown views. While it lacks a pool and dedicated spa, numerous other features -- including a chic cocktail lounge, two upscale restaurants, extensive event space, and themed signature suites -- set the property apart from the city's many upscale hotels. Guests looking for a more historical alternative with similar amenities should consider The Lenox Hotel, nearby.
6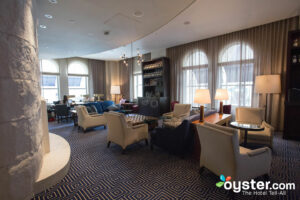 The upscale, 225-room Loews Boston blends historical touches with modern sophistication. Rooms are clean and chic, with high-tech amenities; they're among the nicest in the neighborhood for the price. The underground restaurant has speakeasy style and an outdoor terrace below street level. The location in the heart of Back Bay puts guests a short walk away from public transportation, tourist sights, and a variety of dining, shopping, and entertainment options. Just note that some rooms are on the small side, and unlike at other hotels in this category, there are no spa services offered.
7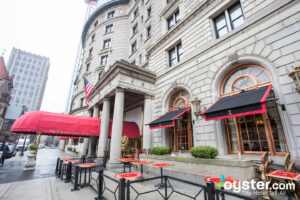 Dating back to 1912, the grand, iconic 383-room Fairmont Copley Plaza has the most opulent lobby in the city, the sophisticated OAK Long Bar & Kitchen restaurant, and a central location on Copley Square in the heart of Boston's Back Bay. The property artfully blends the historical and the contemporary, and all rooms are elegant and stylish. There's also a modern fitness center with city views and ample event space for both meetings and special events. Just know that there are extra fees for Wi-Fi and parking, and the standard rooms are on the small side for a Boston luxury hotel.
8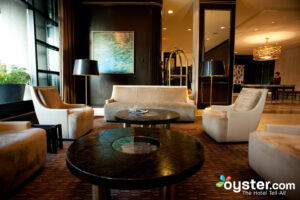 This 285-room Back Bay hotel offers spacious standard rooms with floor-to-ceiling windows, a fitness center with South End views, and an affordable French brasserie. Score a cheap rate, and it's worth it -- despite the lack of 24-hour room service and the daily Wi-Fi charge. The Colonnade used to boast the only hotel rooftop pool in Boston, but the Revere Hotel Boston Common now also has this rare feature.
9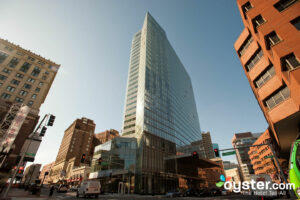 With large, stylish rooms, a happening bar, and a Bliss spa, the sleek, 235-room outpost of the trendy brand offers a striking, modern alternative to Boston's historic hotels and traditional chains. Too bad it lacks a full restaurant and the unique charms of smaller boutique properties.
10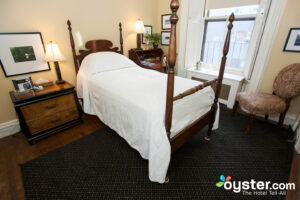 The lower-middle-range College Club of Boston offers a memorable way to stay in Boston's popular Back Bay. Many attractions are within walking distance, including Boston Common and the Hynes Convention Center. The quiet and classy boutique hotel occupies a brownstone dating back to 1864, which houses the nation's oldest women's college club. Interiors are filled with period antiques, including the 11 individually decorated guest rooms. Five of them are single rooms, which have shared bathrooms. Amenities are a bit sparse, with no in-room TVs or coffeemakers. The continental breakfast and Wi-Fi are free, but there's no on-site parking. Rates are affordable given the pricey Back Bay location, but the property often sells out. The budget Milner Hotel in the nearby Theater District usually has lower rates, though rooms are not as nice.
11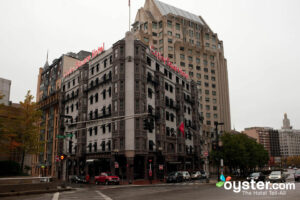 This historic 143-room hotel in Back Bay features cutely decorated (if tiny) rooms, a fun martini bar, free Wi-Fi, and free wine and coffee in the cozy lobby. The fitness center is small and the restaurant doesn't serve lunch unless requested for a private function. Low prices make it a solid value choice, however, especially for the central Copley Square location.
12 Bought from the Ritz-Carlton in 2007, the Taj Boston holds on to the Ritz' elegant look, but also offers some superb perks, like chenille bathrobes and free rides in the house Jaguar. Given its free business center, well-equipped gym, and ideal location bordering the Public Garden and the swank boutiques along Newbury Street, it's an excellent luxury pick.
13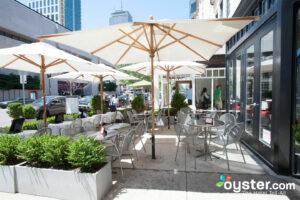 This compact but stylish mid-range boutique hotel is one of the best values in Back Bay. It's conveniently located across the street from the Copley T station, the Boston Public Library, and the Boston Marathon finish line, and just down the street from Copley Square. The 40 rooms are small but clean, modern, and utilitarian in an IKEA-eque fashion. Amenities are few -- just free Wi-Fi and a free continental breakfast -- but the trendy lounge and outdoor patio contribute to a lively atmosphere. Only the nearby (and no-frills) Hotel 140 offers comparable rates in the neighborhood, but most travelers prefer this hotel.