Best Luxury Hotels in Abu Dhabi
Take a look at the best luxury hotels in Abu Dhabi.
See All Abu Dhabi Hotels
1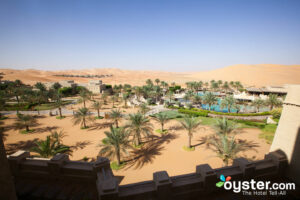 Located in the Liwa Desert about two hours outside of Abu Dhabi, the five-pearl Qasr Al Sarab Desert Resort by Anantara is a peaceful escape located in the middle of sprawling red sand dunes. The classic Arabian architecture and upscale vibe gives it a royal feel, as do the spacious 206 rooms which feature flat-screen TVs and DVD players along with deep-soaking tubs and separate showers. There's a large outdoor pool surrounded by abundant lounge chairs and palm trees framed by desert views beyond. A fitness center, a full-service spa with a variety of treatments, and three restaurants are also on-site. The hotel can organize desert excursions, including camel treks. Note rooms are cheaper in the summer months, when the desert can get unbearably hot.
2
The 382-room luxury Jumeirah at Etihad Towers is one of five towers in a massive residential and office complex on the western end of Abu Dhabi's scenic Corniche Road. The hotel's Observation Deck, the highest in the city, offers spectacular panoramic views. The Jumeirah is one of Abu Dhabi's top hotels, with a lovely private beach and wide selection of excellent bars and restaurants. Rooms and common areas scream comfort, decadence, and bold style. With one of the largest event facilities in Abu Dhabi and multiple meeting rooms, Jumeirah at Etihad Towers is a good spot for business travelers.
3
The 283-room St. Regis Abu Dhabi is a stylish, five-pearl hotel that checks all the boxes in the western end of the Corniche area. It's not directly on the beach, but a tunnel provides private access to it and the impressive pool with a swim-up bar. Down below, there are multiple restaurants and cocktail lounges making the most of the view, along with a full spa and fitness center. For families, there's a supervised kids' club that has its own splash pool and waterslide. Not all of the chic rooms have sea views, but everyone gets butler service and sleek marble bathrooms. Compare rates at the extravagant Jumeirah at Etihad Towers down the road, which sits right on a private beach.
4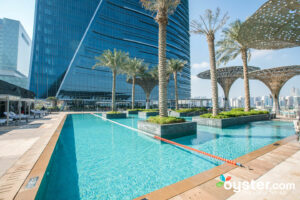 The outstanding, five-pearl Rosewood Abu Dhabi hotel sits on Al Maryah Island, separated from Abu Dhabi's main downtown area by a bridge spanning a narrow strip of water. Despite the slight isolation from the rest of the city, this stylish tower is one of the top luxury hotels in the United Arab Emirates, with great views and excellent dining options. There's an outdoor pool, but the posh spa, wine cellar, and shisha lounge leave little for families with kids, making this a better option for romance or business. The 189 modern rooms are decked out in rich natural wood, with huge flat-screens and enviable bathrooms that have soaking tubs along with big rainfall showers. Featuring a private beach, the equally impressive Jumeirah at Etihad Towers, is one of its few rivals.
5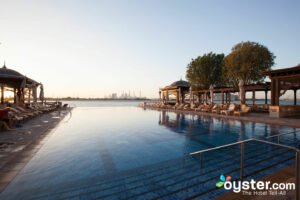 The 213-room luxury Shangri-La Hotel, Qaryat Al Beri is designed to feel like a modern day Shangri-La, located on a half mile of private beach in Abu Dhabi's Between the Bridges area. The Shangri-La combines a modern vibe with a traditional Arabian twist, which gives the hotel a feeling of warmth and opulence. Each room has a private balcony or terrace, with views of the canal, and a stylish bathroom with a deep soaking tub.
6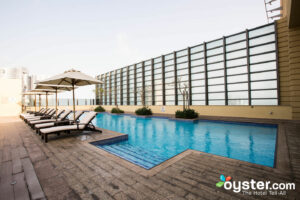 The four-pearl Southern Sun Abu Dhabi is one of the highest-rated in the city. It lacks the spectacle of the luxury towers and has relatively modest facilities, but its large rooms outclass much of the competition with comfortable living areas, rainfall showers, and soaking tubs (though some may not enjoy the glass walls that limit privacy). Though small, there's a rooftop sundeck with a pool and bar, along with great dining options that include a shisha lounge and a sushi bar. It's worth comparing rates at the equally lauded Cristal Hotel Abu Dhabi.
7
The 499-room luxury Yas Viceroy is the world's only hotel built over a Formula One racetrack. Located on popular Yas Island, the Viceroy straddles a marina and the raceway, home of the Abu Dhabi Grand Prix. Architecturally striking, under an enormous, futuristic LED canopy, the Viceroy is the poshest hotel on Yas Island, with two rooftop infinity pools, a spa, 11 restaurants and bars, and two nightclubs. Rooms are luxe and minimalist, with marina or track views, and stylish bathrooms.
8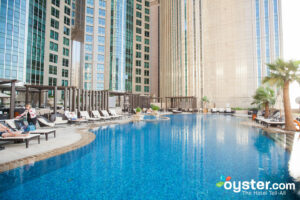 This luxury chain hotel has 282 large guest rooms, 48 of which are extravagant suites. The property is in an area full of offices and a large energy complex, and is a fair distance from the main tourist attractions of Abu Dhabi. Therefore, it's very popular with business travelers, while tourists -- especially those with young children -- tend to look elsewhere. The restaurants and bars here are smart and elegant, and the spa has a decadent feel thanks to mosaic tiling. There's also an outdoor pool, which is generally quiet and immaculately clean. The hotel has a reputation for providing high standards of service, and the location and facilities make it ideal for an indulgent business stay. Tourists might want to check out Fairmont Bab Al Bahr, which has two private beaches, a kids' pool area, and views of the Grand Mosque.
9
In the iconic Capital Gate skyscraper, a curved glass structure makes for a stunning setting at this 189-room luxury hotel. Although a bit far from downtown, it's next to the Abu Dhabi National Exhibition Center (ADNEC) and near embassies. Spacious rooms have modern, albeit generic, decor, plus excellent amenities such as big bathrooms with tubs and separate showers, coffee machines, and flat-screen TVs. Views are sensational from some rooms and the 18 Degrees restaurant, which is open all day. A lounge and pool bar are also available, and the rooftop pool has striking vistas. A high-end spa, 24-hour fitness center, and free Wi-Fi round out amenities. The location and chain feel are best suited to business travelers. Tourists should consider the more central Hilton Abu Dhabi, which has a beach club and a family-friendly vibe.
10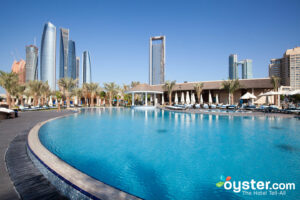 The four-and-a-half-pearl InterContinental Abu Dhabi shares the western corner of the island with several more high-end neighbors, with its only edge being a private marina and a nicely renovated beach. Diverse, quality, dining options are a perk and it checks all the boxes with two outdoor pools, a waterslide, spa, and extensive meeting facilities, but everything is showing its age. The 390 rooms aren't quite up to the city's extravagant standards either, with noticeably dated bathrooms and older amenities. It would be a solid luxury hotel almost anywhere else, but it can't compete with the ultra-modern properties nearby, like the Jumeirah at Etihad Towers, but its rates are competitive.
11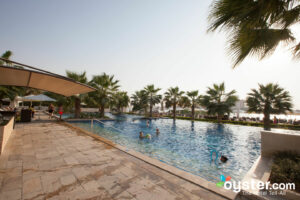 The 369-room luxury Fairmont Bab Al Bahr is a high-end, exclusive hotel with fantastic views of Abu Dhabi's Grand Mosque. The architecture is ultra-modern, and the lagoon-style pool feels like an oasis for princes and sheiks. The location might suit business travelers best, but the hotel offers a free shuttle to popular attractions. There are programmed activities for kids and teenagers, but this is not a low-key, anything goes resort. Rooms are stylish and luxe, with gorgeous Gulf views.
12
The upscale Khalidiya Palace Rayhaan is a 443-room mega-hotel with its own private strip of beach overlooking the Arabian Gulf. This family-friendly property offers a host of amenities and clean rooms, but interestingly it doesn't feel quite as luxe as some of the competing hotels in the area, such as the noticeably more upscale Sofitel Abu Dhabi Corniche. The air-conditioned rooms don't have much wow-factor, though they do have super comfy beds and deep soaking tubs, and some have Gulf views from their balconies. Along with two restaurants and 24-hour room service, there's a huge Beach Club with a full fitness center, multiple tennis/squash courts, a Pilates studio, and one of the largest pools in the area. And while valet parking is offered free of charge, Wi-Fi costs extra and is expensive.
13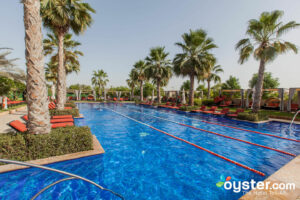 Everything in Abu Dhabi seems to be a bit bigger, and the luxury Westin Abu Dhabi Golf Resort is no exception. Pretty much next door to the 27-hole Abu Dhabi Golf Club, this resort has three restaurants and bars, two pools, a sleek spa and gym, and free access to Saadiyat Beach Club -- although it's a 30-minute cab ride away. Even the smallest of the hotel's 172 rooms are huge and come with private terraces, king-sized beds, lounge areas, and Nespresso coffeemakers. However, the hotel is a fair distance away from downtown Abu Dhabi, so guests who aren't interested in golfing should consider the centrally located and beachfront Shangri-La Hotel.
14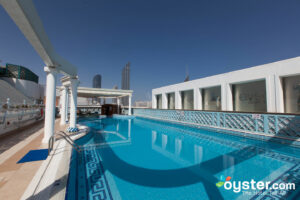 The 236-room Crowne Plaza Hotel Abu Dhabi is an upscale, business-oriented property in downtown Abu Dhabi. Large rooms are well-maintained but lack character, outfitted with traditional wood furniture, desks, kettles, and shower/tub combos. Varied dining includes pan-Asian and Italian plus there's a late-night sports bar with live music. Although not a true resort, leisure travelers will find a small rooftop pool with an adjacent hot tub, spa facilities, and a 24-hour fitness center. Extensive meeting spaces and free Wi-Fi and parking are available. This is a good, affordable pick for corporate travelers wanting to be downtown, but families and couples on vacation may prefer Khalidiya Palace, which has a beachfront location and a huge pool.
15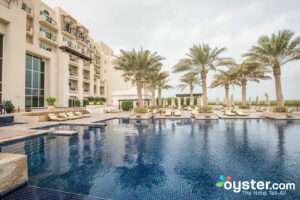 The Anantara Eastern Mangroves Hotel & Spa is a luxury resort set in a sleek mixed-use retail and apartment building overlooking Abu Dhabi's Mangrove National Park. Despite its location just off the highway, the hotel's mood is hushed and serene, particularly at the pool alongside the lagoon. Rooms are sleek and spacious, featuring Nespresso machines and balconies, but those facing the road are prone to traffic noise. Facilities score high, with the spa and dining facilities being two real highlights, though there's not much for children. For a more family-friendly option on the beach, check out the Al Raha Beach Hotel.