Best Boutique Hotels in Andalucia
Southern Spain's sunny Andalucia region is a vibrant world of flamenco dancing and bullfighting, Gothic cathedrals and ancient mosques, charismatic cities and sleepy hilltop towns. After visiting nearly 700 hotels in across Andalucia, we evaluated every boutique property we saw, comparing their in-room amenities, common features, and overall aesthetic. Take a look at our favorite boutique hotels in Cordoba and Seville, and the Costa del Sol towns of Marbella, Ronda, and Benalmadena.
1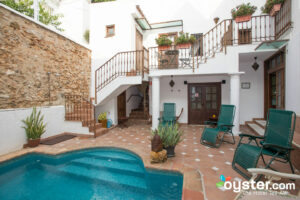 La Villa Marbella is a charming bed-and-breakfast spread out over several historic buildings in Marbella's center. The hotel's seven rooms are individually decorated with quality Asian furniture and artwork, giving them a lot of personality that blends with the hotel's historic architecture. Some rooms have original rustic details, such as exposed wood-beam ceilings and stone walls. All come with modern conveniences, including flat-screen TVs, air-conditioning, free WI-Fi, minibars, tea/coffee makers, and safes. A free breakfast is served daily, and guests can opt to dine inside or out on the terrace. The small outdoor pool -- not exactly common in central Marbella's historic properties -- is a cozy little space surrounded by a few lounge chairs and stone walls. The hotel also has several other terraces where guests can relax outdoors, including one on the rooftop.
2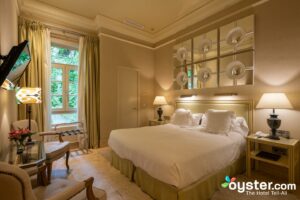 With a peach and yellow exterior, the 18-room Boutique Hotel Casa del Poeta is set in a handsome and classic Sevilian stucco building. The inner courtyard opens up to the sky and is rife with potted ferns, ivy, and wicker chairs, and the romantic aesthetic inside includes exposed wooden beams, deep red walls, and vaulted ceilings. Linen, lavender, and dusky gray predominate the color scheme in the classic rooms, which are outfitted with marble floors, cushioned wingback chairs, and recessed lighting -- either behind a large decorative mirror, or inset into a staircase in the case of the larger rooms. All rooms have a flat-screen TV, a digital safe, a fully stocked mini-fridge, a hairdryer, and slippers. Larger rooms have bathrobes. The property is down a cobblestoned pedestrian alleyway, two blocks from the Alcàzar (within walking distance of many of the most beautiful tourist destinations in the city).
3
This lovely little boutique hotel is housed in a handsome 17th-century stucco town house that was previously an artists' club. The owners restored the building and opened it as a hotel in 2007, keeping it packed with charm and character. The seven rooms are all beautifully decorated with travertine marble floors, warm color palettes, high headboards, and lounge chairs or sofas. Colors include deep reds and handsome olive greens, and wall art is kept to a minimum in favor of larger architectural flourishes, like Moorish arches and mosaic-tiled pieces of furniture. Flat-screen TVs are mounted on the wall, and all rooms have iPod docking stations, air-conditioning, and free Wi-Fi. Some rooms have vaulted ceilings, which makes them feel more spacious. There's not much in the way of features, but guests rave about the free breakfast, the dining room, and the rooftop terrace with an honor bar.
4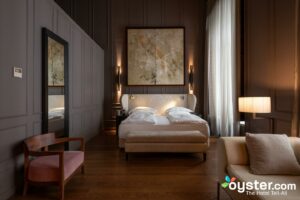 The home of the Villapanés noble family for almost three centuries, this beautiful baroque palace is now one of the top luxury boutiques in Seville. Original architectural details remain in the lovely common spaces and in the 50 rooms, which also have flat-screen TVs, free minibar items, and free Wi-Fi. The heavy wrought-iron gates, grand stone staircases, and soaring vaulted ceilings with intricate plasterwork blend easily with the stylish modern decor, at times dark and sexy as in the lounge, or bright and colorful as in the library. The peaceful traditional courtyards feature white marble columns, arched galleries, and lots of plants, and are a great spot for a quiet drink at night. The small spa, intimate restaurant, and rooftop plunge pool offering panoramic city views are all great perks.
5
The 53-room luxury boutique Hospes Palacio del Bailio is set in a former 16th-century palace, which was built atop the ruins of a first-century Roman house. Each one of the 50 rooms is spacious and airy, with hardwood floors, arched windows with wooden shutters, and, in some, original stone walls. The bronze and copper accents and artwork feel just right in this former palace, as does the minibar overflowing with wine and cava. Beautiful marble bathrooms have soaking tubs, separate walk-in showers, and cool square granite sinks. The hotel's restaurant serves gourmet Spanish and Moorish cuisine (and tapas) under a beautiful beamed ceiling in a glam dining room. An original Roman mosaic is visible under the glass floor. Some evenings feature a famed flamenco guitarist and special tasting menu. The spa, indoor pool with swim-up bar, candlelit Roman baths, and outdoor pool garden offer peace and privacy.
6
The charming, family-run Hotel La Fuente De La Higuera has the vibe of an old country cottage, thanks in part to gorgeous, lush grounds and rustic-chic interiors. High on a hill, surrounded by nature and farmland, this quiet retreat is far from villages and neighbors. Shrub-lined paths meander past palm and citrus trees, with a stunning view always in the background. Stone walls, cacti, and large stone wheels add charm. The 11 beautiful rooms enhance the experience with an elegant blend of classic and contemporary decor. All have air-conditioning, stereo systems, and coffeemakers, but they lack TVs and mini-fridges. Hotel amenities are also limited, but lounging by the beautiful pool, enjoying delicious food at the restaurant, and admiring the incredible views are generally enough to ensure a relaxing stay.
7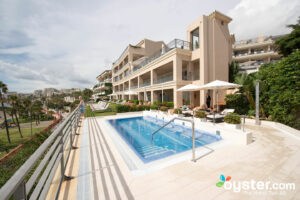 In a part of the Costa del Sol that's packed with worn and dated resorts frequented by screaming kids and partiers, Vincci Seleccion Aleysa Hotel is a lovely departure. This sophisticated boutique property makes a good first impression, with a lovely beige facade featuring white columns and wrought iron railings (the welcome bottle of cava in the rooms doesn't hurt either). The 35 rooms are chic and elegant, with neutral color schemes, sleek furnishings, and sea views creating a soothing effect. Some rooms have large balconies, while others offer direct access to the pool. Vincci Seleccion is a head above the local competition in most categories, and that's true for the hotel's features. Its restaurant has beautiful views of the sea through large windows, and live piano music plays in the evenings. Food -- a modern twist on Spanish and Mediterranean cuisine -- is well-liked by previous guests. There's also a bar in the lobby, and another by the pool serving drinks and snacks.
8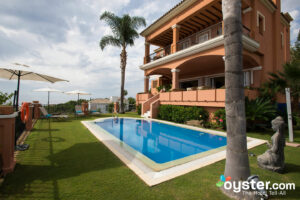 The Marbella Heights Boutique Hotel is a tranquil boutique hotel with gorgeous views of the countryside. It's a special place, housed in a lovely two-story stucco building with a Spanish tile roof. The rural setting is picturesque, and the villa's interiors are equally stunning, with inlaid marble flooring, fireplaces, a stately staircase, and striking Asian accents. The five rooms are all individually decorated in an attractive Southeast Asian style. They come with air-conditioning, flat-screen TVs, free Wi-Fi, digital music players, minibars, and twice-a-day housekeeping. One of the highlights of a stay here is the small outdoor pool and its surrounding grassy lawn, studded with lounge chairs, lovely goddess statues, and a hot tub. The views of the countryside and distant sea from here are stunning. Massage services are available in the pool garden, or in the one-room spa or guest rooms. Customized breakfasts are served daily, and guests can help themselves to alcoholic drinks at the honor bar in the lobby. Free tapas are offered in the afternoon.
9
Built in a 17th-century Andalusian house, the romantic Balcon de Cordoba has three lovely courtyards (filled with fountains, orange trees, and handmade mosaic stepping stones) and a rooftop terrace offering a 360-degree panorama, with unparalleled views of Cordoba's famous Mosque. The hotel houses a vast collection of ancient artifacts, including columns, statues, and fragments of Roman gravestones. The 10 rooms are spotless and charming, individually named and decorated, and all done in harmonious beiges, whites, and greys. Some rooms have picturesque wrought iron balconies (worth the cost), and the deluxe room, Ruzbahan, has a private roof deck with an outdoor bed. All rooms offer memory foam mattresses, pillow menus, and blackout drapes, for restful sleep. Bathrooms are done in buttery sandstone with double sinks and luxury toiletries. Rooms feature unique art and sculpture, and some have exquisitely carved wooden doors. These and many more original touches add to this hotel's high romance factor.
10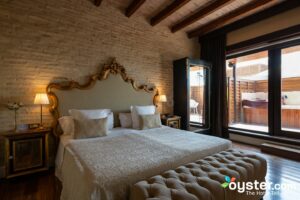 Lovingly preserved arched doorways, wrought-iron balustrades, and Spanish/Moorish tile work nod to this former mansion's 1864 origin. The hotel glows with golden light from chandeliers and sunlight streaming into the central courtyard. Rooms also retain the building's original historic character -- expect to find brick walls, studded wood shutters, and parquet floors, as well as flat-screen TVs and mini-fridges. Some rooms have private outdoor whirlpools. There are two on-site solariums, as well as a rooftop terrace with a plunge pool and postcard-worthy views of Seville's Cathedral and historic bell tower. Every afternoon, the hotel serves free tea and cakes to guests, and additional beverages are freely available.
11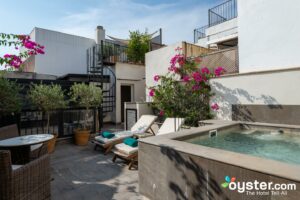 Located in the center of Seville's historic district, along a winding cobblestone street, Corral del Rey has an undeniably romantic atmosphere. This upscale boutique is housed in two 17th-century palatial homes, filled with original wood carvings, stone floors, and Spanish tile. The 10 rooms have beamed ceilings, artwork, and unusual architectural touches, as well as luxurious limestone rain showers and espresso machines, minibars, and microwaves. Some rooms have lovely private courtyards or terraces. Hotel staff will arrange cultural specialty tours to explore the studios of local artisans, wineries, local farms and butchers, or an olive oil mill. Massages, yoga, and Reiki treatments can be arranged at the hotel upon request. The rooftop terrace has a small, pretty plunge pool, and the atrium patio has Roman columns.
12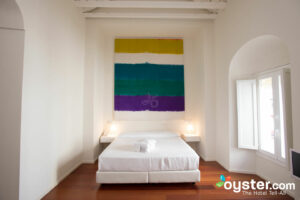 The seven-room, mid-range Hotel Viento 10 is a modern boutique built in a renovated 16th-century house. Beautifully designed and decorated with colorful artwork set against whitewashed walls and rich hardwood floors, this property has a real zen feel. The mixture of styles (Andalucian, Moorish, and Roman) lends a romantic spirit to the place and the sound of trickling water from fountains adds to the serene vibe. This meditative atmosphere is enhanced by an on on-site spa with a whirlpool tub and sauna. Rooms resemble mini lofts, and have stylish modern bathrooms with lilac glass partitions, silver- or gold-flecked cement floors, and rainfall showers. Headboards are large canvases painted by Spanish textile artist, Rocio Moreno. Wi-Fi is free, but charges for parking and breakfast can add up. The hotel is located in Cordoba's historic district, a walkable neighborhood teeming with restaurants, shops, and bars.