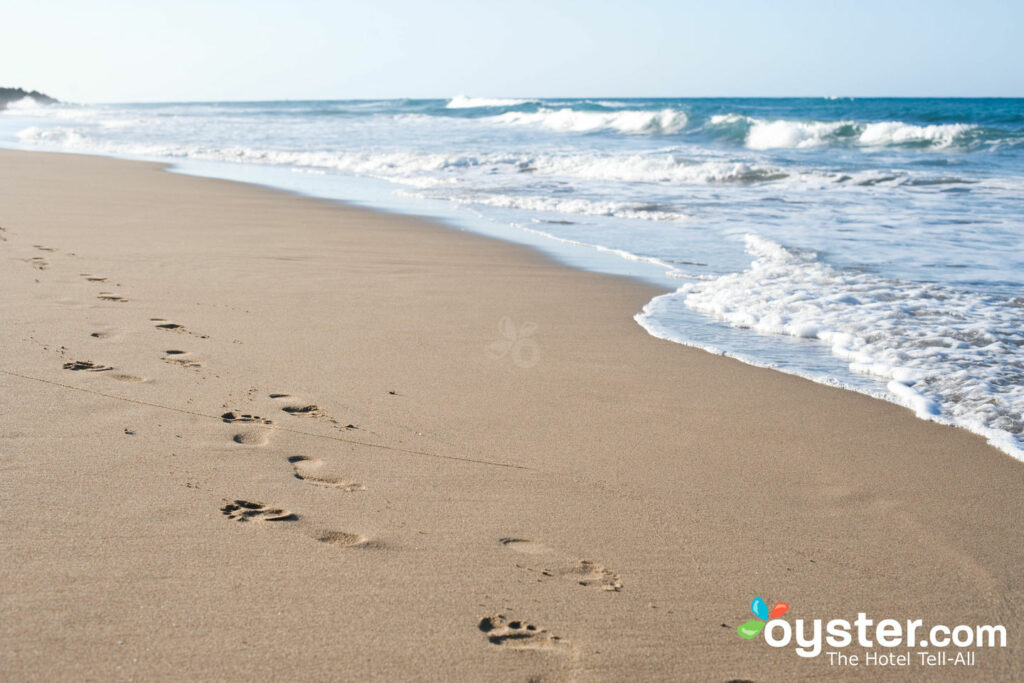 As the saying goes, "The best laid plans of mice and men often go awry." And nowhere does this statement ring more true than with travel plans. Sure, you can do all the research that you want, pack just about every first-aid necessity possible, and come up with backup plans to your backup plans. But so many aspects of travel are simply out of your control; you can't really predict the weather (if you can, please let us know!), you'll never know if you'll actually make your connection, and even if you do, who knows if your bags will! Here are 10 things that can ruin your vacation...that are simply out of your hands. Still, we have some suggestions on how you can do your very best to avoid them.
1. Seaweed
Yuck! When we imagine a beach getaway, we picture soft, white sand and crystal-clear waters — not piles and piles of smelly seaweed. But this year in particular, from the shores of Mexico's east coast to Barbados, there's been a major seaweed invasion, which means an invasion of sand fleas, too. Lawmakers in Tobago have declared it a natural disaster, and Mexican officials have allocated over $9 million to deal with the situation, which can have catastrophic effects on the tourism industry.
How to Best Avoid It: Opt for a getaway to Riviera Nayarit, safely situated away from the seaweed on Mexico's west coast. Grand Velas Riviera Nayarit is a top all-inclusive pick.
2. A Crowded Resort
Another thing we don't enjoy while on vacation is being shoulder-to-shoulder, lounge-chair-to-lounge-chair with other vacationers. Sure, this can be just what college coeds seek when planning an epic spring break, but most families and couples would prefer more peace and quiet — or at least a guaranteed spot on the sand.
How to Best Avoid It: Don't let "off-peak" scare you; numerous destinations are technically off-peak more often than you realize, and you can enjoy many of the same highlights — nice weather, great attractions, delicious food — that you would during peak season, sans the crowds and high prices. We love Croatia and the Dominican Republic this time of year. If you must travel during a destination's high season, choose a resort like Fowl Cay in the Bahamas, which is removed from the crowds on its own private island.
3. Flight Cancellations
In the past 30 days, over 20,000 flights around the world were cancelled. So let's just put it out there — even if you just travel occasionally, you will like have to deal with a cancelled flight at some point during your hours logged in airports. A flight cancellation can really put a damper on a getaway, especially if it happens on your way to your destination, thereby cutting into your vacation time. Unfortunately, there's not much you can do about it.
How to Best Avoid It: Read our tips on 11 Things You Need to Know Before Your Flight is Cancelled.
4. Bad Water
And after such a downer about cancelled flights, here's an annoying vacation-ruiner that can usually be avoided. Sometimes, just a bit of water — a slip-up while brushing your teeth, or singing in the shower — in a country where it can be unsafe to drink it can make a visitor sick. But there are many ways you can ensure that you don't suffer the side effects of consuming unhealthy H2O.
How to Best Avoid It: When in doubt, drink bottled water — particularly if you are traveling to destinations such as Africa, South America, and Mexico. Many hotels in these areas, like Cozumel's Villas Las Anclas, provide all guests with free bottled water.
5. Getting Robbed
Tourists make up the majority of street robbery victims — remember all the incidents in Rio de Janeiro during the 2014 World Cup? This is often because visitors are less familiar with the area; they don't know which neighborhoods or streets to avoid, and they might be too distracted Googling directions to realize their wallet is about to get snatched.
How to Best Avoid It: Easier said than done, but try and be hyper-aware of your surroundings, and where your valuables are located. Many travelers swear by neck wallets, so they can hide cash and cards under their shirts. It's always wise to carry small bills and spread out cash between the hotel safe and your wallet, in the instance that you are robbed. Keep a copy of your passport with you, and a picture of it in your smart phone as a backup.
6. A Hurricane
A hurricane can totally ruin your vacation — whether you're caught in the storm, or you can't reach your destination thanks to flights delayed and cancelled due to inclement weather. Although hurricane coverage is extensive, particularly during hurricane season, and you can prepare the best you can, their strength and timing can be unpredictable. For example, when Hurricane Odile formed in September 2014, meteorologists originally believed it would curve out to sea and away from the Baja California Peninsula (home to popular resort destination Cabo San Lucas). Instead, it made landfall as one of the region's worst-ever hurricanes.
How to Best Avoid It: Read our 17 Things You Need to Know Before Traveling During Hurricane Season, or completely remove the risk and visit a hurricane-proof destination.
7. Lost Luggage
The good news: Lost luggage is on the decline. You actually have less than a one percent chance these days that your checked luggage will get lost, damaged, delayed, or mishandled when it's out of your sight. The bad news: It happens. Just read any angry report from someone who's bags have gone MIA and you know that it can be a real bummer.
How to Best Avoid It: We can't say it enough — try to fit all of your luggage into a carryon! Having your gear right by your side means it will always be with you, and everything will be readily accessible. Read up on our packing tips to get the job done. If you must check a bag, avoid airlines like American Eagle, SkyWest, and ExpressJet, that are notorious for losing luggage.
8. Hidden Fees
When we book a hotel online, the price we see is the price we expect to pay. So it can be quite the unwelcome surprise when, upon checking out, you find a daily resort fee tacked onto your bill. Or, if you've chosen an all-inclusive stay, arriving only to discover that "all-inclusive" isn't so all-encompassing; instead, you're expected to pay extra for things like name-brand (read: drinkable) liquor and activities such as water sports and even access to the gym.
How to Best Avoid It: When selecting a hotel, read the Oyster.com review of the property before booking — we'll notify you if there are resort fees or fees for "extras." Unlike neighboring properties, Kaanapali Beach Hotel in Maui does not charge a resort fee; neither does Scottsdale's FireSky Resort. And The Royal Hideaway Playacar in Playa del Carmen lives up to its all-inclusive name.
9. Jail Time
Tune into "Locked Up Abroad" on the National Geographic Channel and you'll be amazed at how seemingly simple it is to end up in the slammer overseas. Of course, in reality, odds are pretty slim that you'll be arrested, but if you are, we can bet that it will absolutely ruin your getaway.
How to Best Avoid It: It's important to remember that laws vary from country to country and that every person visiting that country must follow them. Here are 11 Laws You Don't Know (But Should) Before You Travel Abroad.
10. The Hotel Looking Totally Different Than You Expected
As we've told you time and time again, you can't return a bad vacation — even if the hotel marketed itself as being totally different (read: way better) than it actually is. Many a property is guilty of some tricky photo editing to place itself in its best light. Sometimes, hotels are almost unrecognizable on their websites by means of cropping out unsightly buildings, staging rooms, and more. Unfortunately, few things compare to the disappointment of arriving at a hotel you're envisioning as spotless and luxurious, only to find it to be dilapidated, depressing, and dank.
How to Best Avoid It: Be sure that the hotel you're booking can't be found on our list of Photo Fakeouts, where we compare the shocking difference between marketing photos and reality. Also take a look at our thousands upon thousands of real photos, and check out guests' pics on TripAdvisor, too.
You Might Also Like:
*All gifs courtesy of Giphy
All products are independently selected by our writers and editors. If you buy something through our links, Oyster may earn an affiliate commission.