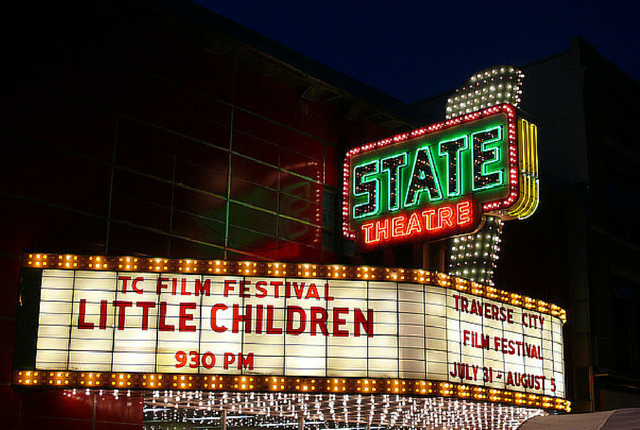 The argument against movies while traveling makes perfect sense. You came to a certain destination to experience its scene, so why would you want to waste precious vacation time inside, watching the latest Hollywood blockbuster fighting space aliens? And we agree -- with one big exception: when the movie theater itself is a central part of local culture.
These nine movie houses are all either prestigious landmark buildings, or top-shelf art-house cinemas, unique to their location. Each one conveys a little piece of their hometown. What's more, they're beloved by residents, letting you tap into local life far beyond the average tour group. So get your tickets and pass the popcorn!
1. Tampa Theatre in Tampa, FL
https://www.instagram.com/p/83QAJrv4Ff/
Outdoor movie screenings are wonderful — until the temperature gets above 90 degrees (like this week is much of the U.S.) and the mosquitoes begin their attack. This Jazz-Age stunner gives the impression of being under the open sky, and its ceiling even twinkles with faux stars. With dazzling, ornate moldings made to mimic a Mediterranean courtyard — complete with statues and gargoyles — it's easy to see why this theater has a spot on the National Register of Historic Places. Be sure to get to the Tampa before showtime to hear the classic Wurlitzer organ played.
Where to Stay: The Epicurean Hotel has a certain cinematic glamor, and the rooftop bar is a great spot for post-movie drinks.
2. Alamo Drafthouse Cinema in Austin, TX
https://www.instagram.com/p/BD_enAtB4OG/
Leave it to Austin to pioneer the cinema-drafthouse mashup. This quirky movie house is known to cinephiles not just for its excellent beer and homey movie snacks like nachos, pizza, and poppers, but also for its solemn respect for movies. Despite the beers on tap, this crowd is quiet and attentive once the projector gets going. There are no pre-movie ads, no talking, no cell phone use, and no children under the age of six. A few programs do relax these rules — such as Quote Alongs, Heckle Vision, and Alamo Kids Camp, all geared to the next generation of film buffs.
Where to Stay: For its independent vibe and intimate Craftman-style setting, the Heywood Hotel offers an atmospheric but relaxed setting.
3. ArcLight Cinemas in Los Angeles, CA
https://www.instagram.com/p/BAfgoOdwUqb/
Unlike other cities, it would be unthinkable to come to Los Angeles and not see a movie. Here, all roads lead to the cineplex. So the question becomes, which theater deserves your time? For cinephiles, the answer is the ArcLight. This local chain treats movies with artistic reverence, which is reflected in the reserved seating and strict policies against disruption (no talking, cell phones, or late seating). Roomy stadium seats come with extra-wide armrests, and the gourmet snacks on sale include popcorn with real butter or cocktails at the 21+ screenings.
Where to Stay: Unlike Old Hollywood hotels, The Standard Hollywood offers something fresh, new, and design-conscious — just like the ArcLight.
4. State Theatre in Traverse City, MI
https://www.instagram.com/p/6qrdctGxz_/
They don't build 'em like they used to, which is exactly why documentary filmmaker Michael Moore and the Traverse City Film Festival saved this movie palace from being permanently shuttered. Their efforts have restored this theater to its grand, red-velvet-seat past. But the most eye-catching detail could be the faux night sky that was charted by an astronomy professor to display Northern Michigan's constellations with total accuracy. The State Theatre is also keen to make movies accessible, offering weekly 25-cent classic films and kids' matinees — and free admission if the weather hits 100 degrees.
Where to Stay: The homey Cambria Suites Traverse City is a short drive to both the State Theatre and the National Cherry Festival.
5. Nitehawk Cinema in Brooklyn, NY
https://www.instagram.com/p/BFWzBiPHje-
Yes, Brooklyn is the epicenter of cool (even Parisians consider Brooklyn to be the hippest city, according to "VICE"). And within Brooklyn, Williamsburg is the pinnacle of hipster-dom. So it follows that the local movie spot here would be too cool for (film) school. Screening art-house cinema, documentaries, and mainstream flicks, this "dine-in" theater provides tableside food and beverage service repping the local foodie culture. (Pork-belly tacos, anyone?) The theater also overturned New York State liquor laws that prohibited alcoholic beverages at movie theaters, so there's plenty of cocktails and even lush boozy desserts to make a night of it.
Where to Stay: No need to trek back into Manhattan; spend the night in Williamsburg at the trendy Wythe Hotel.
6. The Senator Theatre in Baltimore, MD
https://www.instagram.com/p/BG-rStns82I/
If you're nostalgic for the days of regal movie palaces, the Senator can be your time machine. This Art Deco landmark has retained much of its grandeur, from the terrazzo floors and murals to the gold curtains. A mezzanine level includes private screening rooms, which are available for rent. Ultimately, there's nothing splashy or tricked out about The Senator — and that's exactly how locals like it. Be aware, no children under five are allowed.
Where to Stay: One grande dame deserves another, and the stunning Gramercy Mansion is another local marvel.
7. McMenamins' Theater-Pubs in Portland, OR
https://www.instagram.com/p/BFSD6uRSY5J
"Keep it weird," Portland's unofficial motto, seems to be the mission statement for McMenamins'. These guys have converted power stations and old schools into hotels and movie theaters, all while retaining their character down to the chalkboards. Their Kennedy School is equal parts hotel/movie theater/restaurant/bar, and the movie theater portion is pure quirkiness. Housed in the school's former auditorium, the theater offers a hodgepodge of couch seating. But don't let the coziness fool you, a ticket here scores you a top-shelf experience, including tableside service, gourmet dishes, and local microbrews on tap.
Where to Stay: Why drive to another location when you can bunk on-site at McMenamins Kennedy School.
8. Sundance Kabuki Cinemas in San Francisco, CA
https://www.instagram.com/p/x5PQDwAVle/
Sticky floors, blaring ads, camping out for seats — the average movie experience can feel like traveling in coach. But the Sundance Kabuki is adult, refined, and firmly first-class. The aim is apparent once you set foot in the lobby: The soaring skylit atrium, slat-wood box office, and bamboo plants feel more like a boutique hotel than a multiplex. Upscale food, including local artisanal ice cream by Humphry Slocombe, caters to the foodie set, and the balcony bar pours thematic cocktails that can be taken into 21+ screenings. Seating is reserved, so there's no scramble to find a spot, and pre-movie ads are nixed.
Where to Stay: The Kabuki calls for a property that's sleek, modern, and sophisticated, like The Kimpton Buchanan.
9. Landmark Inwood Theater in Dallas, TX
https://www.instagram.com/p/BGqMTrelc8i
With its blocky neon sign and old-fashioned marquee, the Inwood is a relic from Dallas' midcentury boom. But its interiors are far from classic. The first-floor auditorium is decked out with plump couches and squishy beanbag chairs, and movie-goers can order drinks from a martini bar. (Clearly this is the ultimate way to see any Bond movie.) If you're more of a traditionalist, you can also see movies in a leather stadium seat, popcorn in hand. And the theater's lounge gives a spot to discuss movie plot twists.
Where to Stay: The Rosewood Crescent Hotel is another updated Dallas icon, with a Nobu restaurant on-site.
Related Stories:
Pinterest image background photo courtesy of Andrew McFarlane.
All products are independently selected by our writers and editors. If you buy something through our links, Oyster may earn an affiliate commission.