Most travelers arrive to a new destination with a list of landmarks they want to check off -- a "must-see" lineup, if you will. But for many of us, we also come equipped with a list of "must-ride" diversions, too. Transportation can define a place just as much as any looming skyscraper or ancient castle, and best of all, it can double as a way to tour the city and get the lay of the land. Here's a list of the nine most distinct, iconic means for getting around various points on the globe.
1. The Vintage-Car Taxi in Havana
When Oyster staffers went to Havana, we snapped pictures of sunny beaches, pina coladas, statues of Hemingway, and of course, hotels. But nothing grabbed as much attention on social media as our photos of vintage cars from the 1950s and '60s. These taxis make the entire city look like a drive-in straight out of "Grease." Bright, Technicolor hues, fins, and convertible tops add to the fun factor. Another classically Cuban mode of transportation is the Cocotaxi, a little coconut-shaped motorized rickshaw in sunny yellow.
Fee: $1 Cuc per kilometer; short rides around tourist areas will typically be around $5 Cuc
2. The Cable Car in San Francisco
If there was a soundtrack to San Francisco, it would be the iconic "ding-ding!" of the cable cars as they roll around the city's hills. Cable cars were invented here back in the late 1800s to relieve the horses from the dangerous work of pulling carriages up and down steep inclines, and these burgundy-and-yellow cars have remained popular ever since. For the full experience, grab a pole and jump onto the baseboard to ride on the side. Our recommendation? Take the Powell-Mason route, which rises up Nob Hill.
Fee: $7 for a single ride
3. The Tram in Lisbon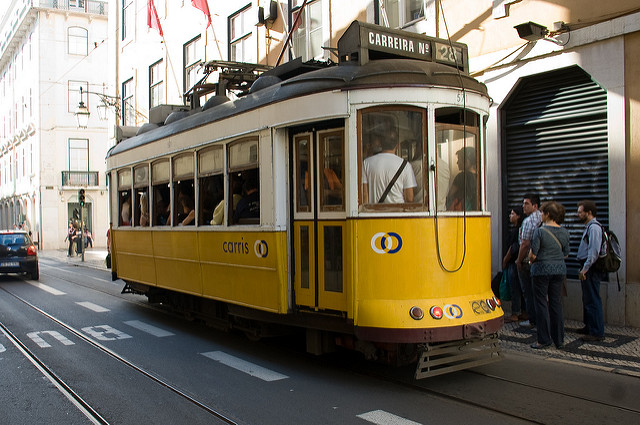 Europe has its share of adorable public transportation, but Lisbon's trams have a certain vintage patina that takes them to the next level. These trams were put into action in the 1930s, and they still sport an Art Deco look, with curved edges, rectangular windows, and a single headlight at the front. Their distinct two-tone, yellow-and-white look recall the city's popular local custard cups. Some of the trams are even built on a slant so they can ascend up the city's steeper cobblestone streets. Take the number 28 to survey Lisbon's storied neighborhoods of Estrela, Alfama, and Baixa.
Fee: 2.85 Euros for a single ride.
4. The Suspension Railway in Wuppertal, Germany
This train takes the usual script for railway systems and flips it — literally. The Wuppertaler Schwebebahn, as it's known in German, chugs along tracks suspended in the air, with connecting points placed above the train cars. The train was considered cutting-edge engineering when it debuted in 1901, but it's still a marvel to rail buffs worldwide. The full train line, to the end and back, takes about an hour to cover and the tourism bureau has released an accompanying MP3 audio guide that covers each of the stations.
Fee: 2.50 Euros for a single ride
5. The Gondola in Venice
Yes, it's touristy and expensive, but riding in a gondola is one of those only-in-Venice experiences. Skimming along the canal waters in a boat curled at both ends like a genie slipper is like being transported back to 16th-century Venice. Even the gondoliers contribute to this illusion, wearing the mandated striped shirt, black pants, and sometimes topping it off with a straw hat — a uniform that's just as emblematic of Venice as the boat itself. If you're very lucky, your gondolier may even sing a few bars of an operetta, completing the tableau.
Fee: 80 Euros for a 40-minute gondola ride during the day; fees are more expensive at night
6. The Tuk-Tuk in Bangkok
These mini-taxis are so synonymous with Bangkok that Miss Thailand actually came dressed as a tuk-tuk when she competed in Miss Universe, in an outfit complete with headlights and handlebars. Most travelers will use tuk-tuks by necessity, but jumping into these candy-colored three-seaters will immediately throw you into the energy and flow of the city. These open-air vehicles let you take in the sights, sounds, and smells of Bangkok as you weave through traffic. (And yes, the exhaust, too.)
Fee: There's no regulated fee for tuk-tuks, so set a price before you take off and be prepared to haggle
7. The Double-Decker Bus in London
Like Big Ben, tea time, and William and Kate, double-decker buses are about as London as it gets. These cherry-red vehicles add a much needed dose of color to this often gray and rainy city. The buses even factor into the fantasy world of Harry Potter, where they were triple-decker. Of course Harry's version traveled to "All destinations (nothing underwater)." Our suggestion for the real thing: Take the number 9, which still runs the old-fashioned Routemaster models and passes by Kensington's museums and Harrods.
Fee: 1.50 Pounds for a single ride
8. The Aerial Cable Car in Kleein Matterhorn, Switzerland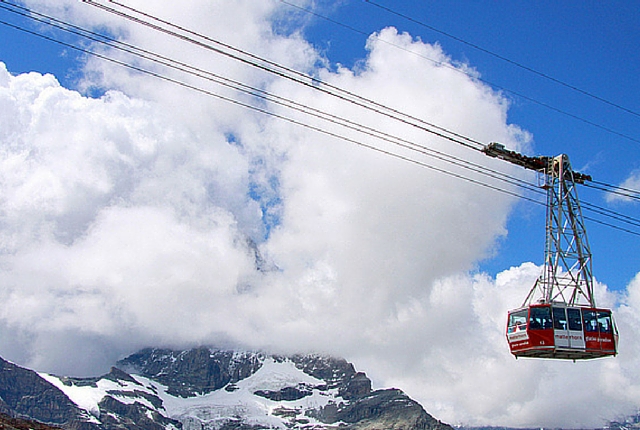 What leaps to mind when you think of Switzerland? Yodeling? Fondue? Cough drops? Yes, that. But no doubt the sweeping, snowcapped mountains also make the list. And while certain athletic, adventurous souls will ski down the highest peaks, just about anyone can take in their full majesty by taking this aerial cable car to the highest peak of the Zermatt area, looming 12,740 feet above. The striking views over the snowscape are truly dazzling, with the jagged white landscape shimmering as ice crystals wink subtle colors.
Fee: 100 CHF for the full, round-trip ride. (Discounts available for travelers using the Swiss Travel Pass.)
9. The Yellow Taxi in New York City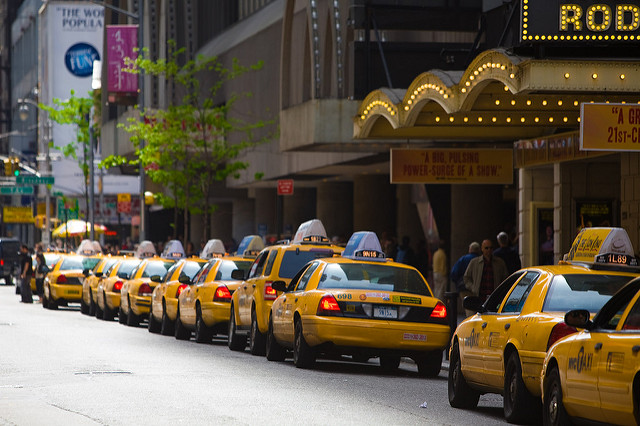 The mythology of New York City's famous yellow cabs have factored into just about every movie set in the city, from "Home Alone 2" to "Coming to America." The Oscar-winning movie "Michael Clayton" ends with George Clooney hopping into a cab, handing over a bill, and saying, "Give me fifty dollars worth. Just drive." When in The Big Apple, you may be tempted to do the same. While there's not exactly a recommended drive for cabbing it around the city, taxis are particularly handy for crossing from the Upper East Side to the Upper West Side (or vice versa), a path that's particularly hard to do via subway. Crossing on 72nd Street will allow you to see some of Central Park as well. Tip: If you see a taxi that's tinged green, it's a "boro taxi" servicing Brooklyn, Queens, and the Bronx.
Fee: $2.50 initial fee and $0.50 per 1/5 mile after
Related Links:
All products are independently selected by our writers and editors. If you buy something through our links, Oyster may earn an affiliate commission.