Question: Katie H.
I'm looking for a tropical location to have a destination wedding for 20 to 25 people. I'm interested in the end of summer or early fall time of the year. Yes, I know that's around hurricane season for a lot of the Caribbean, but it's the best time for getting away from work for my fiancée. Other preferences include: sunny and warm, great beaches, lots of activities, not super crowded and touristy. As one of your previous questions put it, "luxury is not required, but not uncomfortable."
Answer: Will Begeny, Oyster's Senior Editor
June through November is the hurricane season for much of the Caribbean. But what does this mean? During these months (August through mid-October, mostly) there is a greater chance that a tropical storm or a hurricane could develop off the Atlantic.
However, "hurricane season" does not translate to "rainy season." While an off-shore storm can bring some unpleasent weather, the chances of daily rain varies dramatically from island to island (and within the islands themselves). In parts of Jamaica, for example, July is one of the driest months.
That said, I would recommend pushing your wedding as early (June-July) or as late (November) as possible. In a more "protected" western island like Jamaica (which has Cuba to the north and the D.R. to the east) the chances of a storm hitting outside of August and September is relatively slight. But if you'd rather not test your luck, you can also head to the "A.B.C. Islands" (Aruba, Bonnaire, and Curacao), which are outside the hurricane belt on the southernmost edge of the Caribbean. Among them, Aruba is the most developed and the easiest to get to.
Since you're looking for a resort that isn't "super crowded and touristy" and because hundred-mile-an-hour winds can put a damper on a traditional wedding ceremony, here are three hotels worth considering:
Pros:
Laid-back, uniquely beautiful location (far from most tourists)
An otherworldly black-sand beach (great for photos)
Very arid climate; scarce chance of rain
Excellent wedding coordinator; at most big resorts, it can take weeks for someone to get back to you (not the case here)
Great spa on-site
Easy to secure the great majority of the guest rooms (few to no strangers at your wedding)
Private, outdoor tubs in the bi-level honeymoon suite
Broad range of room rates; from very low-end to ultra-luxe villas
Near river-rafting (with alligators), waterfalls, great boating, and fun local hangouts
Excellent, largely local fruit and fish
Cons:
Up to a three-hour drive from the airport (much of it on a very bumpy road)
Some rooms lack air conditioning
Can be especially hot in July; expect to sweat
The nearby beach isn't "conventionally beautiful" and the waves can be a bit rough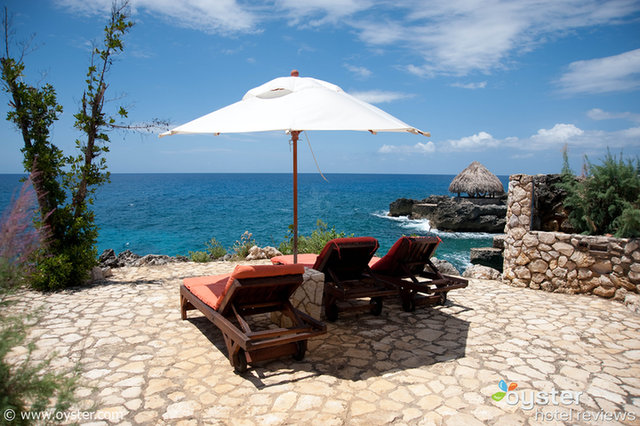 Pros:
Stunning location on the seaside cliffs — the most beautiful sunsets in Jamaica
Very tiny hotel — a small group could easily take over the whole place
Other hotels nearby, including the chichi Caves next door (if you want to get away from the hoopla on your wedding night)
Couples massages outside, on the cliffs, hidden from the rest of the resort
Excellent food — especially for the price
Cons:
No beach
Cliffs can be a bit dangerous for young children
About a two-hour drive from Montego Bay airport (if you choose not to take a local flight into Negril)
Surrounding streets can be a little dicey for some travelers (pot-smoking Rastafarians abound)
Pros:
Outside the hurricane belt
Beautiful, modern rooms with flatscreens and iPod docks
Gorgeous beach (in a more traditional sense)
Short drive from the airport
24-hour room service
Top-notch spa
Casino, watersports, outdoor tours, great restaurants, shopping, and nightclubs nearby
Cons:
Often, it's a longer, more expensive flight to Aruba than elsewhere in the Caribbean
Less exotic-feeling locale — it can feel more like a suburban shopping mall than a tropical getaway.
Considerably more expensive room rates than at other hotels in the Caribbean
More non-guests milling about — though, the number of guests will likely be fewer in the fall
If there's a hurricane, flights could still get delayed or canceled
Have any other travel or hotel queries? Ask Oyster! Send your questions over to askoyster@oyster.com. We'll select a few to answer and post 'em up as part of our recurring Ask Oyster feature.
All products are independently selected by our writers and editors. If you buy something through our links, Oyster may earn an affiliate commission.