It's true that every traveler is unique, and our mission at Oyster is to find the best hotel for each one's specific needs. But most travelers can agree on one thing: wanting the best hotel for the lowest possible price. And we can certainly help with that, too. We used some database wizardry to discover the least expensive four- and five-pearl hotels on Oyster, and layered on our editorial expertise to select which of those were also truly awesome hotels. The result? Take a look!
Price: $110 and up
Pearls: 4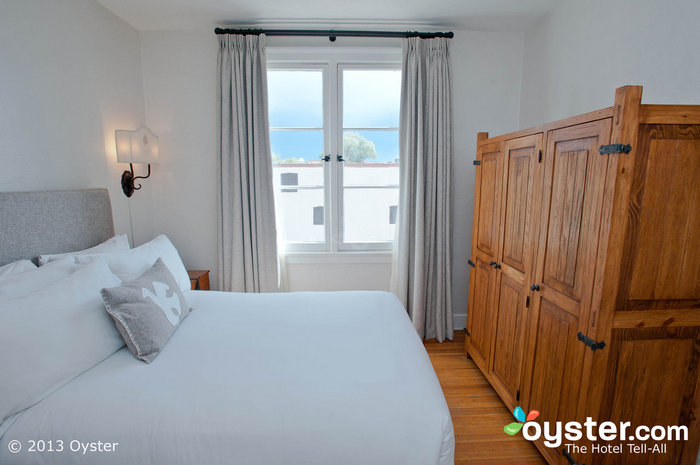 This 81-room upscale boutique, housed in a historic building two blocks from the Santa Fe Plaza, underwent a complete renovation in 2011 and now features simple, mission-style decor inspired by the principles of St. Francis of Assisi. The elegant, minimalist rooms have original wood floors, sturdy wood furniture made by local artisans, and a color scheme of gray and white — but, as in many historic buildings, they're small. The hotel features a fine dining restaurant serving New Mexican cuisine, as well as a bar, with outdoor seating available, that offers appetizers and cocktails. But there's no pool or Jacuzzi, and guests will have to pay a daily fee for parking. If a pool is a priority, consider the nearby Inn and Spa at Loretto.
Price: $59 and up
Pearls: 4
This off-the-Strip hotel is known for its crazy parties and celebrity stopovers. The three-tower 428-room resort has modern rooms and numerous popular clubs. While there are some good restaurants, the food is not a main attraction, like it is at similarly priced Strip centerpieces such as MGM or Mandalay Bay, or even at off-the-Strip Hard Rock, which boasts a Nobu. With a $50 million renovation in 2012 and tons of amenities, however, the Palms is sure to have something to please all parties.
Price: $90 and up
Pearls: 4.5
The 57-room Lennox Hotel Buenos Aires is located in the central Congreso area, close to government offices. Quirky decorations and artwork, interesting wall patterns, and unusual color schemes make a stay here a distinct and memorable experience — from the spacious lobby dressed in sleek shades of black, to the chic, dramatically lit private outdoor garden. All aesthetics aside, the hotel also offers top-notch comfort, luxury, and hospitality. There's a restaurant serving international dishes using local ingredients, a free breakfast buffet with fresh fruits and hot eggs, and a spa for relaxation. And the rooms — large and stylishly furnished like the rest of the property — come with kitchenettes, big closets, iPod docks, and quaint dining areas.
Price: $100 and up
Pearls: 4
The 443-room Allerton is one of the few hotels right on the Magnificent Mile, and its rooms — with soothing blue-and-white color schemes, iPod docks, and flat-screen TVs — are more modern and stylish than those at the neighboring Omni and Intercontinental hotels. But unlike its neighbors, the Allerton lacks a pool and its rooms offer significantly less space than the Omni's two-room suites.
Price: $105 and up
Pearls: 4
This 105-room hotel in the heart of Barcelona bills itself as a "gay hotel" that is "hetero-friendly." It is in the heart of the Eixample neighborhood, the city's dynamic gay area with great restaurants and nightlife. The theme here is seduction — nude photographs adorn the walls, naked mannequins hang out in the hallways, and see-through glass bathroom walls make for little privacy in the rooms. The rooms are large here, and upgrading to a suite will get you a very nice private terrace. Amenities include a top-notch fitness center, rooftop pool and bar, and a relaxing spa. This is a good choice for couples, gay or straight, looking for a sexy atmosphere and a modern scene.
RELATED LINKS:
All products are independently selected by our writers and editors. If you buy something through our links, Oyster may earn an affiliate commission.