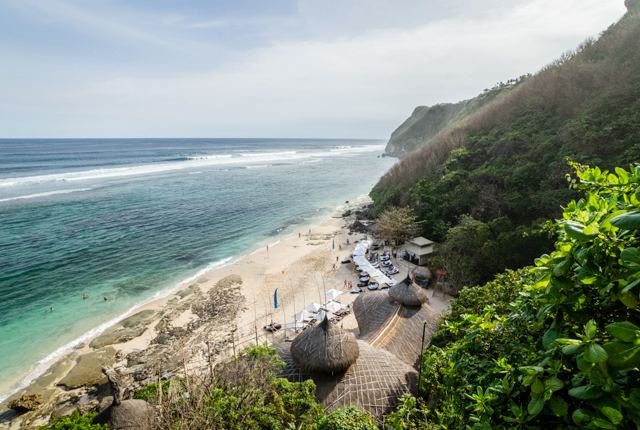 Golden sand, palm-lined shores, wild nightlife, and deep Hindu traditions have all made Bali one of the most popular destinations on the planet. However, as tourism in parts of Bali continues to develop with almost unchecked frequency, some of its most famous beaches can no longer be called truly beautiful. This includes trash and water-quality issues from Kuta to Seminyak as well as formerly unknown coves that have been packed with backpacker crash pads. To help you get the most out of your next trip, we've tracked down seven of Bali's most beautiful beaches. Some are well known, some are a secret, and some will require a little effort to reach. But we promise that once you find them, you'll be flying high on those sun-filled vibes.
Bias Tugel Beach
https://www.instagram.com/p/BXnUGmajt21/
Sometimes the best discoveries take the most work to find, and while Bias Tugel Beach isn't the most remote beach in Bali, you'll need to put in a little sweat equity to find it. This stretch of golden and black sand, blue seas, and striking volcanic rock sits outside the small village of Padangbai. The town itself is a backpacker hub on Bali's eastern side, and has ferries to Lombok and the Gili Islands. It also has its own beach — plus Blue Lagoon Beach to its north draws plenty of its own sun-seeking visitors — but we think the 15- to 20-minute walk to Bias Tugel makes it a special place. You'll have to scramble over some rocky pathways and descend some steps to get here, so be aware before you take off from town. There are also small fees charged for entrance and parking.
Hotel Pick: You'll need to stay in Padangbai if you want to have easy access to this little gem of a beach. We like the casual Bloo Lagoon Village. It's located a bit north of Padangbai's main hub of action, meaning walks to Bias Tugel will take a tad longer. However, as a bonus, you'll also score easy access to Blue Lagoon Beach.
Green Bowl Beach
Consistently one of the least-crowded beaches in southern Bali, this beautiful strip of sand is accessed by hundreds of steps along some cliffs. That less-than-easy route — and off-the-beaten-path location — means that there are rarely more than a few people here at any one time. The cliffs provide a stunning setting and shade from Bali's punishing sun, and the crystal clear blue water laps away at the generally pristine golden sands. Tides here can be extreme, and snorkeling is best done during low tide. Be sure to time your visit, as much of the beach can disappear during high tide. In any case, the water here is impeccably clean and the beach is generally free of major debris. There are a few spots to grab a quick bite up on the clifftop and a small entrance fee applies.
Hotel Pick: While many travelers make their way from Nusa Dua, we suggest posting up at the ultra-posh Banyan Tree Ungasan, Bali. It's worth it just for the sea views from the clifftop infinity pool, though the handsome rooms are nothing to be mad about. Plus, the modern-meets-traditional style throughout the resort is impeccable.
Suluban Beach
https://www.instagram.com/p/BXhTndggBqt/
Is Suluban Beach a secret? Absolutely not. But compared to the packed sands of Kuta and Seminyak, it will feel light years away. Here at Oyster.com, we're suckers for seaside rock formations. Krabi's karsts and the cliffs of the Algarve won't be leaving our beach fantasies any time soon, and Suluban brings a bit of that dramatic seascape action to Bali. Nearly hidden sandy nooks are tucked between limestone rocks that are reached by traversing steep steps. The beach is near Pura Uluwatu temple, which puts it squarely on the tourist circuit, so you may have to wait a bit for that Instagram-worthy abandoned beach picture. Even so, the setting alone is worth the trip. Keep in mind that the water here can be dangerous for swimming, though surfers are in luck.
Hotel Pick: Only a 10-minute drive north of Pura Uluwatu and Suluban Beach, the Blue Point Bay Villas & Spa has a gorgeous clifftop setting with amazing sea views. The rooms are relatively modern, though for a more romantic vibe, opt for one of the villas.
Nyang Nyang Beach
https://www.instagram.com/p/BXlKi-lnX_u/
While swimming here might be too risky, the scenery and relative seclusion make this one of the island's most whispered about strips of sand. In fact, depending on what time of year you're in Bali, you may have picturesque Nyang Nyang Beach all to yourself. Drivers might not spot the small sign from the road, which winds southeast from the famous Pura Uluwatu temple. The beach costs a small amount to access, and there's a parking lot at the top of the cliff should you choose to have your driver wait for the day. Getting down to the shoreline, which has both golden sand and large flat rocks, takes a bit of effort (particularly on the climb back up). Your reward? No beachside development and lots of tranquil ambience. If you need a cold beer, a vendor might pass by, or there's a warung atop the cliff.
Hotel Pick: While you'll have your own nearly private beach at the luxe Bulgari Resort Bali, the hotel is also one of the closest and poshest options to Nyang Nyang Beach. We recommend booking a room here for a few nights, soaking up the views at the cliffside infinity pool, and spending the next day exploring Nyang Nyang and catching the sunset at Uluwatu.
Amed Beach
Lest you forget that Bali's trio of towering, sacred volcanoes are still technically active, Bali's volcanic sand beaches are here to remind you of that fact. This geology makes for some striking beaches, like Amed Beach. In fact, depending on where you find yourself along Amed Beach, you could be posting up on pebbles, golden, or black sand. This is due to the various eruptions that have occurred on Mount Agung — Bali's most sacred volcano — over millennia. And that proximity to the volcano is what makes this corner of Bali so special. It's not the most secluded spot and you'll be sharing the sand with fishing boats in many areas, but the curving bays with head-on views of Mount Agung are the stuff of dreams.
Ungasan Beach (Karma Beach)
While private beaches are quite rare in Bali, this tiny section of sand is — geographically at least — part of the Karma Kandara on Bali's Nusa Dua Peninsula. You'll need to pay a fee to access the beach and club if you aren't staying at the resort, but the combination of turquoise water, golden sand, crashing distant surf, and dramatic cliffs make this feel like an exclusive escape.
Balian Beach and Soka Beach
These two beaches, north of famous Tanah Lot temple, don't fit the image of Bali's golden sands that many travelers have. However, they're far less trafficked than the beaches farther south and have otherworldly appeal. Both are black-sand beaches that look dramatic against the wild surf on this side of the island. Balian is better for travelers hoping to catch waves, and is more built up than Soka. Soka Beach is best for sightseeing, as its rocky beachscape is flanked by green cliffs at either end. There's a local temple nearby, so religious processions aren't uncommon to spot on Soka Beach. Note: It's a 10- to 15-minute drive between the two strips of sand.
You'll Also Like:
All products are independently selected by our writers and editors. If you buy something through our links, Oyster may earn an affiliate commission.