One of the largest islands in Europe, Sicily is straddled by the sparkling Tyrrhenian, Ionian, and Mediterranean seas -- so gorgeous beaches are never too far off. The top beaches in mainland Sicily range from surprisingly under-the-radar arcadias to famous watering holes surging with locals and out-of-towners during the high season, but all share a key feature: crystalline waters that stretch way, way out before you can't reach the bottom with your toes. The shallow water and gentle swells make many Sicilian beaches excellent for small children and families -- or anyone who enjoys wading and lolling in the surf over dodging big waves. Below, we rounded up the best beaches in Sicily.
One glance at the crescent-shaped Spiaggia di San Vito lo Capo, and you might think you're looking at the Caribbean. That's how clean, clear, and beautifully blue the water is. As for the sand, it's everything you want from a beach: fine, white, and wide, with plenty of space around the sunbeds. The shallows extend quite a way, so beachgoers can recline, play ball, and paddleboard in the teal water without worrying about murky depths. When the time comes to return to land and refuel, there are many beachside seafood restaurants, takeaway panini shops, and bars (if you're there during Cous Cous Fest in late September, stop by one of the berber tents for a heaping plate of couscous and grilled fish).
San Vito lo Capo Hotel Pick:
The medieval town of Cefalu, set on Sicily's rugged north coast, has charm in spades. The quaint port is famous for its stone old town, 12th-century Norman cathedral with Byzantine mosaics, and hulking mountainous terrain, which you can hike for incredible views. But its lovely, sandy beach is every bit as notable as these other assets. A waterfront promenade sweeps nearly a mile from one headland to another (and beyond), providing brilliant views of Cefalu's aquamarine sea, which is dotted with fishing boats and dramatic rocks. The water is clean, clear, and shallow, and umbrellas, lounge chairs, pedalos, and kayaks are all available to rent. For food and drink, there are beach bars and cafes serving icy cold granitas, piadinas (Italian flatbread stuffed with meat and cheese), seafood pasta, and wine. The whole scene — including the dazzling blue water and honey-hued historic town — is especially breathtaking at sunset.
Cefalu Hotel Pick:
A UNESCO World Heritage site, the historic town of Noto is famous for its Baroque architecture, hiking trails, and sparkling beaches, such as Spiaggia di San Lorenzo. Here, the softly undulating water is so clear that you can see straight to the bottom, and the long stretch of white sand offers plenty of space for lounging (though the beach does get packed during July and August). There are ample facilities to accommodate the many visitors, including parking, restaurants, and paid areas with loungers and palapa parasols.
Noto Hotel Pick:
Giardini Naxos is a popular beach resort about five miles south of Taormina, sandwiched between Mount Etna and the Ionian Sea. Beginning at the Museum and Archaeological Area of Naxos, the town's wide sandy beach sweeps north for about half a mile, with hotels, restaurants, bars, shops, and other tourist conveniences along the way.
Giardini Naxos Hotel Pick: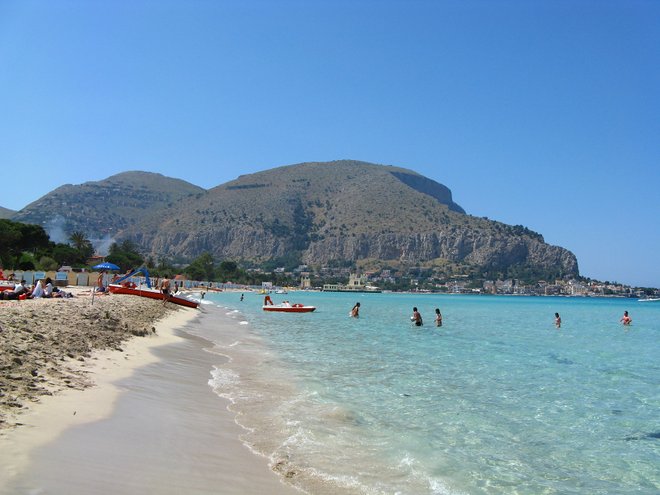 If you're visiting Palermo, be sure to work in a beach day at the fishing village of Mondello, a 30-minute bus ride away (you can buy your tickets in advance from any tabaccheria in town). With its wide swath of white sand and turquoise waters, Spiaggia di Mondello is no secret, and high-season crowds are simply part of the equation. However, Mondello is so big and wide that finding space to spread out isn't a problem. Most visitors happily shell out to enter the paid area, where sunbeds, umbrellas, lockers, and changing areas are available. There are pedal boat rentals on the beach, and kiosks selling snacks, cold drinks, and gelato. For a bigger feast, go to one of the trattorias specializing in seafood dishes like sauteed clams and fettuccine with lobster. Be sure to walk the coastal path to "Il Faro" (the lighthouse).
Mondello Hotel Pick:
Scala dei Turchi
Spectacular, astonishing, magnificent — visitors quickly run out of superlatives when trying to describe Scala dei Turchi (Stair of the Turks). The dramatically tiered cliff, formed by beautiful marlstone, looks like a cross between a moonscape and the Maldives. The ivory sloping steps are all the more stunning thanks to the backdrop of shimmering blue-green water. The "stairs" lead down to a beach with private clubs and places to eat and drink.
Scala dei Turchi Hotel Pick:
Most people who visit the Province of Ragusa's beautiful beaches have the same question: Where is everybody? From Scicli's beautiful Sampieri beach to Pozzallo to Ispica's Spiaggia di Santa Maria del Focallo, the Ragusa coast is delightfully uncrowded and seemingly well off the tourist radar (peak summer picks up, of course, but not to the bedlam levels of other beaches). Miles of golden sand — firm enough for a run — are backed by pristine sand dunes and fronted by warm, wade-friendly waters that are waist-deep even hundreds of feet offshore. (Note that the wind can pick up here and cause the sea to be less swimmable.) Despite its relative emptiness, the shore here still has facilities like sea-view restaurants and beach clubs with shaded loungers and cafes.
Ragusa Hotel Pick:
Isola Bella
A little speck off the coast of Taormina, Isola Bella is a tiny island with sea grottoes and walking trails, and surrounded by crystal-clear water that's perfect for snorkeling. Come high season, the little island is a sunbathing hot spot (avoid going in summer if space and quiet are what you're after). Isola Bella is connected to the mainland by a rocky path that disappears and reemerges with the tides. The beach itself is also pebbly, so bring swim shoes. The area is a nature reserve managed by Italy's arm of the WWF, and guests must buy an entry ticket to access the island. Check ahead, as parts of the island may be closed. Most past visitors describe the experience as unmissable, while others grumble over the admission fee, the fenced-off sections, and the summertime crowds.
Taormina Hotel Pick:
Situated on a beautiful stretch of Sicily's southwestern coast, the port town of Sciacca features basilicas, piazzas, surrounding vineyards, and sandy beaches. The lovely Spiaggia Capo San Marco is a favorite in the area for its local, laid-back vibe. As with many Sicilian beaches, its serene shallows stretch way out into the distance. The sunsets here are spectacular — make a moment of it with a bottle of Prosecco. The seaside town makes for an excellent home base on the south coast, as its ideally located for day trips to the Greek archeological wonders of Agrigento (30-minute drive), Selinunte (one-hour drive), and Heraclea Minoa (30-minute drive).
Sciacca Hotel Pick:
This public beach in Cinisi, near Palermo, is blessed with a wide sweep of white sand and glassy teal shallows leading to the Gulf of Castellammare. Outfitted with facilities like beach bars and restaurants with aperitivos and DJs, Magaggiari heaves with beachgoers in August. It's worth pairing the trip with a visit to Terrasini, which has a lively town square and a gorgeous bay backed by cliffs.
Cinisi Hotel Pick:
You'll Also Like: