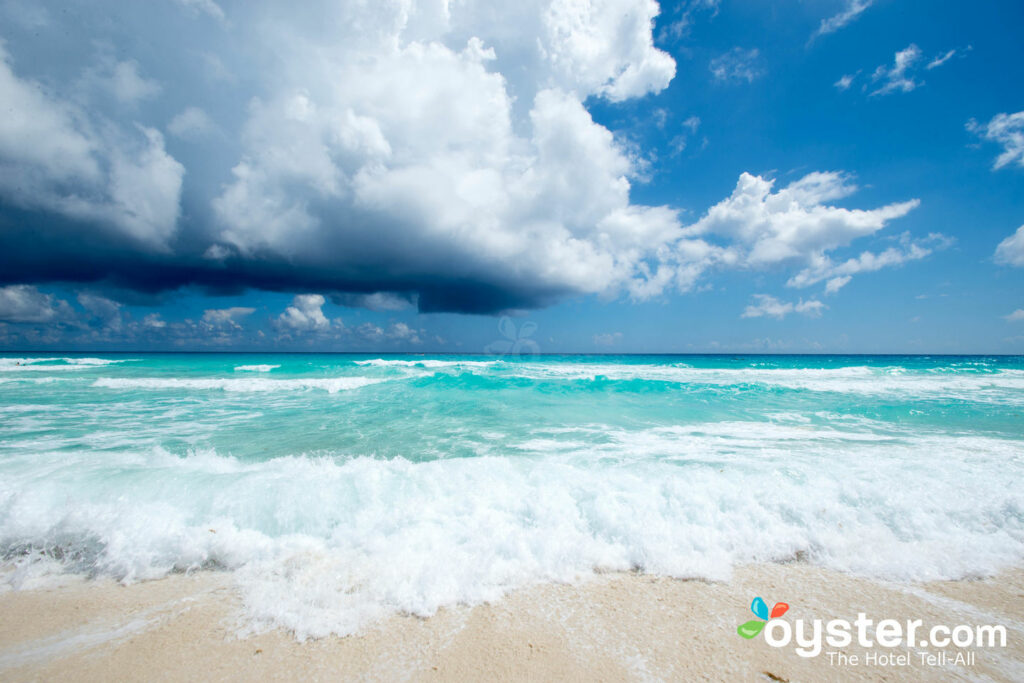 Drawing nearly six million international tourists per year, Cancun is Mexico's most famous beach destination -- and for good reason. This is a city that caters to travelers at every turn. It's easy to reach from most major U.S. cities on the East Coast, English is widely spoken, and you'll find familiar chain restaurants all over. Plus, what it lacks in authentic Mexican culture, it makes up for in natural beauty and things to do. There are plenty of cool excursions in Cancun, with zip-line tours, Mayan ruins, underwater art, swimming with whale sharks, beautiful cenotes, and private speedboat adventures all topping the list. However, it can be hard to know where to start, so read on for our breakdown on what's best in Cancun right now.
Prices are subject to change.
Mexico's Caribbean Sea is one of the lucky places where whale sharks visit from June to September. With the help of an expert guide, you and your group of 10 people or less will explore the waters near Isla Contoy, Isla Holbox, and Isla Mujeres. Once you've spotted a pod, put on your snorkel gear and plunge into the clear water to swim alongside these fascinating fish while also keeping an eye out for dolphins, manta rays, and turtles. You'll likely have two jumps on the trip, and more if time permits. You'll then sail to a white-sand beach on Isla Mujeres, where there will be time to swim and sunbathe before a Mexican lunch is served. Back on the boat, your onboard biologist will explain more about local marine life and unique bird species. Seasickness-prone travelers should note that your captain will aim for calm water, but the route can sometimes be choppy.
There are ancient ruins and then there's Chichen Itza. This road trip travels inland to the UNESCO World Heritage site, stopping at a nearby cenote on the way (either Ik Kil or Hubiku). There, you'll have time to dive in the deep, aquamarine waters of an underground swimming hole before continuing on to one of Mexico's most famous destinations. Around midday, you'll tour Chichen Itza's significant locations, including the Pyramid of Kukulkan, El Castillo (the Castle), and Temple of the Warriors, while learning the history of the site (including the Maya's complex astronomical calendar). After exploring the ruins on your own, you'll head to a local restaurant for a buffet lunch, then return to your hotel. This is a full-day excursion, but there are quicker tours available, like this six-hour option.
This speedboat excursion allows you to race on either a two-person speedboat or a wave runner through Cancun's scenic waterways. The two-hour adventure starts at Cancun's pier, where you'll board your selected vehicle and set out across Nichupte Lagoon, riding through dense forests of mangroves. Up to 10 people in multiple boats travel together, and you'll follow your guide through a slice of the Mexican coastline not seen by most tourists. You'll eventually arrive at Nizuc coral reef — one of the largest in the Western Hemisphere — and go snorkeling (gear provided) among living coral and tropical fish before returning through the mangrove jungle to complete your tour. Previous guests reported that this was a good value, but some wished there was more time to snorkel.
While you'll probably spend most of your time in Cancun on the beach, it's worth seeking out some fun from a higher vantage point, too. This five-hour adrenaline-fueled tour of North America's largest zip-lining circuit includes panoramic vistas of the jungle below. First, you'll depart from your Cancun hotel in an air-conditioned minivan and venture deep into the dense greenery. Your guide will give a safety briefing, then provide you with a protective helmet and safety harness. Then, it's time to begin the two-mile course. From here, you'll return to land and climb aboard an army truck to travel through the ancient Mayan jungle toward a secret cenote. At this final stop, you'll glide down another zip line and plunge into the turquoise water below. Enjoy a snack in the tree hut before returning to Cancun. Downsides? Extra charges for lockers and bottled water.
Where else can you see more than 500 life-size sculptures arranged on the bottom of the ocean? This tour starts from Cancun's marina, where you'll greet your guide and head for "Silent Evolution," by British artist Jason DeCaires. You'll then watch a snorkeling demonstration before donning your equipment and plunging into the water to explore the exhibit. Learn how the artist sculpted the figures from pH neutral clay, making it safe for the abundance of marine life thriving among the statues. Snacks are also served on the boat. Some previous guests felt that they'd be able to get closer to the art while swimming (based on pictures they'd seen). Also keep in mind that the water can get choppy at times (your guide will do his or her best to ensure that the ride is mostly serene).
It's no secret: Cancun is known for nightlife, and picking from its staggering array of bars and clubs can be intimidating. This package offers a chance to party the night away with the guesswork taken out of the equation. You'll party-hop to three of the city's top clubs with VIP service, zero lines, no cover charges, and unlimited drinks. First, meet your personal party guide around 10 in the evening. Once inside each club, head to your VIP table, sip complimentary drinks, and talk or dance through the night. Possible locations include: The City Nightclub, Carlos 'n Charlie's, Congo Bar, Mandala Disco, or Dady'O. Previous guests liked the safety of following a local expert who was watching out for them.
This family-friendly half-day tour is an awesome way to combine the Mayan ruins at Tulum with some snorkeling. First, you'll visit the world-famous Tulum ruins along the Caribbean coastline with a certificated archaeological guide for a great cultural experience. The blue ocean backdrop makes this site one of the most beautiful in the world. Then, you'll gear up and snorkel in Akumal Bay, while keeping an eye out for tropical fish, turtles, and possibly manta rays in the reef. This tour is not recommended for those with medical conditions or folks who have trouble climbing steps. Additionally, while children are allowed, they do need to know how to swim and must be above the age of four.
If you've never ridden a horse before, this is your chance to escape the pool bar crowds for a peaceful half-day tour in Cancun's countryside. Located about 40 minutes outside of the city, this stable of 100 horses has options suitable for every level of rider (including instructions for beginners). Participants will set out on the trail through the jungle and onto the nearby beach. The tour lasts about two hours, then you'll return to the ranch for Mexican snacks (alcoholic drinks are available for purchase). You'll also have the option of taking a dip in the on-site swimming pool, or spending more time with some of the ranch's farm animals before returning to your hotel. Some previous guests wished they had more time to ride on the beach, as this tends to be the shortest section on the trail.
This popular eco-adventure tour explores the Yucatan's best cenotes. After a morning pick-up, you'll head out on a 10-hour trip with your small group while enjoying coffee and pastries. En route to the first site, you'll learn about the unusual geological formations that you are about to visit — a network of underground caves connected by subterranean rivers. In fact, each of the four cenotes represents a different element — earth, water, fire and air — and you'll either rappel, kayak, slide, cliff jump, swim, or snorkel in them. There are plenty of interesting landscapes, aquatic animals, and beautiful rock formations to check out as well. Later in the day, a nice picnic lunch is accompanied by beer, water, wine, and coffee. Previous guests said the tour was well-managed, with the perfect amount of time spent at each cenote.
For those who don't want to leave the beach for long, all you need is 30 minutes to take this adrenaline-pumping parachute ride with a friend or loved one. First, you'll meet at a pre-arranged location on the Cancun coast and then climb aboard an awaiting boat. Your instructor will deliver an orientation session, and once you feel confident, they'll buckle you into the parasail. You'll rise 350 feet above the ocean, scoring views of the nearby tropical forests, Isla Mujeres, and the Hotel Zone (alternatively, you can choose views of the Nichupte Lagoon) before returning safely to shore. However, be prepared for extra costs like a per-person docking fee.
When it comes to luxurious adults-only all-inclusive resorts in Cancun, you'll be hard-pressed to find anything better than Le Blanc Spa Resort. Its beautiful white-sand beach plus a decadent spa, stunning pools, and butler service all make this an indulgent pick. The beyond-generous all-inclusive packages also score high points for including dining at numerous a la carte and buffet restaurants (as well as an extensive list of premium liquors and wine). Don't sleep on the style here, either, as there's a cool modern aesthetic found throughout the property, including the rooms. Most of the units have lagoon or sea views, but if you want the best vantages, you should request a room on a higher floor.
Our best advice: If your hotel doesn't offer complimentary pick-up and drop-off, purchase the Cancun round-trip airport transfer in advance. This convenient ride is a great alternative to crowded taxi lines and unscrupulous drivers trying to squeeze extra dollars out of new arrivals. Drivers are experienced, friendly, and English speaking.
You'll Also Like:
All products are independently selected by our writers and editors. If you buy something through our links, Oyster may earn an affiliate commission.