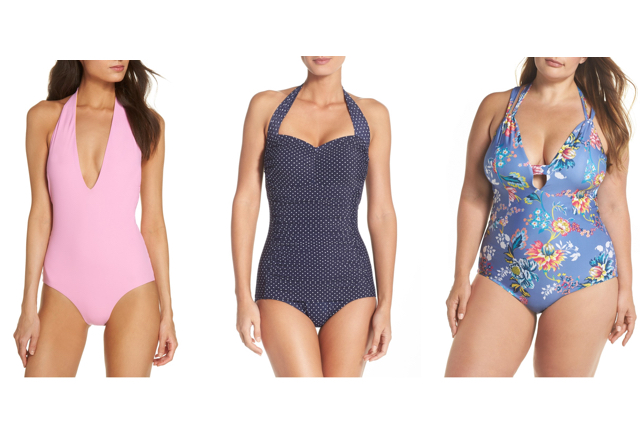 One-piece swimsuits are great for travel. First of all, they're easy to keep track of (imagine arriving at your beach paradise and realizing you only packed half of your bikini). They're oftentimes a bit more conservative than bikinis, making them ideal for wearing in countries where too much midriff could be frowned upon. They're also versatile; in some places (such as Paris), many public and gym pools actually forbid bikinis. Finally, they're fashionable and flattering for all types of bodies. With that in mind, we've sought out the perfect one-piece swimsuits for travel. Here are our favorites.
One-piece swimsuits needn't be frumpy, as Billabong proves with this trendy retro number. Its slimming pinstripes give it a vaguely business-shirt look, while the deep back and high-cut legs leave a little less for the imagination. Sexy, but subtle.
This super-smart reversible number by Tory Burch is perfect for the traveler who wants two swimsuit looks for the price of one (very important for Instagram pics). Bubblegum-pink and sunshine-yellow are flattering for a variety of skin tones, and the halter-style neckline is low enough to offset any frumpiness you might feel in a one-piece.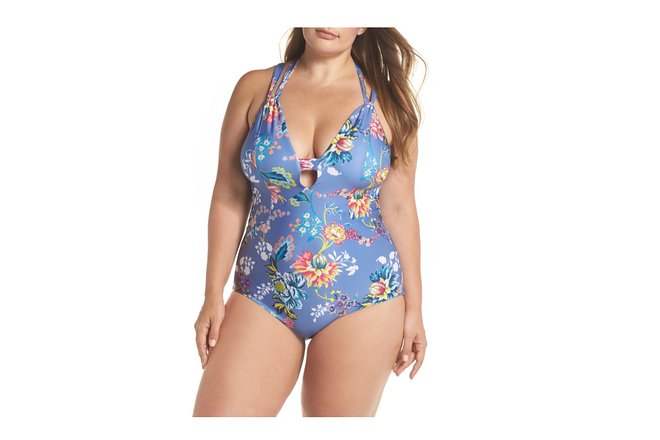 Plus-size designers have come a long way in including trends on larger-size suits. Floral one-pieces are totally in for 2018, and we love the bright colors and playful chest and shoulder strap cut-outs on this Victorian Garden one-piece. An adjustable tie back and full bottom coverage keep the suit comfortable and customizable.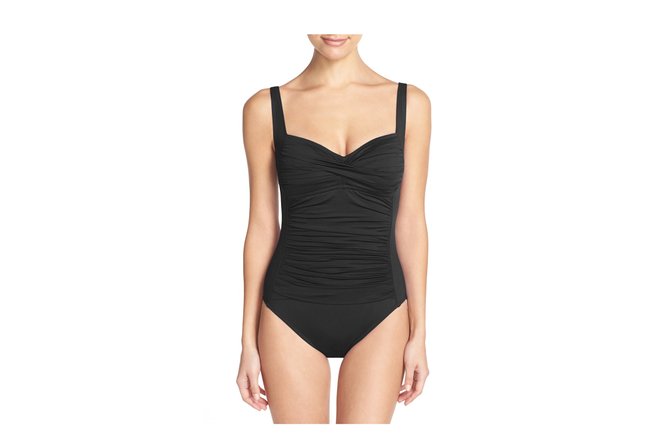 If you spend a lot of time swimming or sunbathing, you may feel like you need a few different swimsuits to get you through: a sexy one for pool and beach parties, a sporty one for the gym, and a simple one for conservative destinations. While you could schlep multiple soggy suits around on your next trip, it might be easier just to pick up a little black swimsuit, such as this one-piece from La Blanca. Its classic black color and full bottom coverage gives it a properly conservative twist, but the flattering sweetheart neckline adds a flirtatious vibe.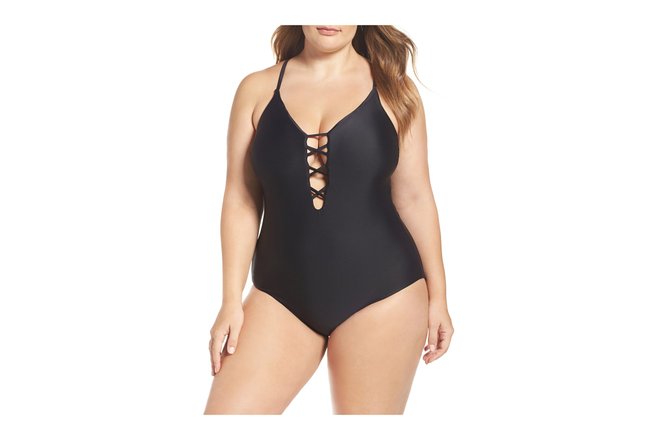 A sexy black corset detail on the bust makes this one-piece option incredibly chic — a look that will work anywhere from the French Riviera to the Great Lakes. It's cut just high enough to elongate the leg without taking out too much coverage of the bottom. And, the crisscross back tie allows for the perfect fit across the chest.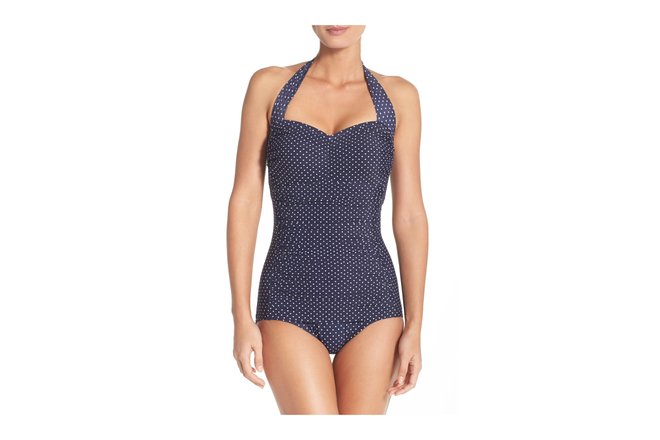 Get the 1950s pin-up girl look with this navy number with pinpoint white dots. The shape is oh-so vintage, with a full back and a halter-top neckline, while underwire bust support makes it a more comfortable option for frolicking on the beach than you're likely to find with the average itty-bitty bikini.
With additional reporting by Megan Wood.
You'll Also Like:
is a participant in the Amazon Services LLC Associates Program, an affiliate advertising program designed to provide a means for sites to earn advertising fees by advertising and linking to Amazon.com. Oyster also participates in the SkimLinks and SkimWords affiliate programs.
All products are independently selected by our writers and editors. If you buy something through our links, Oyster may earn an affiliate commission.