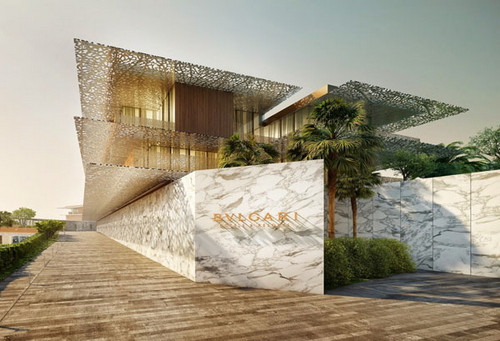 In the hotel landscape of Dubai, luxury tends to take on a whole new meaning. Top brands have pushed the boundaries when it comes to gorgeous designs and stellar amenities here, where the best of the best seems to be expected at all times. Continuing this tradition, it was announced last week that another jewel would be added to the Emirate's startling hotelier crown: Italian fashion house — and designer hotel extraordinaire — Bulgari has plans to open a new hotel in Dubai in 2018. Read up on more details after the jump. [Hotel Chatter]
The hotel — opening in partnership with the Dubai-based group Meraas Holding — will have 100 rooms, 20 villas, and a marina on Jumeirah Bay Island. In fitting with the landscape, the hotel also plans to construct lush gardens and a large, multi-purpose space in the shape of a seahorse. Why not, right?!
Bulgari has previously opened hotels in Milan, Bali, Tokyo, and London — and has a Shanghai property set to open next year, as well. The brand will once again employ the architecture and design skills of the Milan-based firm, Antonio Citterio Patricia Viel and Partners, which it has used at all of its previous hotels. Future travelers can expect a bold, modern design — in line with the Italian fashion house's own aesthetic — mingling seamlessly with the hotel's Middle Eastern setting.
Bulgari is the third designer label to land in Dubai, following openings from Armani and Versace. Fashion houses have become increasingly present in the hotel world in recent years, with many designers turning their keen eye for style to luxury accommodations. The Dominican Republic's Tortuga Bay was designed by Oscar de la Renta; Jamaica's Round Hill Hotel & Villas by Ralph Lauren; and Paris' Hotel Le Notre Dame by Christian Lacroix. See gorgeous pics of these designer-decked hotels below.
Hotel Le Notre Dame
Hotel Le Notre Dame, Paris
Round Hill Hotel & Villas, Jamaica
Round Hill Hotel & Villas, Jamaica
Round Hill Hotel & Villas, Jamaica
Tortuga Bay, Dominican Republic
Tortuga Bay, Dominican Republic
Check out Oyster's page on Google+
To learn more about Kristina Fazzalaro, visit her on Google+
RELATED LINKS:
All products are independently selected by our writers and editors. If you buy something through our links, Oyster may earn an affiliate commission.