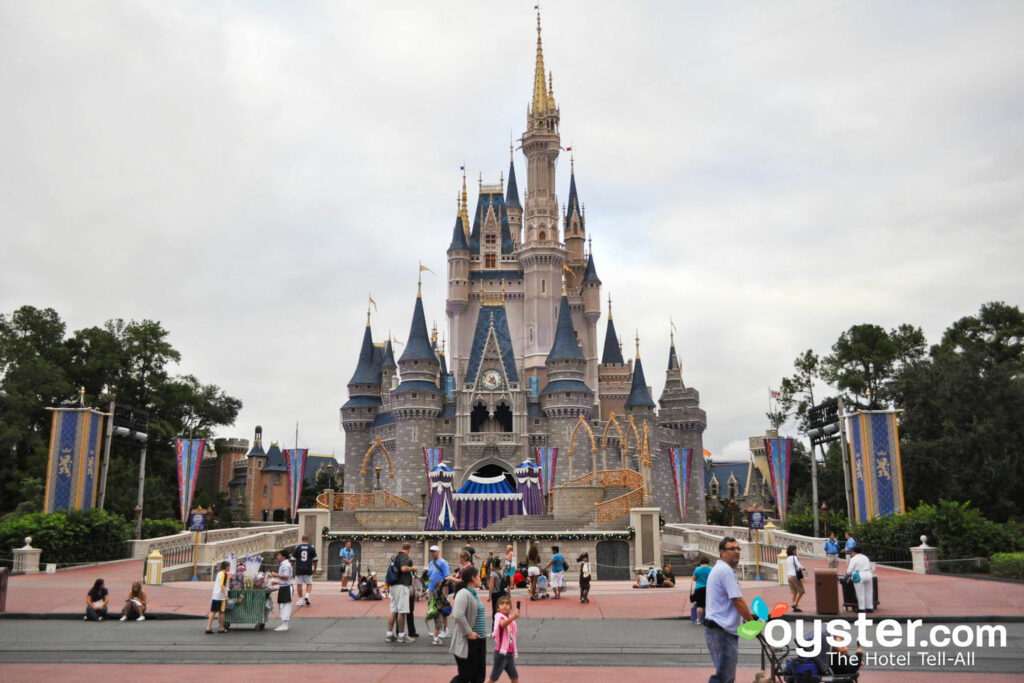 Disney World in Orlando, Florida is a pilgrimage many families make sooner or later. Prime time for visiting tends to be when kids are four through 10 -- old enough to remember the trip, yet young enough to be thoroughly absorbed in the magic. But the sheer number of ways to experience that Disney magic can be overwhelming, especially for first-timers. With four theme parks, two water parks, a shopping and entertainment district (Disney Springs), and kid-approved pools at the Disney resorts, it can be intimidating to plan an itinerary. The Magic Kingdom alone has six distinct lands within it! First things first: Figure out how much time you need. Although you may want to try and take in every last thing, it's tough to cover it all. Little ones get tired and cranky, and if they're not happy, nobody will have a good time. So, scratch that eight-day getaway. Five days can be the sweet spot between a marathon and a sprint. And let's face it: Your first trip likely won't be your last. To that end, we present you the best five-day Disney World itinerary for families with kids. And for you? Fortunately, every park has a Starbucks.
Day One: Magic Kingdom
Why make them wait? From the fireworks and parades to the iconic rides and castle, Magic Kingdom is likely what kids picture when they hear they're going to Disney World. That said, it's the most crowded of all the parks, so you'll want to be at the gates, having already hit the restrooms and with water bottles and maps in hand, before they open. When they do, make a beeline for Splash Mountain, Barnstormer, or Space Mountain. Checking off those three kid favorites before the lines get too long gives you leeway to explore the rest of the park more casually.
If you have a princess fan in the house, you can't leave without visiting Fairytale Hall in Fantasyland. That's where all the royal girls hang out and greet their subjects. The first Disney princess inspired by Latin culture, Elena of Avalor, has joined perennial favorite Cinderella, among others.
Plan to see the Festival of Fantasy afternoon parade, as it's full of beloved characters. Mickey's Royal Friendship Faire show, in front of Cinderella's Castle, is lots of fun, too. Check the times for each, as they can vary.
By now, you'll likely be ready for a break. If you're staying at a Disney resort, especially one that's on the monorail, mid-afternoon is an ideal time to head back and enjoy some downtime at the pool. If that's not easily doable, have a leisurely late lunch or early dinner at a sit-down restaurant. Cosmic Ray's Starlight Cafe in Tomorrowland is a good casual option. Prices here are on the inexpensive side compared to other eateries in the park. Plus, the food is kid-friendly and you get entertained by an alien.
After fueling up, hit those attractions you didn't get to see earlier. You may want to cap off the night with the Once Upon a Time projection show and Happily Ever After fireworks display. Again, check exact times, as they can vary by day.
Tip: In Tomorrowland, there's a low-key (and under-the-radar) ride called the PeopleMover. This tram of sorts almost never has any wait, and it lasts 10 minutes. You can even just stay put and ride it multiple times. When everyone is wilting a bit, it offers a great place to cool off.
Hotel Pick:
Day Two: Hollywood Studios
https://www.instagram.com/p/Bk2ewWpnup8/
Two words: Star Wars. This is where you can mingle with Stormtroopers, Darth Vader, and the rest of the residents of a galaxy far, far away. Oh, and another two words: Toy Story. The big news here is that the long-awaited Toy Story Land just opened. It's already charming everyone, from toddlers to grandparents. The two most popular draws out of the gate are Midway Mania, an attraction which that thrills even grown-ups who never play carnival or video games, and Slinky Dog Dash, a roller coaster that feels, well, springy.
Star Tours – The Adventures Continue and Rock 'n' Roller Coaster (for older grade-schoolers, or really brave kindergartners), should be among your first stops. The Jedi Training show is another can't-miss — even kids who aren't particularly jazzed about Star Wars get into the action.
Most people don't think of Muppets when they hear Disney World, but the secret is out. In Disney's Hollywood Studios, those fuzzy friends hang out in Muppet Courtyard. There, you can take in Muppet Vision 3D, as well as enjoy pizza, a meatball sandwich, or antipasto salad at PizzeRizzo, a casual joint run by Rizzo, a joke-cracking Muppet.
Finally, end the day by watching Star Wars: A Galactic Spectacular, an impressive nighttime show with stunning fireworks.
Hotel Pick:
Day Three: Animal Kingdom
https://www.instagram.com/p/BklWWp6gHTM/
This park tends to be less crowded as the day wears on, so if you really want to sleep in a little, go ahead. Just keep in mind that Animal Kingdom closes earlier than the other parks, so check operating hours for the day and plan accordingly. There's a lot of walking to be done here, so this isn't the time to break in those cute new sandals.
Expedition Everest should be your first stop. Then, head to Pandora: The World of Avatar. The highlight here is a family-friendly expedition called Na'vi River Journey. You'll pass by floating mountains and through a nighttime jungle filled with bioluminescent flora. Also pretty cool is the Flight of Passage, which will have you flying on a winged banshee over Pandora, which is kind of like Earth, but with unforgettable creatures.
Calling all Doc McStuffins fans! The healer of toys has set up a shop outside the vet clinic at Rafiki's Planet Watch. The star of the Disney Junior series can now be found there regularly, signing autographs and posing for pictures.
The Kilimanjaro Safari and the Rivers of Light show are must-dos for the last half of your day here. A picture at the Tree of Life is essential for Instagram, but hitting it on your way out, rather than on your way in, will help ensure you get the shot without a lot of other people in it.
Hotel Pick:
Day Four: Typhoon Lagoon
https://www.instagram.com/p/Bk5qfi3AKZP/
A day at one of the two water parks is a must for any Disney World trip with kids. You need a bit of downtime, and a day without a list of to-dos to tick off. Blizzard Beach is amazing, too, but at Typhoon Lagoon, you can hop on the family-friendly raft ride, Miss Adventure Falls. It's suitable for all ages and heights. The attraction takes you through twists and turns, while bringing you into the story of Captain Mary Oceaneer, a treasure hunter who was stranded on Typhoon Lagoon years ago with her pet parrot.
Hotel Pick:
Day Five: Repeat (or Epcot and Disney Springs)
We recommend using this final day to return to your family's favorite park, and catch what you didn't have time to see and do the first time. You likely weren't able to hit everything, especially if you're traveling with little kids. Even if you're sure you did it all, taking in your favorite rides and attractions again only doubles the fun. Plus, you can end your trip on a relaxed note, and with the feeling that you did everything you wanted to.
We do have another idea, though: Splitting the last day between Epcot and Disney Springs.
Epcot's incredible, but compared to the other parks, it isn't the best place to spend your limited time if you're traveling with kids much younger than seven years old. If your kids are in second grade or older (or you have a tiny die-hard Elsa fangirl on your hands), the picture changes. Head to Fast Track and Soarin' first, then make your way to Epcot's Norway Pavilion to grab a seat on the Frozen Ever After ride. It takes you on a watery journey through Arendelle, set to your favorite songs from the film. You'll wind up at Elsa's ice palace. Once you disembark back at the Bay of Arendelle, your little Frozen fan can meet Anna and Elsa at Royal Sommerhus, their cabin in the pavilion.
Next up: Disney Springs, the entertainment, shopping, and restaurant mecca, formerly known as Downtown Disney. You'll find a few gems worth a stop here. Book a 1960s Amphicar (it "drives" on the water), then grab dinner at The Boathouse, where the fun continues with tables built as boats. Wrap up your last night at Splitsville, which breaks every cliche about bowling alleys. This one is bright and clean (you won't even mind putting your feet in the rental shoes) and servesreallygoodfood. Kid-favorite tunes play, and lanes are set up in such a way that small bowlers have the best chance of a strike.
Hotel Pick:
More Tips
Get Swap Happy. If you're traveling with two children — one more adventurous than the other — Rider Switch can come in handy. This service lets guests take turns waiting with a baby, young child, or visitor unable to ride. When one adult returns from the ride, they can switch places with the other, who won't have to wait in line again. Cast members at the attraction can show you where to stand.
Bust Out the Wheels. At Disney World, it's smart to rent a stroller for all kids younger than seven years old — even if they no longer use one at home. If you're visiting during the summer, the combination of heat and walking can unravel even the most composed and enthusiastic six-year-old. The stroller canopy provides shade, plus it has a basket for extra storage, so you don't have to lug it around yourself.
You'll Also Like:
All products are independently selected by our writers and editors. If you buy something through our links, Oyster may earn an affiliate commission.