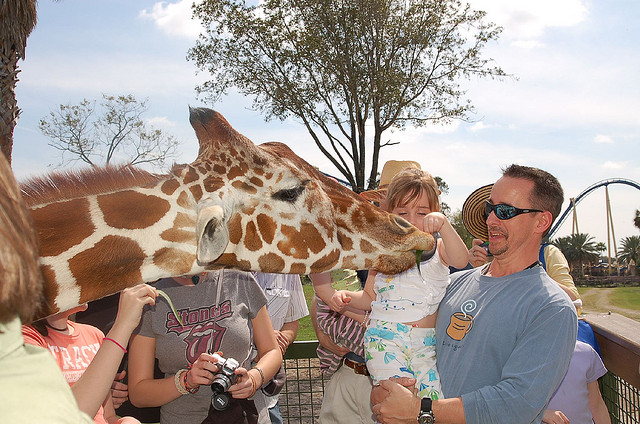 We're certainly not suggesting that Disneyland and Disney World are not two of the most popular family vacation destinations in the world. Kids are practically born with an internal draw to these two real-life but fantastical dreamlands filled with thrill rides, tangible versions of cartoon idols, and unrelenting catchy songs about how the world should be. For many of us, this love for the "Happiest Place on Earth" never fades and we return over and over and over throughout adulthood -- eventually introducing our own tots to the magic of the Magic Kingdom, just as our parents did for us. But there's more to Florida and California than the big Mouse and his ever-growing entourage. If you're one of the few who either don't have the Disney gene, want to write your own adventures, or just can't stand another ceaseless round-robin of "It's a Small World," we've got the lowdown on great, family-friendly spots where you can ditch the Mouse and explore whole new worlds in Florida and California that you (and your kids) may never knew existed otherwise. For these, read on...
The Florida Everglades, Miami
Looking for a more authentic way to reconnect with nature? The Florida Everglades are a fantastic place to surround yourself with natural adventure. The largest sub-tropical space in the whole of the United States, the Everglades is flush with unique, indigenous plants and animals you can't find anywhere else. While not commonly seen, critically endangered species like the Florida Black Bear and Florida Mountain Lion roam freely amongst equally ferocious neighbors that include alligators and poisonous water snakes. But don't fret, there's family-friendly kayaking available at Flamingo Park and Everglades City, plus a good amount of paved bike trails and boardwalks where you're out of harm's way. See if you can spot some falcon-like snail kites, beautiful ghost orchids, or the odd-looking pinkish roseate spoonbills. We recommend joining a guided tour not only for safety, but also to learn about the eco-system so you can take back some swamp knowledge as well as souvenirs.
How to get there: Fly into Miami International Airport and make the hour-long drive south. Adventurous vacationeers can look into camping, or just make a day trip of it, and head back to Miami after — perhaps to a luxurious, kid-friendly beachfront hotel right off Miami Beach; the sun, salt, spa, and pool are sure to be welcomed treats when returning to civilization.
The Beach, St. Pete Beach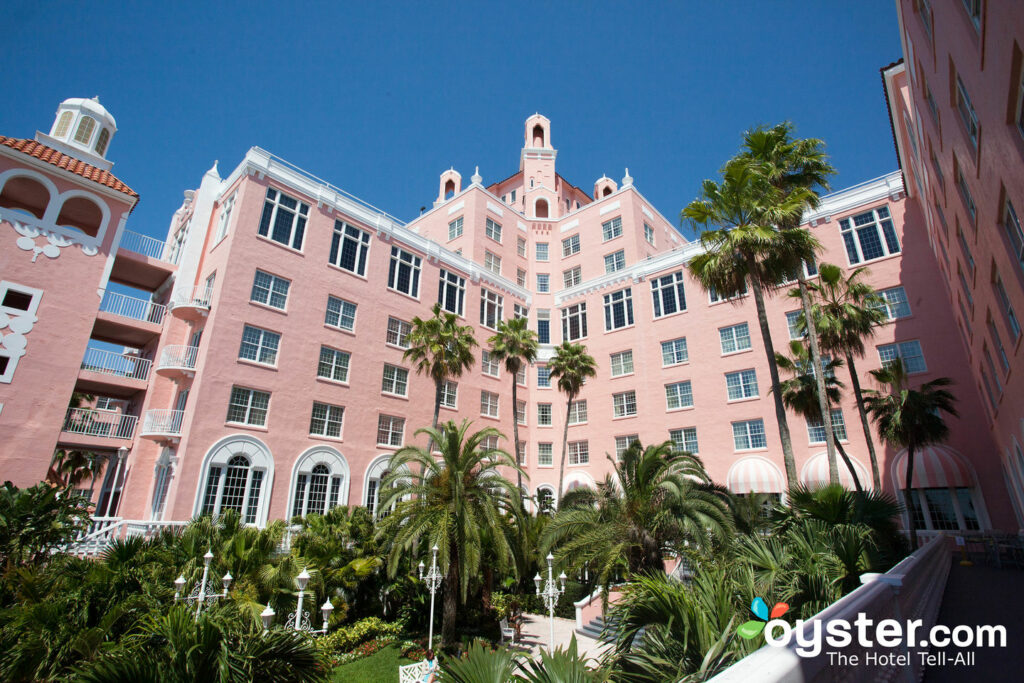 While Florida is lined with numerous award-winning beaches, St. Pete Beach has a well-trodden stretch of tourist- and family-friendly amenities. With white sands covered with sun-bleached, finely ground shells, colorful beach towels, amateur sandcastles, and occasional for-fee cabanas, St. Petersburg Beach has become one of the country's go-to beach spots, earning it the title of TripAdvisor's #1 Beach in the Country and #5 Beach in the World. Whether you want to parasail, paddle-board, search for sand dollars, body surf, kite-surf, or just work on your tan with a fruity drink in-hand, this sandy spot has got it all. Lined with hotels, restaurants boasting fresh catches like grouper or even alligator nuggets, tons of shops, and a few bumping beach bars, you won't have to walk far to find the action — or peace and quiet. Located just a few minutes' drive south is the wilder, more natural section of the beach known as Pass-a-Grille, where you'll find a quieter atmosphere, mini-dunes, sea grass, and multi-level restaurants with great setups for spotting dolphins in the water.
How to get there and where to stay: Fly into Tampa International Airport and drive about 45 minutes till you see the glistening water and unpack your bags at the un-missable Pink Castle, AKA Lowes Don CeSar Hotel. This elegant, upscale spot has free Wi-Fi, is extremely pet-friendly, and even has an extensive kids' program full of activities to keep your little ones busy while you work on that tan (and margarita).
Busch Gardens, Tampa
Been dreaming of an African safari across the Serengeti, but don't quite feel like towing along the kids (or shelling out the cash for expensive plane tickets and inoculations)? Spare your family from the long-haul flights and jabs and instead, pack your bags and head to Busch Gardens Tampa. With their origin as the official family gardens of the Busch (beer) family, Busch Gardens is now a full-throttle African-themed adventure park filled with some of the state's best roller coasters, a few wet-and-wild water rides, live shows, lush grounds, and tons of the world's beautiful, exotic animals ranging from flamingos, peacocks, and meerkats, to some of the famous Big Five like lions, elephants, and rhinos. For that extra safari feel, book an after-hours Serengeti safari experience where you and your family hop inside vehicles in search of some nocturnal species like howling hyenas; you can also still try to spot hippos, rhinos, and more.
How to get there and where to stay: Fly into Tampa International Airport and unpack your bags at the Holiday Inn Express & Suites Tampa USF-Busch Gardens where you'll find free breakfast, bright rooms, a gym, and more importantly, a free shuttle to Busch Gardens! Score!
BONUS: Being in Tampa also means you'll be close to the Florida Aquarium, MOSI: The Museum of Science and Industry, and the water-soaked Adventure Island Waterpark — so you can make this vacation a double-, triple-, or quadruple-whammy with hardly any effort!
LEGOLAND California Resort, Carlsbad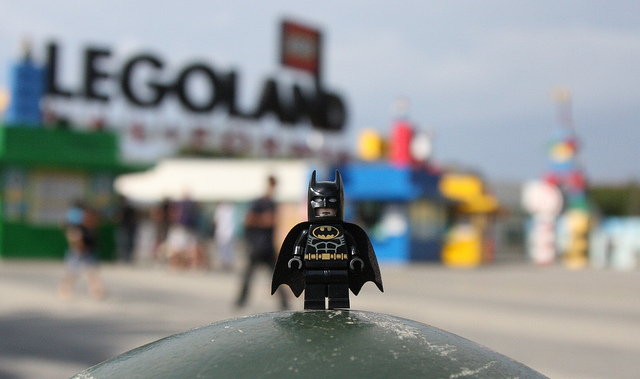 Created only four years after the Mouse, LEGOs have been the popular building blocks of many childhoods. And thanks to LEGO brick sculpture artists like Nathan Sawaya and the action-packed hybrid animation style flick "THE LEGO MOVIE" (released in 2014), LEGOs are more popular than ever. These colorful bricks may be Danish-born, and Florida may have the largest LEGOLAND in the world — but if you want the fully immersive, living-in-a-Lego experience, head west to the LEGOLAND California Resort in Carlsbad. Just 45 minutes north of San Diego, here you can be a kid with your kids as you work your way through shows, over 60 interactive rides, and 22,000 LEGO sculptures — from a small four-brick rabbit to a massive two-million-brick dinosaur. Also on the grounds is the interactive Sea Life Aquarium where LEGO models mingle with marine life to help the fam learn all about underwater life. There's also a LEGO-themed water park — the only one in the world — where you can build-your-own LEGO raft to float down a lazy river, join a pirate ship, or try to dodge water-spouting LEGOs as you walk from one water ride to the next. All three parks are separate, but multiple pass tickets can be purchased.
How to get there and where to stay: Fly into San Diego Airport and drive north for 45 minutes toward LEGOLAND — and unpack your bags here! That's right, there's a LEGO themed hotel right in the resort. LEGOLAND California Hotel is the ultimate LEGO experience, from the character visits at the free breakfast, to the daily LEGO building contests, to the nightly entertainment in the lobby's castle. Access to the amusement park isn't included in the rate, but guests do get early morning access, allowing them to beat the crowds. Rooms have fun adventure, pirate, or kingdom themes, and all have separate kids' rooms with bunk beds.
Aquarium of the Pacific, Long Beach
Skipping Disneyland may mean you'll forego hang time with Ariel and Sebastian, but Long Beach's famed Aquarium of the Pacific will make sure you get a glimpse of life under the sea. Guests of this world-class aquarium are invited to learn, view, and sometimes touch their way through the 32 exhibits, 19 habitats, and over 11,000 organisms — all hailing from the Pacific Ocean. Not-to-miss sections include the three-story sea lion cavern, Magellenic penguin habitat, shark lagoon, and Molina Animal Care Center, which focuses on rehabilitating seals.
BONUS: After learning all you dare and trying your hand at the touch tank, take your family on a legit sea adventure departing from Rainbow Harbor. Just a few minutes' walk from the Aquarium of the Pacific, here you can board boats and ride the waters of the Pacific for whale watching (seasonal), dinner cruises, or a selection of fun private sailing trips!
How to get there and where to stay: Fly into Long Beach Airport and drive 20 minutes to the harbor, but first stop off at the centrally located Varden Hotel where you'll find it easy to get around without renting a car. There are tons of shops, bakeries, restaurants, and activities within walking distance and a metro stop right out front for things a bit further away, and it's just a 10-minute walk to the port to Catalina Island — another great add-on for your family vacay (we like the upper-mid-range Avalon Hotel on Catalina Island for family stays because of its free breakfast, free Wi-Fi, panoramic rooftop views, and free shuttle service from the ferry terminal).
Knott's Berry, Scary, or Merry Farm, Buena Park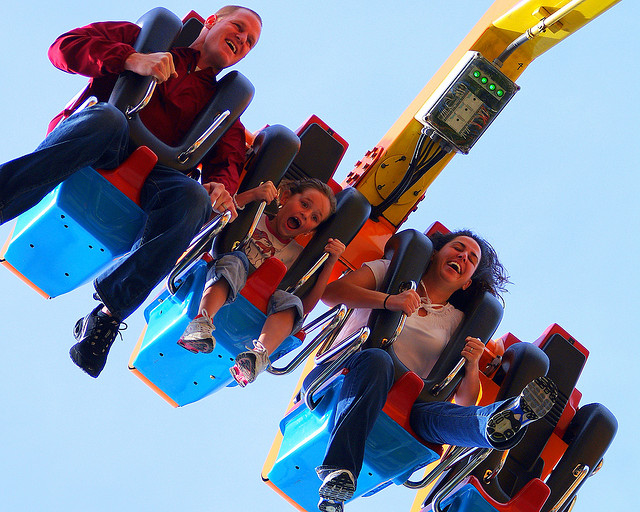 If you are still itching for a theme park holiday, but the idea of Disney makes you think "Good grief," then it might be time to pay another ol' pal a visit. Just over 20 minutes outside of Long Beach in Buena Park, Snoopy, Charlie Brown, Lucy, and Woodstock are waiting to take you on some wild rides, including a new, interactive 4-D ride that relies on you to save the world from water-dwelling creatures under the park's boardwalk. There's also a water park, kid-friendly rides, tons of food options, and live entertainment. Depending on the season, the "farm" turns into a Halloween- or Christmas-themed park with haunted or holiday extras throughout. Fun Fact: This spot claims to be the nation's first amusement park!
How to get there and where to stay: Fly into Long Beach Airport and drive 30 minutes straight to Knott's Berry Farm where you can enjoy activities and amenities for kids and parents alike including an all-Snoopy themed wing, character visits, special kids menus and play areas, sports courts, and various restaurants with American cuisine.
All products are independently selected by our writers and editors. If you buy something through our links, Oyster may earn an affiliate commission.