Nearly everything about the Caribbean is vacation-worthy. Visitors from all over the world travel for the warm sun, clear ocean waters, and white sand beaches. While you can spend your entire trip relaxing at your resort, each destination offers so much more. We asked experts about their favorite things to do (aside from lounge on the beach, of course), and answers ranged from eating at off-the-beaten-path restaurants to visiting incredible natural attractions. If you're headed to one of these five popular destinations, you might want to check out these sights.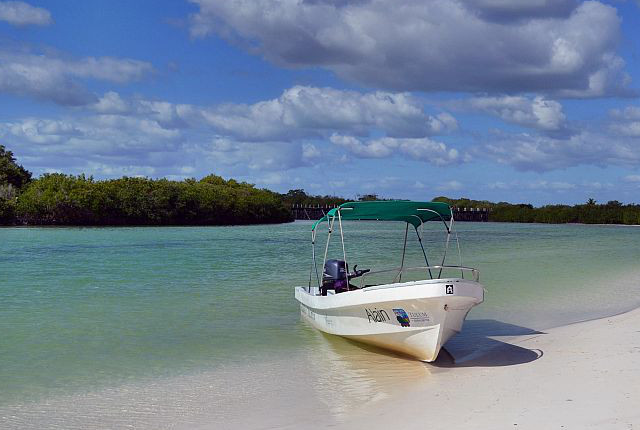 After spending a couple of days in Playa del Carmen enjoying poolside drinks and strutting down the popular Quinta Avenida, you might want to escape the Euro-chic beach city. It's mainly visited for its lively urban appeal, and its incredible nature offerings are overlooked by some.
"Playa del Carmen is a very busy city, but there are some unique opportunities to get in touch with nature and get away from the crowds," says Eduardo Clemente, General Manager at Live Aqua Boutique Resort Playa del Carmen. He recommends a visit to Rio Secreto or a day tour to Sian Ka'an Biosphere Reserve. "[Both are] a great way to get away from it all and enjoy some peace and quiet surrounded by nature."
Where to Stay:
2. San Nicolas, Aruba
https://www.instagram.com/p/BQAnOFZBa0E/
Find sunny, 80-degree weather year-round on this happy island that's filled with white-sand beaches, casinos in every hotel, shopping centers, and golf courses. Soon, art will also be another big reason to visit.
"There are many hidden gems in Aruba, and San Nicolas is the island's up-and-coming arts district filled with colorful murals and street art," says Tom Calame, General Manager at Aruba Marriott Resort & Stellaris Casino. He adds that while there have been local restaurants and shops in the area for years, this neighborhood is still an under-the-radar spot for travelers, and that its art scene has expanded a great deal over the last year. "Later this year, the island will be launching walking art tours for travelers to learn more about the culture, history, and art in the area," he notes.
Where to Stay:
If you find yourself on the Dutch Caribbean island of Curaçao, you'll be surrounded by colorful architecture and crystal clear waters. You'll most likely book a hotel in Willemstad along Piscadera Bay. For a unique dining experience away from the well-worn routes, look up the hidden Hofi Cas Cora restaurant—you'll have to drive on an old dirt road to find it.
"Hofi Cas Cora is the island's first farm-to-table restaurant and wedding venue nestled into Curaçao's countryside," shares a rep from the Floris Suite Hotel. "[Hofi Cas Cora] packs a fresh, light vibe ideal for outdoors lovers and those with leanings toward all things natural."
Where to Stay:
Famed for its laid-back lifestyle, nightlife, and access to the only coral reef system in the country, Key West is also known for being the southernmost point in the continental United States. While technically not part of the Caribbean, it's closest Caribbean-like destination you can get to from the continental U.S. without needing to hop on a plane (since it's connected to the mainland via highway). For an escape even farther away from the mainland, visit Dry Tortugas National Park, which is one of the most underrated national parks—it's the sixth least visited in the country.
"Just west of Key West, Dry Tortugas National Park is an activity I always recommend," says Andrew Rosuck, Director of Sales & Marketing at Waldorf Astoria's Casa Marina and The Reach. "It's truly beautiful and deserves just as much recognition as the more popular parks!" He adds that the Casa Marina and The Reach organize day trips to the park for snorkeling, bird watching, dolphin sightings, and all around beautiful scenery. "It's a Key West experience not to be missed."
Where to Stay:
You can fly to the Caribbean—or you can cruise. While most passengers stay close to the port at the beaches and shops (or remain on board to take advantage of a basically empty ship), the best way to explore a destination is through an excursion.
Cruises typically have planned excursions available to passengers, especially in popular destinations like Mexico's largest island, Cozumel. Carnival's newest ship, the Carnival Vista offers new excursions in here that have adventurers of all ages discover the cenotes (cave-like sinkholes) of Mayan Riviera. "Start with a jungle walk along the original Mayan water trail, where you will discover the cenote named La Cueva after its spectacular natural arch," shares a rep from the Carnival Excursions team. The trip also has guests visit Cenote Kay, where small fish gently clean skin impurities, and Gran Cenote Azul, which is named after its blue water. "A final stroll brings you to Cenote Naval, a massive cenote that guests can explore via canoe," the rep adds.
Where to Stay (if you're not aboard a ship):
You'll Also Like:
All products are independently selected by our writers and editors. If you buy something through our links, Oyster may earn an affiliate commission.