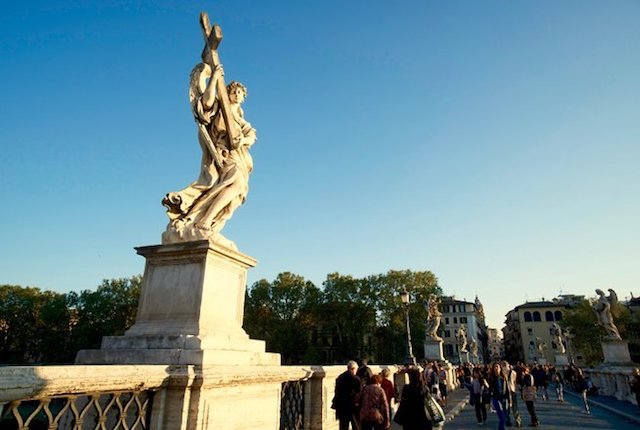 Chances are, if you're going to Rome, you're traveling with a long bucket list of things to see and do. Between the Colosseum, the Vatican, the Spanish Steps, and the Trevi Fountain, Rome has almost too much to experience in one visit. Since the crowds at many of the city's top attractions can be overwhelming, knowing the best under-the-radar spots around town is a major key to acing your visit. Thankfully, there are plenty of secrets waiting to be discovered in the Eternal City. Read on for some of our favorites.
1. Check out the galleries at the Zaha Hadid-designed MAXXI.
Just another museum to add to your already-packed itinerary? Absolutely not. MAXXI, located off Tram Line 2 in the Flaminio neighborhood, isn't on too many tourists' radars, but it should be. While the cutting-edge exhibitions found inside are almost always noteworthy (particularly in Rome, where antiquities are king), the building itself is reason enough to visit. The museum was designed by Zaha Hadid, the famous British-Iraqi architect, and has been the subject of her own posthumous retrospectives at museums around the world. As Italy's national hub for all things contemporary in art and architecture, the development is constantly buzzing with plugged-in culture-seekers and scholars from around the world.
2. Tour the otherworldly Crypt of the Capuchin Friars.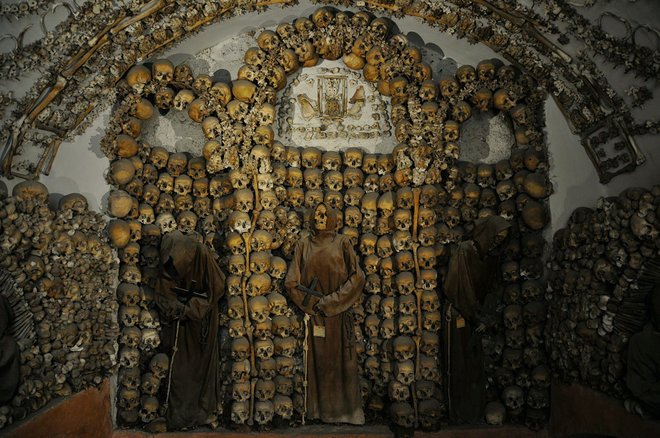 The fact that Rome is filled with churches and monasteries will surprise no one. However, tucked below the church of Santa Maria della Concezione dei Cappuccini sits one of Rome's more mind-blowing sights. After passing through a straightforward exhibition on the Capuchin monks, you'll round a corner into something otherworldly. To this day, it's not known who created the Crypt of the Capuchin Friars, but suffice it to say that they were inspired by a plane higher than our own. Here, the skeletons and skulls of hundreds of monks have been fashioned into altarpieces, light fixtures, frames, decorative flourishes, and the like, creating a memento mori on a grand scale. It's enough to elicit more than a few nervous laughs — or like one tourist we saw, blessing themselves with the cross several times. The crypt even inspired awe in the notoriously scandalous Marquis de Sade. In any case, a visit here is worth every single euro.
3. Stroll Pigneto by day or night — or both.
Rome's inner neighborhoods receive the lion's share of attention, but if you're willing to head to the quote-unquote suburbs, you'll find a lot to like as well. That's particularly true in Pigneto, which is akin to Rome's Brooklyn. This is one of the multicultural hubs of the city, where immigrants from the Middle East and South Asia all mingle with tattooed hipsters, university students, and old-school Italian residents. That combination means you'll find everything from rustic trattorias, like Pigneto Quarantuno, to vegan fare, graphic novel shops, bookstores, and joints like Necci dal 1924 (a favorite hangout of director Pier Paolo Pasolini). Bars here spill out into the streets, while leafy side streets lead to excellent gelato, vintage shops, and cafes. For a taste of how the old-school locals still live, head here on a weekday to scope out the produce market.
4. Discover street art and farm-fresh fare at Testaccio's Mattatoio.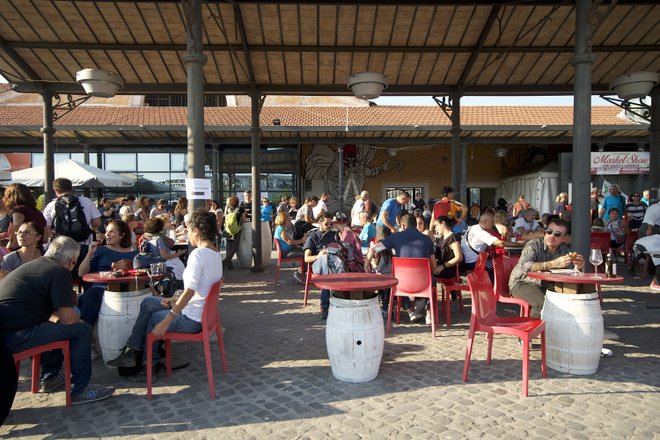 Testaccio is one of those classic Roman neighborhoods that is rapidly shifting from shabby to trendy, though it's still home to some of Rome's most famous Old World trattorias and pastry shops. However, part of Rome's edgy new guard is taking up residence, and a large amount of this neighborhood's contemporary culture centers around Mattatoio. Formerly a slaughterhouse when it was erected in the late 19th century, the buildings were repurposed in the early years of the 21st century. While some are still in a picturesque state of disuse, many now host large-scale art exhibitions and installations. The site also hosts the Citta dell'Altra Economia, an organic farmer's market that includes regular programming and a cool cafe and restaurant. You'll spot plenty of amazing graffiti throughout Mattatoio, and it makes for a great off-the-radar afternoon.
5. Shop for antiques at the Porta Portese Market in Trastevere.
Rome's street markets are numerous, and some are quite famous, like the daily tourist-slash-flower market at Campo de' Fiori in the city center. But just across the Tiber River, the atmospheric Trastevere neighborhood hosts one of the biggest markets in the city every Sunday. Jump on Tram Lines 3 or 8 to reach the market, which sprawls over many city blocks. Entering from the tram stop puts you at the bootleg end of things — you'll find new items and knock-off goods here. Passing through and rounding a bend at the end will bring you into the antique portion of the market, where endless tents and tables offer everything from paintings to jewelry to pottery. You'll find a few off-shoot markets selling new indie designer goods, and a couple of spots where you can pick up a quick panini or other simple street food. It can be crowded and certainly isn't a secret, but the lively weekend buzz is hard to match.
6. Get traditional pizza Romana at Pizzeria Giacomelli.
If you're in Rome and you're not eating every hour on the hour, you're doing it wrong. You're doing it especially wrong if you skip sampling Rome's take on pizza. While Naples — and its pizza Napoletana — get most of the attention outside of Italy, pizza Romana is a different flavorful affair. The crust tends to be crispier and more dense, with the cheese baked into a more caramelized consistency. There are plenty of famous places to sample Rome's pizza — like La Montecarlo near Piazza Navona — though the city has a huge amount of locals-only pizza spots as well. We loved Pizzeria Giacomelli, in the Prati district, when we visited in late 2018. Here, old pictures hang on the wall and locals pack the humble tables for classic Roman appetizers, like suppli and fried squash blossoms stuffed with cheese, as well as its famous Roman pizzas. Save room for dessert, though, as the range of cakes and sweet breads is enormous.
7. Admire the sculptures in Centrale Montemartini.
Like many travelers, we love repurposed landmarks, particularly those that juxtapose the brute force of the industrial era with the sublime. Cue: Centrale Montemartini. Formerly a power plant, and with a significant amount of the original equipment still intact (albeit run over with fresh coats of paint), Centrale Montemartini holds one of the city's premiere collections of bronze and marble statues. The museum includes amazing recreations of mosaics from ancient times as well, creating stories that weave myth and reality between its installations. The immediate area won't win any charm awards, though it's only a quick 10-minute walk to the cool cafes and restaurants of Testaccio from here. It's about the same about of time on foot to the nearest metro station, Garbatella.
8. Hit up the vintage shops in Monti.
While classic art and architecture are high on the agenda for most visitors to Rome, you'd be remiss to skip out on the city's hip and fashionable side as well. Although all of Italy's major design houses call Rome home in some capacity, the vintage shops in the trendy Monti neighborhood are worth an afternoon alone. To be clear, Monti itself is no secret. This neighborhood is packed with locals and tourists day and night, with pavement cafes spilling onto neighboring plazas and bakeries and shops packed to the gills. The vibe is equal parts classic and bohemian, which comes to true form in massive vintage shops like Pifebo and King Size. Added bonus? Vintage gear in Rome is often cheaper than what you'll find in similar cultural capitals like London and New York.
9. Visit the National Gallery of Modern and Contemporary Art.
You might think you've had your fill of contemporary art after a visit to MAXXI, but trust us when we point you in the direction of the National Gallery of Modern and Contemporary Art. Reaching the museum, which is tucked into the posh Parioli neighborhood, north of Villa Borghese, can be as pleasant as exploring it. Cut through the Villa Borghese's northern fringes, passing the swan-packed Laghetto di Villa Borghese for a few photo ops, before turning toward the monumental museum. Once inside, a cool roster of exhibitions often utilizes the hotel's impressive modern collection in innovative ways, while the contemporary work always looks striking against the neo-classical interiors of the museum. There's also a lovely cafe outside, where the terrace is filled with locals throughout the afternoon.
10. Peek in Rome's cat sanctuary at Largo di Torre Argentina.
To the west of Piazza Venezia and north of the Jewish Quarter sits one of Rome's more curious attractions. It's not necessarily a secret — plenty of guidebooks point out where you can find Rome's quirky cat sanctuary at Largo di Torre Argentina. Here, stray and rehabilitated cats populate the ancient ruins that date back to the third or second century B.C. If you have a good enough camera or camera phone, you'll be able to snag some pictures of the cats cleaning their paws or batting at small insects while sitting atop a semi-collapsed column or former altar. There's a more formal sanctuary area in the southwest corner of the site, where guests can enter and play with the animals (for a fee), as well as learn about the history of the site from a team of volunteers. The program strives to adopt the cats out after they've been rehabilitated.
With a city center that's packed with often disappointingly dated and overpriced hotels, getting your money's worth in Rome can be a challenge. That's where Elizabeth Unique Hotel comes in. For rates that are similar to other upscale hotels, the location — right in the center of Rome's buzzing Campo Marzio district — is hard to beat. From a style perspective, the high-end home vibe runs deep here, with cool artwork, premium furniture, and high-end tech found in all of the rooms. Plus, you're only a five-minute walk from Piazza del Popolo or the Spanish Steps, and free minibars all add value to a stay here.
You'll Also Like:
All products are independently selected by our writers and editors. If you buy something through our links, Oyster may earn an affiliate commission.