If you've ever struggled choosing between two great hotels, we feel ya -- we've been there! In order to end all indecisiveness, we've developed our new hotel face-off series, where we compare similar hotels in similar locations, but ultimately give you our "Oyster Pick" -- the true winner. Think of it as your well-traveled best friend (who happens to be a hotel expert) giving you advice on where to stay. Our first face-off positions the W versus the Andaz -- two stylish hotel chains known to attract discerning young guests looking to have a good time -- in numerous locales. The destinations span from New York's Financial District (the city's newest up-and-coming hip neighborhood), to West Los Angeles, to San Diego -- three trendy American cities we just can't get enough of.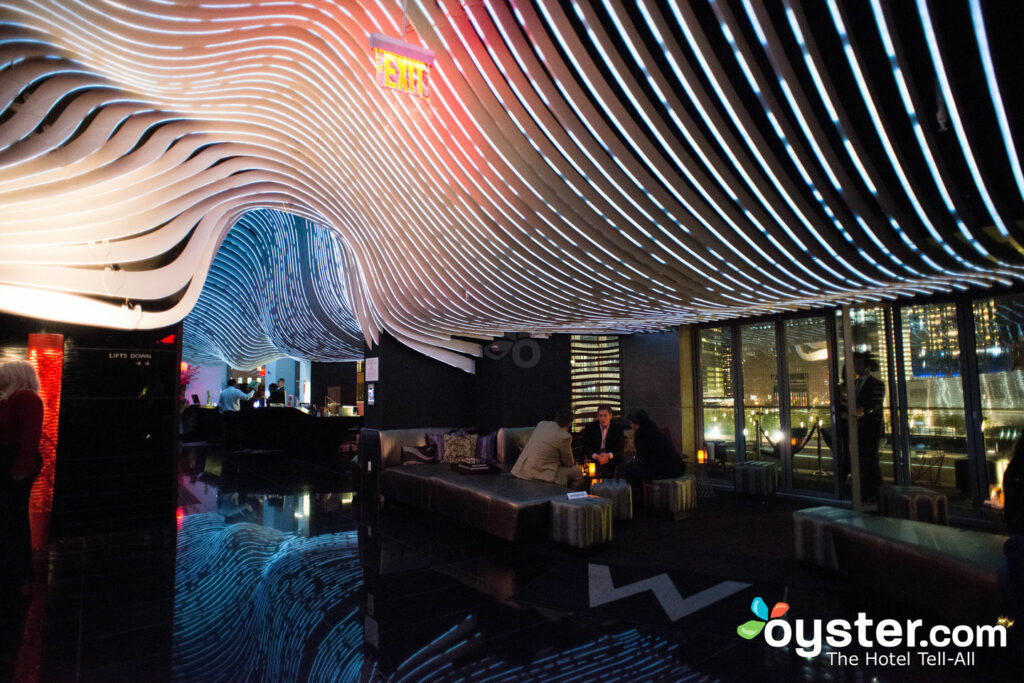 When it opened in 2010, the W New York Downtown brought a serious dose of cool to the otherwise buttoned-up neighborhood. The dark colors, cool lighting, and stunning architectural aesthetic of the lobby alone make this hip downtown hotel worth a visit. The sleek lobby lounge and adjoining outdoor terrace are open late, and offer incredible views of the Freedom Tower. The hotel is close to Trinity Church, Battery Park, and of course, the 9/11 Memorial. Rooms, while sleek and modern, lack the "wow" factor of the lobby, and some guests might be disappointed that there is no spa, and free Wi-Fi is only available in the lobby.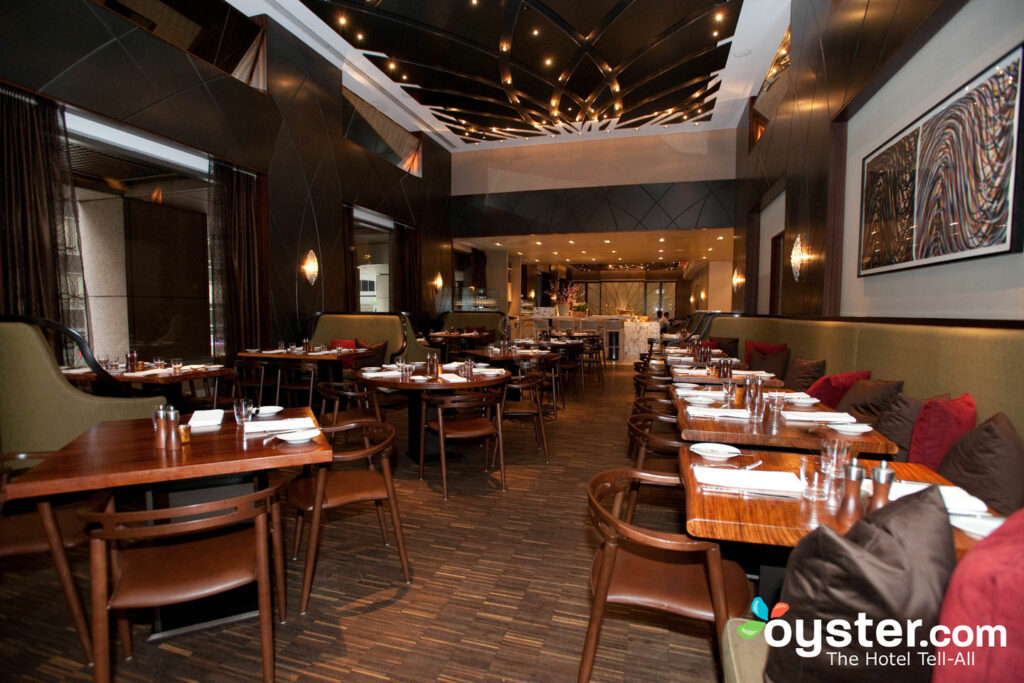 Sometimes, high design hotels have an off-putting air of pretentiousness that can make guests feel unwelcome or out of place. Luckily for visitors to the Andaz Wall Street, this is not the case at all. The interior of the Andaz is striking, without being too loud or trendy. The lobby lounge feels more like an upscale living room, where a barista will serve you your morning espresso from a high-design kitchen. Rooms are large, modern, and nicely decorated, but do feel a bit sparse. Guests will love the hotel's endless freebies (Wi-Fi, coffee, minibar items) and the downtown location, close to the New York Stock Exchange, Trinity Church, and Federal Hall.
While we do love the W's incredible lobby and awesome views of the Freedom Tower, rooms are somewhat bland and some have lackluster views. We choose the Andaz for its high-design style, large standard rooms, personal touches, and endless freebies.
Though Westwood isn't the most happening neighborhood in Los Angeles, the W might just make you feel like it is. The W Los Angeles Westwood boasts substance and style. Every space — from the lobby, to the guest rooms, to the pool deck — is designed with a meticulous attention to detail. Service at the W is exceptional as well, which means guests will be taken care of whether they're hanging out at the popular bar, dining at the on-site restaurant, or just ordering room service to their unexpectedly large room or suite. Potential guests should note, however, that the W is the closest major hotel to UCLA, so it tends to fill up around graduation or alumni events.
Infamously nicknamed the "Riot Hyatt," the Andaz West Hollywood was once a popular rock 'n' roll hotel that has since been out-shined by popular neighbors like Chateau Marmont, the Sunset Tower Hotel, and the Mondrian. Located near the Sunset Strip's famous bars and nightclubs, the Andaz is a bit scene-y. The sleek rooftop pool has panoramic views and awesome sun loungers. Like most Andaz hotels, there are plenty of free amenities, but some guests complain of spotty service. Rooms, though they knock on sleek-and-modern's door, are somewhat blah. Bland furnishings, hospital-style pull curtains, and "oh is that my college dorm room mirror being repurposed as a headboard?" don't quite make the cut for design-conscious travelers.
While the Andaz's location might be better for those looking to party hard on the sunset strip, its rooms are bland, and the property is overshadowed by more popular neighbors. We like the W for its incredible design concept, large rooms, and never-ending attention to detail.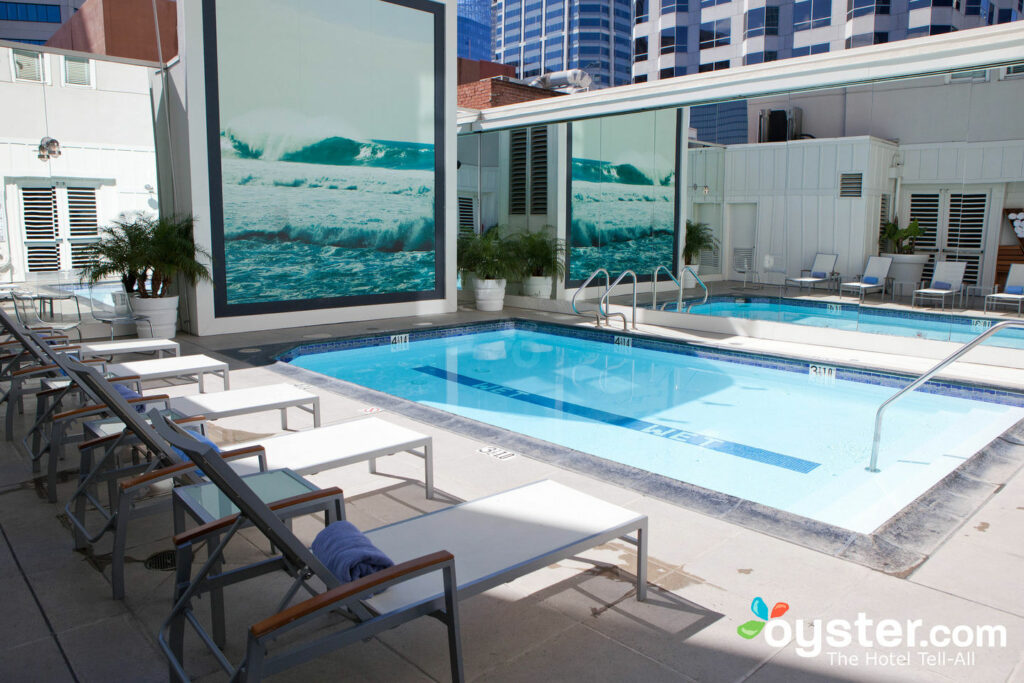 Attracting mostly business travelers because of its location near the San Diego Concourse, the W San Diego Hotel also serves a younger crowd looking to have a good time. There's a lively rooftop pool and a popular lounge in the lobby. Room decor is beach-themed, with blue walls and beach ball pillows. And though they're a bit small, even standard rooms come with unique features like window seats and chalk boards. It's location in Little Italy is not the most convenient for tourists looking to see all the sights, but the area does have vibrant nightlife and a diverse dining scene. Trendier districts like Balboa Park and the Gaslamp Quarter are only a short drive away.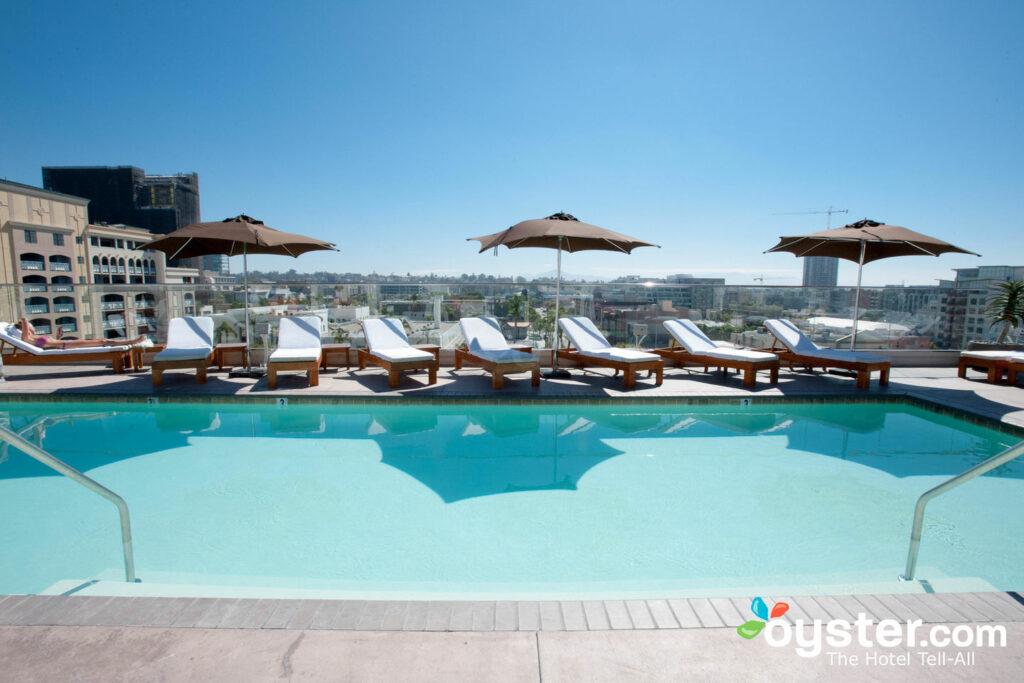 Located in San Diego's hippest district, the Gaslamp Quarter, it's not surprising that the Andaz San Diego attracts younger travelers looking to have a good time. Home to the city's best shopping, dining, and nightlife, the Gaslamp Quarter is also where the city's most popular outdoor celebrations — Mardi Gras, St. Patrick's Day, the list goes on– take place. Rooms are large, modern, and uniquely designed. The hotel's sexy wine bar (with wine on tap) and scene-y rooftop pool are popular with guests and non-guests alike. Free amenities, such as snacks, coffee, and Wi-Fi, abound, but the Andaz is a bit removed from popular tourist spots, the fitness center is dark and cramped, and the high-design bathrooms are small.
While we like the W's personal in-room touches, happening lobby scene, and rooftop pool, the Andaz has many similar (if not better) features with a better location in the Gaslamp Quarter.
Have you been to any of these properties? Do you agree with our picks? Let us know in the comments section below!
RELATED LINKS:
All products are independently selected by our writers and editors. If you buy something through our links, Oyster may earn an affiliate commission.