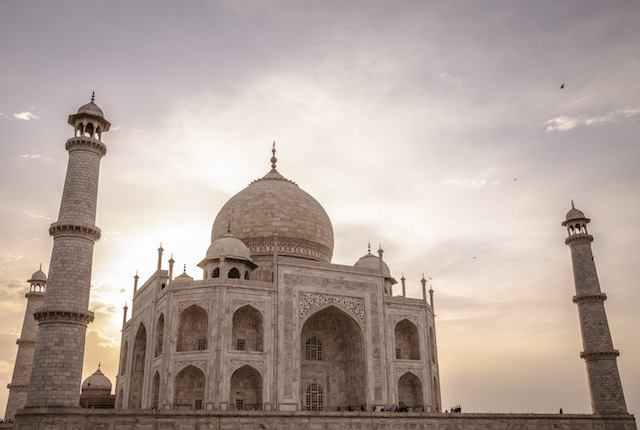 I recently took an unforgettable trip to New Delhi and Agra with G Adventures, but before I could visit the breathtaking Taj Mahal, get inspired at Sheroes Hangout, and learn more about New Delhi's street life through City Walk, I had to get a tourist visa to visit India. The good news for India visitors? The visa system is completely online. The bad news? The online system is tricky to navigate. Don't let visa requirements deter you from visiting India. We've got the tips and tricks you need to make the India e-visa system easy.
Do I Need a Visa for India?
Unless you're a resident of neighboring Nepal or Bhutan, you do need a visa to visit India. In 2015, the Indian government launched the e-tourist visa to attract more visitors and simplify the application process. Visitors from more than 160 countries (including the United States, Canada, and all of Europe) are eligible to apply online for one-year, multiple-entry electronic visas. E-visas are divided into three categories: tourism, business, and medical. Essentially, if your sole objective for visiting India is sightseeing, visiting friends or relatives, attending a short-term yoga program, medical treatment (or acting as the attendant to someone receiving a medical treatment), business purposes, or attending a conference organized by the Indian government, you are eligible for the Indian e-visa. One caveat: If your parents or grandparents were born in or lived in Pakistan, you are ineligible to apply for an e-visa, and must apply for an in-person visa.
Once you have a valid e-visa, there are still some remote areas in the country that require foreigners to obtain a separate Inner Line Permit (ILP) or Protected Area Permit (PAP). These restricted areas are usually near borders, harbor indigenous populations, or have security concerns associated with them. Examples include Uttarakhand, some parts of northern Himachal Pradesh, Jammu and Kashmir, Ladakh, Sikkim, and Rajasthan. In most cases, individual tourists are not allowed at all and access is granted only to tour or trekking groups.
Where Do I Apply for an Indian E-Visa?
Indian e-visa applications must be made online at . Note that if you do a Google search for "Indian E-Visa," it's very easy to land on a third-party website (some are even designed to mimic the Indian government's official website) that charges additional fees to complete the visa process. This is a viable option if you don't want to deal with the Indian government's website directly, but with a bit of planning, anyone can complete the e-visa process on their own without paying the added fees.
What Should I Have Before I Start the Process for the Indian E-Visa?
Before clicking on India's e-visa website to start the application process, there are a few things you'll need to have organized. Double check that your passport is valid for at least six months from the date of arrival in India. The passport needs at least two blank pages. International travelers are required to have a return ticket or onward journey ticket, and sufficient funds to spend during their stay in the country. Finally, the following items are required for filling out the e-visa application:
Passport copy in PDF format
A digital passport photo in JPEG format
A list of all the countries you've visited in the last 10 years
The address of where you're staying in India
A credit/debit card to pay for the visa
A printer. You must bring a printed copy of your e-visa to the airport
What Is the Procedure to Apply for the Indian E-Visa?
First, think about timing. Visitors can apply for the Indian e-visa no less than four days and no more than 120 days before the date of travel to India. If you're within the correct window, click on the "Apply here for e-visa" button on the bottom of the homepage. As well as entering your personal information and travel details (including a list of all the countries you've visited in the past 10 years, though it is limited to 20 countries), you'll be prompted to upload a passport photograph of yourself with a white background, and the photo page of your passport. After that information is complete, pay the fee online with your debit or credit card.
Shortly after you pay for the e-visa, you'll receive an email with an Application ID and the estimated arrival time of your visa. This is the part that gets tricky. After your visa is approved, you'll receive a second email instructing you to print and bring it to the airport. Many people print the email. Don't make that mistake. You need to log back into the Indian e-visa website and click on "visa status." Enter your information, click "print status," and the proper form will begin to download. You'll know you have what you need when you see your photo and a bar code. If it doesn't have those two things, it's not the right document.
You'll need to bring a printed copy of the e-visa when departing for India. I was required to present my e-visa at the Emirates gate desk before departing from New York for my layover flight to Dubai, to ensure airline staff that I would be admitted into India upon arriving.
How Much Does the Indian E-Visa Cost?
Indian e-visa costs vary by country, and the amount is likely to change at any given time. In 2019, I paid $100 plus a 2.5 percent bank charge for a United States visa. Citizens of Argentina, the Cook Islands, Fiji, Indonesia, Jamaica, Kiribati, the Marshall Islands, Mauritius, Micronesia, Myanmar, Nauru, Niue Island, Palau, Papua New Guinea, Samoa, Seychelles, the Solomon Islands, South Africa, Tonga, Tuvalu, Uruguay, and Vanuatu receive free e-visas. For a full list of countries and costs, click here.
You can apply for an Indian e-visa as often as you want. There used to be a limit for the number of times you could apply in a calendar year, but these terms have been lifted.
Which Indian Entry Points Accept E-Visas?
Visitors with e-visas to India can enter at the following 28 international airports: Ahmedabad, Amritsar, Bagdogra, Bangalore, Bhubaneshwar, Calicut, Chennai, Chandigarh, Kochi, Coimbatore, Delhi, Gaya, Goa, Guwahati, Hyderabad, Jaipur, Kolkata, Lucknow, Madurai, Mangalore, Mumbai, Nagpur, Port Blair, Pune, Tiruchirappalli, Trivandrum, Varanasi, and Visakhapatnam. Arriving to India by boat? You can enter at the following seaports: Kochi, Goa, Mangalore, Mumbai, and Chennai.
Once you have the e-visa, you can leave India (and return) through any immigration point.
What If I Need an Expedited E-Visa?
My e-visa was ready in two business days after I finished the process on the Indian government's website. However, on the day I logged in to print my visa, the website was down and it took about six hours to gain access. Even with the wonky website, this is an extremely quick turnaround time for an international visa, and I appreciated not having to go to the India embassy or mail my passport anywhere. If you need an e-visa even faster than that, iVisa.com offers a 36-hour turnaround for a $35 service fee, a "super rush fee" of $65, plus the cost of the visa.
New Delhi and Agra Hotel Picks
Looking for a hotel for your trip to New Delhi and Agra? We recommend Le Meridien New Delhi. Contemporary rooms here offer an ideal respite from New Delhi's occasional chaos and heat. Expect powerful rain showers, comfortable beds, and dependable air-conditioning. The expansive breakfast buffet offered Indian and international dishes, plus made-to-order items. There's also an outdoor pool, full spa with ayurvedic treatments, and a modern gym.
ITC Mughal, Agra is another solid choice. Located a few minutes from the Taj Mahal, this hotel offers great bang for your buck (or rupee). Public spaces with marble and soaring ceilings are fit for a Maharajah. There are three excellent restaurants and two fully stocked bars. We enjoyed the enormous (and homemade) naan at Peshawri restaurant. Oh, and the hotel has the largest spa in India — complete with a sari salon for brides.
You'll Also Like:
All products are independently selected by our writers and editors. If you buy something through our links, Oyster may earn an affiliate commission.