While cities around the world are filled with luxury hotels waiting to pamper guests, Mother Nature often rewards only those willing to rough it. But thanks to a new company, five-star lodgings are opening in what previously might have been impossible destinations for hotels. Founded by CEO Peter Mack, provides travelers a luxe stay in temporary tent accommodations equipped with everything you'd expect from a traditional hotel—think electricity and real bathrooms with hot showers—but in a secluded natural setting. Since its pop-up offerings don't need the infrastructure that permanent structures do, Collective Retreats can set up shop in remote spots in nature and give its guests immersive experiences within the landscape and local community. Currently, it operates in the Montana portion of Yellowstone National Park and Vail, Colorado, with plans to expand to New York's Hudson Valley, Texas' Hill Country, and California's Sonoma Valley this year. We spoke with Collective Retreats CEO Peter Mack about his new endeavor.
What inspired you to found Collective Retreats? Was there a particular trip you took that sealed the deal?
Peter Mack: The idea was conceived during the two years I served as Vice President of Product Innovation at Tough Mudder. During one our races, I was talking to a few participants and learned that hotels in the area were raising their prices just for the weekend Tough Mudder was in town. My instinct was to have the competitors stay in tents that we were using as offices, and that's when I realized the power and potential of creating a pop-up hotel.
Having spent ten years with Starwood Hotels & Resorts in a variety of roles, I was very familiar with the operation behind a luxury hotel brand. During that time, I was traveling and spending countless nights in hotels all over the world, and I realized that although I was learning from some of the most amazing hoteliers in the world, the hotels inevitably started looking and feeling the same, whether I was in Japan, Brazil, or New York. This is when the idea of Collective Retreats was conceived. I wanted to create an unique experience for travelers who were looking to connect with their surroundings, their communities, and themselves.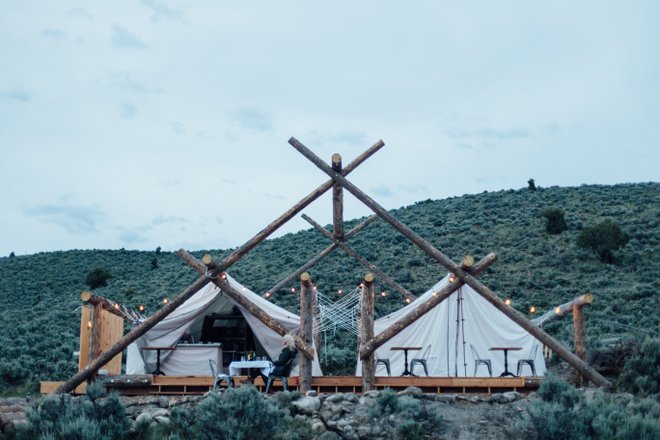 How has your background at Starwood influenced Collective Retreats?
PM: Collective Retreats provides a level of service and luxury accommodation that is usually only found in five-star hotels and resorts. We call our service culture "Aspen Hospitality," inspired by the Old World tradition of personal service that exists in places like the French Alps and our home turf of Aspen, Colorado. At Collective Retreats, we provide a personal concierge who is an expert on the local land and is trained to anticipate your every need.
My experience at Starwood also helped in building the asset-light business model of Collective Retreats. After seeing how much of the hotel revenue was spent on physical property costs, such as taxes and laundry facilities, I knew I needed to build a business model where our revenue would be used to make each of our guest's experience more unique and special.
What's your favorite remote destination you've visited thus far?
PM: I'm a big fan of exploring. I love hiking and skiing through less traveled places. My personal favorites are Norway and Sweden, as there are so many amazing traditions in the small villages and mountains. I also love Kauai, Hanalei Bay, and the Na Pali Coast.
You'll Also Like:
All products are independently selected by our writers and editors. If you buy something through our links, Oyster may earn an affiliate commission.