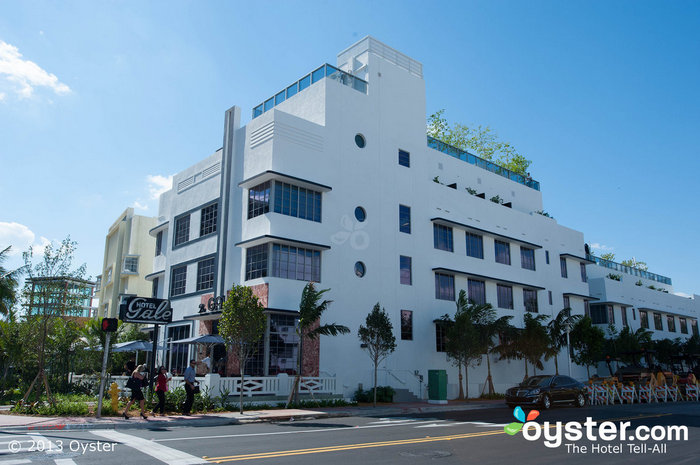 In the 1940s, Gale South Beach and Regent Hotel stood on Collins Avenue, one of South Beach's main Art Deco drags. Two months ago, just in time for Art Basel, the two properties re-opened as one very hip, very retro hotel. From the young team that remodeled the historic Shelborne Hotel (just down the street), Gale's brand new interiors — the restoration clocked in at $35 million — manage to maintain the vibe of a bygone era, while also reaching modern luxury standards. Black-and-white photos (many pulled from '40s and '50s archives) line hallways and adorn rooms; terrazzo lines the lobby floor; and outdoor signage replicates the hotels' originals to a T.
Along with a flurry of other hip, boutique openings on Collins Avenue lately (SLS Hotel South Beach and The James Royal Palm, for example), it's clear that Gale's serious focus on cocktails, socializing, and retro style will make it a major player with the in-crowd.
Take a photo tour after the jump and keep your eyes peeled for the full review, coming to Oyster.com soon!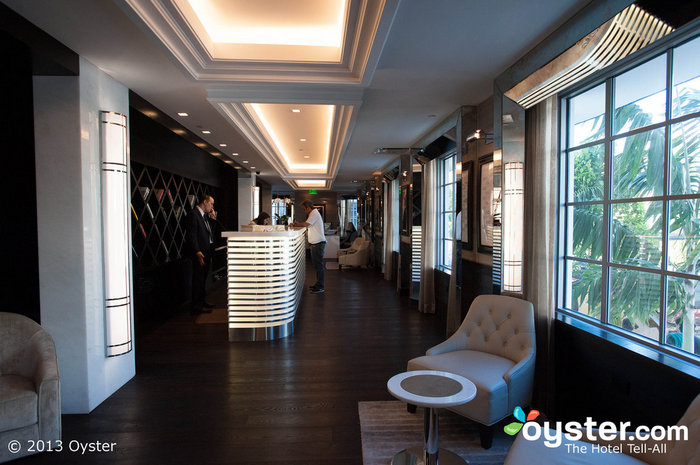 The hotel's lobby is small but extremely slick. Colorful Taschen books line the wall behind a deco-inspired check-in desk, and staffers wear tan-and-white seersucker suits.
The crisp blue-and-white rooms feel almost nautical, and all feature black-and-white photos from the '40s and '50s. The technology is impressive: a 55-inch flatscreen TV in every room, a huge rainfall showerhead in every shower, light-up "Do Not Disturb" buttons, and iBahn systems that lets you control the TV from a smartphone app (you can even continue watching TV on your phone if you leave your room). Still, we did notice the absence of desks, tubs, and closets in all rooms (they'll bring you a garment rack if you need to hang clothing).
Dolce Italian serves three meals a day, and is a central social hub for the hotel. The first floor is a casual space with full bar and a fresh-juice-cum-coffee bar, while upstairs is a more formal dining room. Guests can also eat on the front porch of the hotel.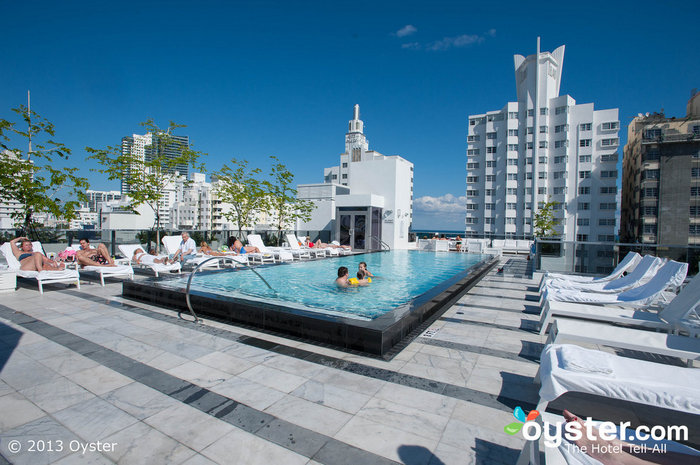 The rooftop pool gets sunlight all day, because there's nothing tall next door to block it. The adjacent pool bar (actually down a flight of stairs) brings drinks and light fare to guests lounging poolside. Plus, there's a fun view of Collins Avenue in either direction, and you can even catch a glimpse of the ocean a block away.
At the back of the hotel is the classy, clubby Regent Cocktail Club, the name paying homage to The Regent, one of the two original hotels in the building. It's a great spot for high-quality, hand-crafted cocktails with fresh ingredients — and the bartenders take their jobs seriously.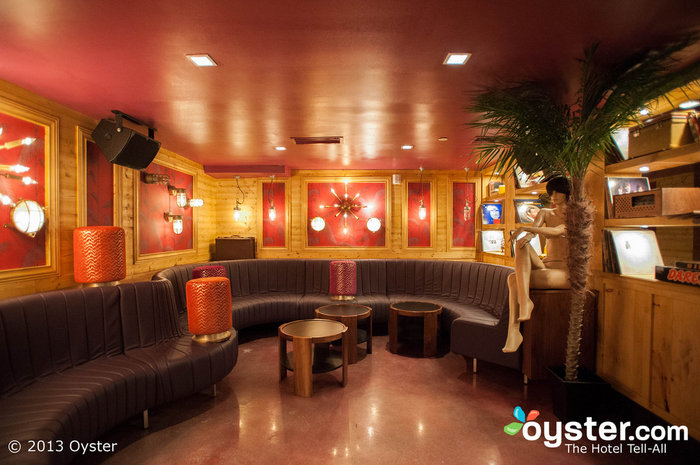 Decked out in '70s and '80s memorabilia (think toys, records) and playing '90s hits you didn't know you missed (think TLC, Aliyah, Tupac), basement lounge Rec Room is about to be one of SoBe's new hotspots. On a recent Thursday night, Rec Room was already packed with an attractive crowd. Hidden downstairs, it's easy to miss it — part of the carefully-crafted allure — but we recommend you don't (miss it, that is).
RELATED LINKS:
All products are independently selected by our writers and editors. If you buy something through our links, Oyster may earn an affiliate commission.