September is National Yoga Month — who knew?! Back in 2008, the Department of Health and Human Services decreed this be a month dedicated to sharing the health benefits of yoga and inspiring a healthy lifestyle. Throughout September, there will be nationwide yoga events that individuals of every skill level can participate in, culminating in "The Time for Yoga," a global community yoga session taking place on September 30. Everyone can also sign up for one free week of yoga through the organization's website. Basically, you have a month to get zen (for cheap) — don't squander it! Even if you're on vacation. Hotels sometimes come equipped with the best fitness spaces you'll find, yoga mats included, and we've picked out our favorite hotels where finding your inner peace is made just a tad easier:
Grand Wailea Resort Hotel and Spa, Maui
Morning yoga sessions on the beach at Maui's Grand Wailea Resort Hotel and Spa.
With one of the best pools in Hawaii, a top spa, and a prime location on one of Maui's best beaches, its hard to find a flaw at the opulent Grand Wailea Resort Hotel and Spa, where beach-side yoga is free every morning. Is there a more perfect way to greet the day?
The Platinum Pebble Boutique Inn, Cape Cod
Pathway to the Platinum Pebble Boutique Inn's yoga studio in Cape Cod.
History meets luxury at this Cape Cod getaway. The property underwent extensive renovations in 2010, upgrading its amenities and decor to fit a modern clientele. But even so, peace and quiet are still front center at the Platinum Pebble Boutique Inn— and nowhere more so than at the secluded yoga studio tucked into the inn's grounds. It's a perfect spot for some isolated meditation.
Natura Cabanas, Dominican Republic
The so-called "Yoga Temple" at Natura Cabanas in the Dominican Republic.
Offering just 10 stone-walled, thatched-roof bungalows, Natura Cabanas is an eco-friendly option in the Dominican Republic. Delicious, fresh food, a gorgeous private beach, and a fabulous spa create a serene, rustic stay — sans TV or AC units. Daily yoga and pilates classes in this "temple" overlooking the beach cap off the peaceful experience.
Sandals Royal Plantation, Jamaica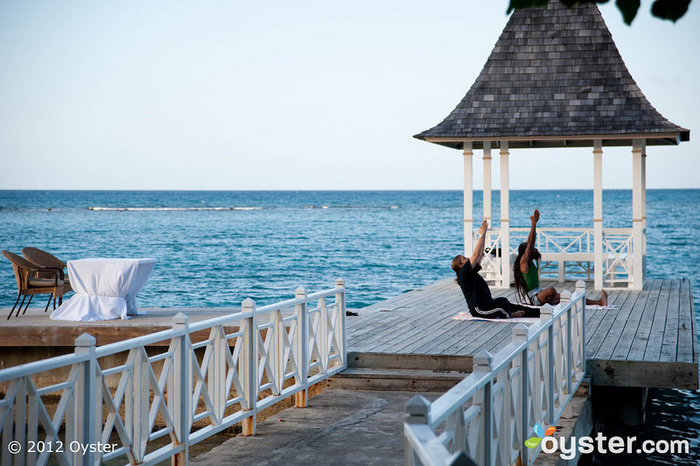 Afternoon yoga on the pier at the Sandals Royal Plantation, Jamaica.
Quietly classy, the colonial-style Sandals Royal Plantation is Ocho Rios' best luxe stay. The adults-only property features excellent food, dedicated service, and a wonderful spa. The amenities are few, but afternoon yoga on the pier takes place several days a week, so you'll have plenty of chances to omm in paradise.
Esperanza Resort, Los Cabos
The yoga center at Los Cabos' Esperanza Resort.
Handsomely appointed rooms are ofttimes large enough for guests to get their zen on without having to venture outdoors at the Esperanza Resort. But venturing is exactly the thing to do here, with a gorgeous beach (though waves are quite rough), amazing infinity pools, and a highly-acclaimed spa where you'll find the yoga center — a large, airy spot that overlooks the pool.
Calistoga Ranch, An Auberge Resort, Napa County
Calistoga Ranch's yoga deck, overlooking the beautiful Napa County grounds.
Royalty, A-list celebrities, and pro-athletes have all called the Calistoga Ranch home in the past — and with good reason. This secluded property in Napa County is in a class all by itself. Guests stay in exquisitely decorated private lodges, enjoy an outdoor heated swimming pool, and get pampered at a phenomenal spa. The outdoor yoga deck, surrounded by Napa's gorgeous greenery, is nothing if not picture-perfect — something we've come to expect from the Calistoga Ranch.
C/O The Maidstone, East Hampton
Yoga Lawn at the C/O The Maidstone.
Appealing to the stylish Hamptonite crowd, the historic yet chic C/O The Maidstone has just 16 trendy rooms and three cottages decorated in Scandinavian design. Yoga classes in the lovely Buddha garden are just one of the hotel's unique, worry-free amenities.
Tensing Pen, Jamaica
The yoga studio in the Seasong Hut at Jamaica's Tensing Pen.
Guests come to Tensing Pen for one reason: to unplug. There are no TVs, no phones, and no radios on the premises — just the breathtaking cliffs of Negril's west end and the boutique hotel's intimate pool, spa, and restaurant. The open-air yoga studio completes the property's vibe as a tech-free, zen-focused haven.
The White Buffalo Club, Jackson Hole
The yoga studio at The White Buffalo Club in Jackson Hole.
Jackson serves as a year-round gateway for tourists visiting the Jackson Hole Ski Resort, Yellowstone National Park, and Grand Teton National Park — and The White Buffalo Clubdoes its best to cater to all of them. For the health set, this yoga studio offers a chance to meditate in a lodge-esque atmosphere, complete with wood paneling and stone walls.
Hotel Vitale, San Francisco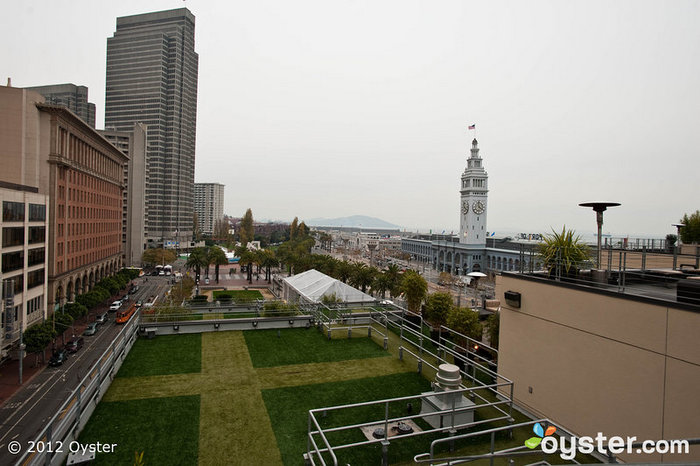 The Hotel Vitale raises the roof when it comes to yoga spaces.
San Francisco's Hotel Vitaleis stylish and luxurious, with an ideal waterfront location near fine dining and several picturesque tourist attractions. The gym itself is small, but the rooftop yoga space feels expansive with the gorgeous views of the harbor it provides (though the area used for lessons is just 500 square feet). Unfortunately, morning lessons are sometimes moved to the lobby level during the hotel's busy season.
RELATED LINKS:
All products are independently selected by our writers and editors. If you buy something through our links, Oyster may earn an affiliate commission.