Tourists in New York City typically experience the city much differently than the average New Yorker. Some of the sights that have visitors claiming they love or hate the city -- think Top of the Rock or M&M'S World -- are places that locals have perhaps visited once and subsequently avoided at all costs. By all means visit these famous attractions, but know that you'll be surrounded primarily by tourists. That said, it's also worth exploring some of the underrated spots throughout the five boroughs to really get a feel for the Big Apple.
1. Times Square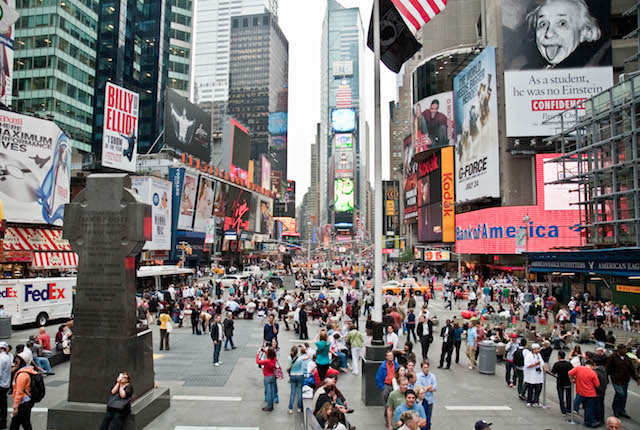 Although it's one of the top tourist sights in the city, many New Yorkers stay as far away from Times Square as possible. While the huge billboards lit up 24/7, array of kid-friendly shopping and dining venues, and street performers are certainly a sight to behold, there are lots of accompanying annoyances. Excessive crowds mean packed sidewalks — often stalled with tourists who have stopped to take a picture — tons of noise, and constant solicitation by comedy club promoters and discount ticket vendors. Also steer clear of costumed characters such as Elmo and Hello Kitty, unless you want to shell out a few bucks after they coerce you into a photo. On the bright side, all of the Broadway theaters are close by, the area is well-policed and never empty, and every major subway line can be accessed from Times Square.
2. Empire State Building
Many New Yorkers have made it to the top of the Empire State Building in Midtown at least once, but there's not a huge appeal to go again. Visits to the top require long lines and hefty price tags (the lower deck costs $37 for adults and $31 for children). You can purchase express passes to skip the queue, but tickets go up to $65 for all ages, and even higher for the higher observation deck. The views are undeniably spectacular, and given that the observation decks — on the 86th and 102nd floors — are open until 2 a.m., it can easily be squeezed into a trip. Still, great views can also be seen from spots such as hotel bars, so you can swap a ticket price for the cost of a cocktail or two. Or, switch it up by taking in vistas of the Empire State Building at one of these 10 hotels.
3. Rockefeller Center Christmas Tree
On an average day, Rockefeller Center attracts a good number of tourists looking to take a picture of the famous gold Prometheus sculpture surrounded by around 200 international and state flags. Around Christmas, that number skyrockets. With the addition of a skating rink, a 75-foot lit-up tree, and angels, Rockefeller Center is a spectacular holiday sight. However, the streets and sidewalks near the display are so packed that they're often in a near standstill, and getting a picture between all the raised arms holding cameras is a feat. Tourists or locals who want to get a glimpse of the tree should go as early or late as possible, as the tree is typically lit from about 5:30 a.m. to 11:30 p.m.
4. Little Italy
Bordered on two sides by SoHo and Chinatown, Little Italy is a three-block stretch of Italian eateries and souvenir shops along Mulberry Street. At one time, a larger area was home to a significant Italian immigrant population, but rising rent prices have resulted in fewer Italian residents and the closing of many eateries. Today, it's mostly made up of cheesy, tourist-centric shops and eateries, where pricey pasta entrees are mediocre. The sidewalk seating and annual pedestrian-only Feast of San Gennaro festival are charming, but hawking waiters, tacky souvenir stores, and overpriced Italian food leave a lot to be desired. Instead, head to one of the many delicious, affordable, and authentic Italian eateries throughout the city — Rubirosa, Juliana's, and Lil' Frankie's are solid options.
5. Brooklyn Bridge (By Bike)
When it's quiet and pleasant outside, a leisurely stroll along the Brooklyn Bridge can be lovely, but biking across during peak tourist times can be torturous. The bike lane, which is narrow and directly adjacent to the pedestrian path, is often filled with selfie stick-wielding tourists who are slowly strolling and stopping to snap a picture. Bikers should be prepared to ring their bell, yell at pedestrians, or better yet, sing like the man who has come to be known as "Bike Lane Hero."
6. Famed Dessert Shops
From Sarah Jessica Parker and Cynthia Nixon biting into a Magnolia Bakery cupcake on "Sex and the City" to John Cusack and Kate Beckinsale slurping Serendipity 3's frozen hot chocolates in "Serendipity," there are some TV shows and movies that have hurled New York City's dessert shops into famous tourist spots. Lines are expected for these sweet treats, as well as at famed cronut-purveyor Dominique Ansel Bakery and loaded-milkshake-slinger Black Tap. Instead of battling crowds for these sugary concoctions, head to Milk Bar for cereal milk soft serve, Zucker Bakery for alfajores, and Insomnia Cookies for late-night ice cream sandwiches.
You'll Also Like:
All products are independently selected by our writers and editors. If you buy something through our links, Oyster may earn an affiliate commission.