NYFW has begun! Already, we've seen plenty of celebs out and about in the city, and most are shacking up in their usual haunts -- i.e. the city's hippest, most luxurious hotels. Take a peek to find out where your favorite celebrity fashionistas might be staying, and then strut on over to that hotel to see them decked out in the hottest trends!
Last Fashion Week, sisters Kim, Khloe, and Kendall — of the Kardashian/Jenner clan — were spotted at the luxe
Gramercy Park Hotel
, one of the most sought-after addresses in all the city. While Kim keeps a residence in New York, Khloe and Kendall were reportedly staying at the hotel.
Models and celebs will definitely be partying late-night at the Empire's hip rooftop bar this NYFW. One of the hottest nightlife scenes in Midtown, The Rooftop is open year-round and features gorgeous views of the Upper West Side. And it doesn't hurt that the hotel is right across the street from Lincoln Center, where numerous designers will be sending models down the catwalk.
Celebrities such as Rihanna have stayed at this hip hotel during NYFWs past because — whether it's for the September or February shows — guests can enjoy a dip in the hotel's indoor/outdoor heated pool that's open year-round. Complete with a sexy pin-up girl mosaic, the pool is not only a popular spot place for a swim, but the attached Gansevoort Park Rooftop is a known celebrity hangout.
Paps may be waiting outside, but with a strict policy on discretion, the staff at The Carlyle will never whisper a peep on which famous guests may be staying at the hotel (after all, JFK and Marilyn Monroe trusted their trysts to the hotel's strict security — and designer Victoria Beckham often chooses this spot as her NYFW home for just that reason). You also may see Nicole Kidman here in the next few days, as she stayed at The Carlyle several Fashion Weeks ago. However, it's also where she was infamously knocked over by a cyclist while on her way to a show, so maybe she'll choose elsewhere.
This chic SoHo hotel has several designers' seals of approval: Calvin Klein has stayed here in the past, and Marc Jacobs even lived here briefly before moving down the street. Nestled among some of the city's most high-end boutiques, it's a great jumping off point for a day of shopping followed by a night of seeing and being seen, and Jean-Georges Vongerichten's Mercer Kitchen, a tasty subterranean restaurant on-site, is a popular spot among celebs as well.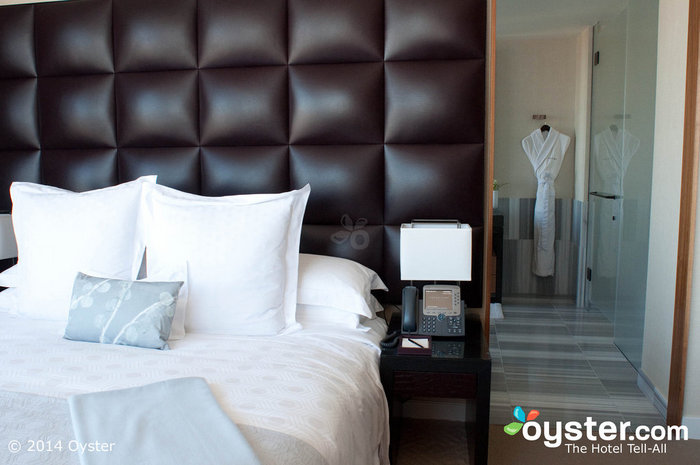 New York is chock-a-block with hip hotels, but none have been as popular among celebrities as the Trump SoHo, particularly during Fashion Week when designers and fashionistas like Rachel Zoe, Jessica Alba, and Jada Pinkett Smith book up its luxe rooms. Perhaps it's because more and more shows now take place downtown or perhaps it's because it's home to one of the most beautiful spas in the city. Whatever the reason, paps have already begun to line up on the sidewalk waiting for stars. (And we know — our offices are right around the corner!)
RELATED LINKS:
Lead image photo credits: Justin Campbell/startraksphoto.com; Jayme Oak/startraksphoto.com; Freddy Baez/startraksphoto.co
All products are independently selected by our writers and editors. If you buy something through our links, Oyster may earn an affiliate commission.