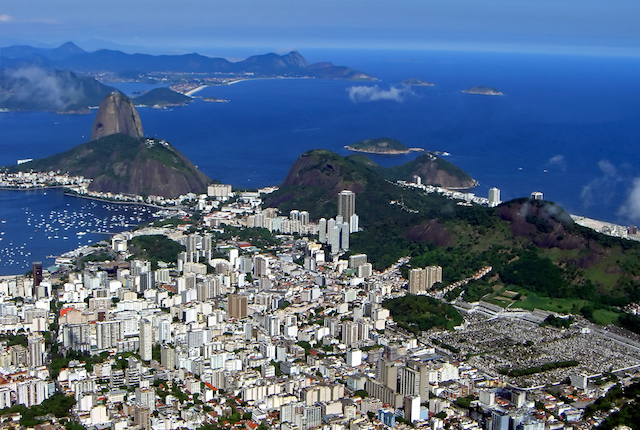 Athletes train their whole lives for a shot at winning the gold at the Olympics, but I too had an Olympic dream: to attend an opening ceremony. Last night, that wish came true.
Having never attended the Olympics before, I wasn't sure what to expect. The anticipation steadily built up on the hour drive to Rio de Janeiro's Maracanã Stadium as well as on the long line to get inside. You could feel an energy in the air that was filled with excitement. You could also smell the bug spray while entering the 75,000-person stadium. The Rio 2016 Olympics were plagued with stories of people avoiding attending due to Zika, and although that didn't seem to be on anyone's mind, folks were certainly taking precautions.
Once inside, however, it was truly magical.
You could tell Rio was taking this moment to be a voice to the world. Before the spectacle began, United Nations secretary general Ban Ki-moon delivered a recorded message that urged battling countries to "lay down their weapons and put aside their differences during the games." There was also a call to end global warming.
Then, like any major televised performance, the audience was given some instructions. A host and performers came out to teach thousands of people some dance moves, how to make an ocean sound by clapping, and when to turn on our phone lights to simulate the starry night sky. After that, the real fun began.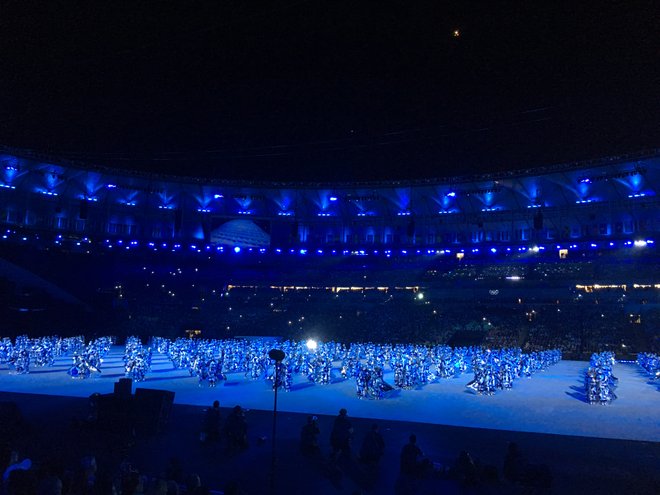 Rio is known for its exquisite shoreline, so the festivities kicked off with dancers mimicking the ocean. We were then taken on a tour through the South American country's history, which featured Amazonians, sailors from the colonial past, buildings rising up from the ground, a Wright brothers-style plane gliding through the stadium, and of course, Gisele. The Brazilian model strutted through the stadium as Rio's famous song "The Girl From Ipanema," played. Glittering in her metallic gown, she waved to the cheering crowd.
While these moments were exciting to watch live in person, it quickly became evident that this was a show for those at home. The 3-D projection mapping looked more impressive on the big screens than if I looked 10 rows in front of me to the floor. That became even truer for the Parade of Nations.
Two rows of performers lined the path where the athletes would be introduced, making it difficult to view the teams. In fact, I found myself watching the screens a lot to see the grand entrances, spot who was holding the country's flags, and get a first glimpse at the specially-designed outfits. This played out better on television than in person — something I wouldn't have expected.
What I did get to witness that those watching at home didn't was what the athletes did after the cameras stopped rolling. This may have been my favorite part. All of these incredibly talented, dedicated, and, dare I say, good looking people from around the world were understandably the most excited to be there that night. And just like I had my phone out snapping thousands of photos, so too were the athletes.
They were posing with each other, taking selfies, and running up to the audience to snap pics. It was remarkable to watch Egypt mingling with Canada and Germany taking pictures with Denmark. There was no cultural divide, no fighting, and no war. It was a moment of pure bliss and peace as these nations came together for one epic competition.
As an American, however, I couldn't help but get a little giddier when Team USA came out. While the in-stadium audience didn't cheer as loud as I thought (Mexico, Colombia, Palestine, and Brazil garnered the loudest roars), our section that was filled with guests of the official timekeepers, OMEGA Watches, and families of the U.S. athletes led a rousing "USA" cheer that caught the attention of our team's competitors.
Then, there was Michael Phelps.
Many of the faces we saw weren't necessarily household names, but Phelps certainly had a presence. He was asked to be the flag bearer and donned a special Ralph Lauren-designed jacket that featured an illuminated "USA" on the back. He was not only an attraction to those in the audience, but also his fellow Team USA athletes. They even stopped to ask him to take selfies before he was privately escorted home to rest up for the next day's events.
There was another athlete that took the stadium by storm, too. Pita Taufatofua, Tonga's flag bearer, entered the stadium in the grandest of ways — shirtless and covered in oil. Not surprisingly, the crowd went wild cheering for him and you could tell he was enjoying his moment. Everyone commented on the athlete and the country's choice to dazzle all of us with his shimmering body. Like with Phelps, the athletes from other countries were in awe of Taufatofua and couldn't stop posing for photos with him.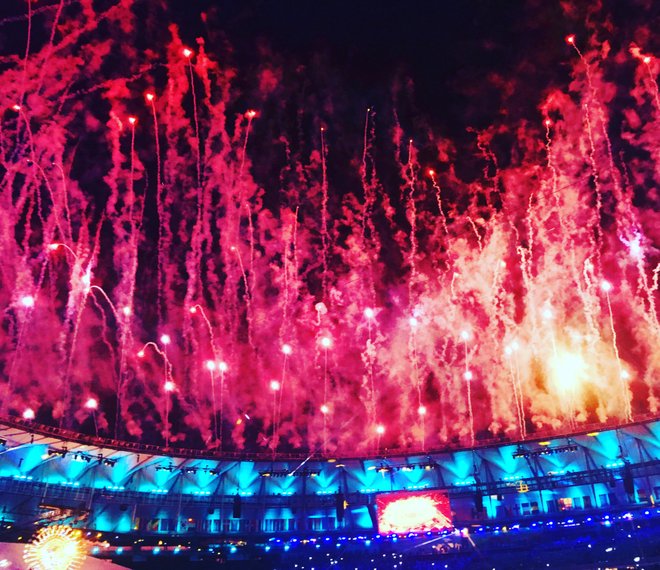 Aside from a cat getting loose in the stadium (yes, really), the rest of the night went off without a hitch. Flags were raised and the torch was lit, all culminating in one eye-catching pyrotechnics display. It was in that moment, as I was looking up at the colorful show and hearing the symphony of music, that it hit me that I was witnessing history. It was as good as gold — everything that Olympic dreams are made of.
Related Stories:
All products are independently selected by our writers and editors. If you buy something through our links, Oyster may earn an affiliate commission.