Stunning mountains, lush rainforest, iconic beaches and nightlife—Rio de Janeiro captivates in a way that few destinations in the world can. The legendary Brazilian city brings the fire, but you'll have to bring common sense and a checklist of rookie mistakes to avoid if you want to do Rio right. Read on for our advice on what not to do when visiting Rio de Janeiro.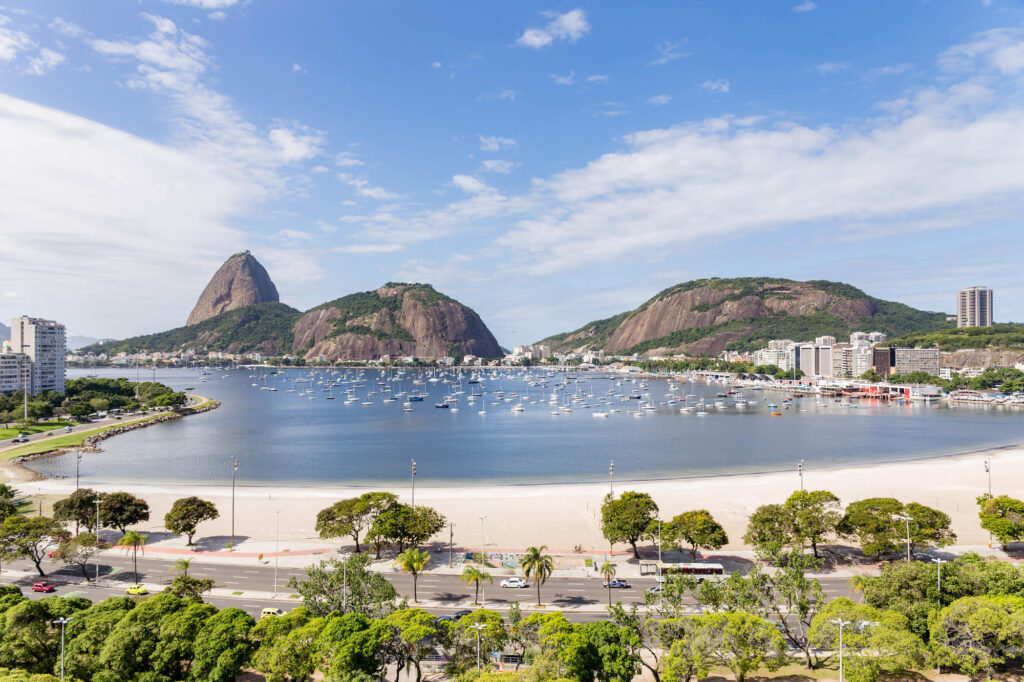 Not planning Christ the Redeemer and Sugar Loaf visits to a T
It would a tragedy to arrive at the base of Corcovado mountain—home to the 100-foot, 700-ton Christ the Redeemer—and realize you could only get train tickets to the top online and in advance. (Official vans are available, but from other points in the city. Plus they're not as thrilling as the steeply pitched, 1885-built funicular.) Likewise, it would be a shame to brave the vertigo-inducing cable car up to the top of Sugar Loaf—one of the many sheer rock formations that make up Rio's iconic shoreline—and not see a thing due to overcast skies. Be sure to coordinate your Corcovado and Sugar Loaf trips for clear days if you want their head-spinning views of the city and ocean. Go to Corcovado as early in the day as possible to avoid sharing the mountaintop with throngs of tourists. And bonus points if you time your Sugar Loaf trip for a late afternoon with clear skies, so you can catch the most unforgettable sunset of your life.
Spending all your time on the beach
Rio's glamorous beaches—Ipanema, Leblon, and the world-famous Copacabana—are what put Rio on the map, and you wouldn't be wrong to spend days soaking up the sun and scene on their white sand. Even so, Rio is a dazzling mix of natural beauty and buzzing city life, and there's so much more to see beyond the shores. Visit the (free!) Parque Nacional da Tijuca, a dense tropical rainforest where locals go to escape Rio's sticky heat and humidity. The protected jungle has soaring waterfalls and spectacular view points.
Founded in the 1808 by an exiled Portuguese king, the Jardim Botânico do Rio de Janeiro is a 340-acre oasis of animals, lakes, birds, and butterflies. The garden is home to an avenue of more than 100 towering Imperial palms—you're definitely going to want a selfie here, so consider wearing bright colors.
Other Rio attractions include the famous hilltop church in Gloria, Museu Casa do Pontal (the largest folk-art museum in Brazil), Quinta da Boa Vista (a beautiful public park that's home to Museu Nacional and Rio Zoo), and sporting events at Maracana, the historic stadium where Pele scored his 1,000th goal.
Not being savvy about your beach-going
But since you definitely are going to the beach for at least part of your time in Rio, let's go over a few key things. One, do as the locals do and bring a sarong (called kangas here) instead a hefty beach towel. Two, be super-diligent about sunscreen. Opt for a high SPF (50 or above) and reapply regularly. Don't bring anything of value with you to the beach—swap your full wallet for a small amount of cash (for buying coconut water and icy beer or renting a beach chair and umbrella), take cheap sunglasses over a designer pair, and leave your fancy camera at the hotel. Pay attention to warnings about water conditions; strong undertows are a real threat and don't go in the water when a red flag is up. (Rio's beaches are more of a social and sports hub than a place for serious swimming.) Ask your hotel's front desk staff about the day's pollution levels. Be cool when you see locals donning skimpier beach garb—Speedo-like suits, thong bikinis and one-pieces—than is typical to American beaches. And finally, avoid the beach at night.
Missing traditional samba
You can't really consider your Rio visit complete until you've seen live samba, music so quintessential to Brazil it is part of its national identity. Head to Rio's avant-garde Lapa neighborhood for a night at the bars, music venues, and dance clubs, or even samba street parties beneath Arcos da Lapa, a stone Roman-style aqueduct built in the mid-18th century.
Not booking ahead around Carnival and New Year's Eve
The wild, drunken revelry that is Carnival goes down all over the world, but nowhere lives it up like Rio de Janeiro. For four straight days, the city becomes a round-the-clock party, with flowing booze and booming brass bands and samba beats. New Year's Eve (Reveillon) is also a riotous good time, when thousands of white-clad partiers take to Copacabana Beach for music, fireworks, and a beautiful flower send-off in the water. To experience the festivities requires careful planning, as both fall during expensive (and wickedly hot) summer season and Rio hotels fill up months in advance. For Carnival, book tickets to the parade well in advance, research the blocos (street parties) ahead of time, and make a plan based on what you want to see. Once you're there, be sensible. Carry only the cash you need that day, don't wear expensive jewelry or sunglasses, pre-determine meet-up points in case you get separated from your travel companions, and stay hydrated and well-sunscreened at all times.
Exploring the favelas without a guide
About a third of Rio's population lives in a favela, a cinder-block shantytown hugging the hillside. If you're interested in seeing one on your trip, do it through an established and respected outfit. This educational tour guide offers four-hour tours to Rocinha, the largest and most well-established of Rio's 500 favelas. Here, you'll see the residents' way of life and get the opportunity to purchase crafts (buy something).
Packing more than you need in your day bag
Although the city is generally safe for tourists, crime is a sad part of Rio life. Keep all valuables close to your person (consider bringing a money belt or a flat cross-body bag) and don't bring more than you need for the day: some cash and one credit card. After making credit-card purchases or withdrawing cash from an ATM with your debit card, keep an eye on your bank account, as card cloning or skimming is not unheard of. When not using your phone and camera, tuck them away out of sight. Be cautious of children asking for money, as young pickpockets often work in groups. Don't bring anything valuable to the beach, and avoid the beach altogether at night.
Expecting a hotel with direct beach access
Although Rio is synonymous with epic beaches, a relatively few of the city's hotels face the beach. And even Rio's beachfront hotels are in fact separated from the sand by Avenida Atlantica. There's one exception, and that's the Sheraton Grand Rio Hotel & Resort, the very first international chain hotel in Rio and still the largest hotel in town. Located in upscale Leblon, the Sheraton offers direct access to a beautiful bay beach.
Skipping public transit
Rio's traffic jams are legendary, but its safe, efficient, and recently extended metro/light rail system makes a great alternative to the choked city streets. Stick to a taxi or Uber once the sun sets, though. Cabs are plentiful, affordable, and safe, but do check that the driver's ID card is properly displayed. Ubers are widely available here, often for even cheaper than a taxi (rides start at about $1.50). If you choose to rent a car in Rio, know what you're getting yourself into, as roads aren't well-marked, parking isn't easy to find, traffic is maddening, and speeding is the rule, not the exception. Rio has a bike-path system (including a beachfront route connecting Leblon and Parque do Flamengo), with orange rental bikes located around downtown and Zona Sul, the tourist-friendly South Zone.
Shopping at Rio's malls
Cariocas (Rio natives) look flawless at all times and you're going to want to shop where they shop. However, the malls in Rio are expensive and many of them are out of the way. Instead, visit the sprawling market at Uruguaiana and the 1,200-plus street vendors in neighboring Saara, where you'll find the cheapest prices in the city on everything from clothing, Carnival costumes, and beauty products to electronics, toys, and souvenirs. Just be aware that this is very much a place for locals, not tourists, so take precautions not to stick out as one. And for name-brand products, be wary of dupes.
Going to artsy Santa Teresa early in the week
To really experience charming Santa Teresa and its cafe culture to the fullest, time your visit for a Thursday through Saturday. Many neighborhood bars and restaurants don't open earlier in the week, and weekends are the time when local plazas come alive with street parties and vendors peddle beer and cocktails.
Sticking to formal restaurants
Sit-down restaurants are pricey in Rio, but there are so many cheaper and just-as-tasty ways to feed yourself. Rio's budget-friendly street eats are a blend of European, international (including African, Chinese, and Japanese), and local flavors. For breakfast, grab a pastel—a deep-fried turnover similar to an empanada—stuffed with ground meat, shredded chicken, heart of palm, and other savory fillings. Another essential bite is a tapioca, a pancake made from tapioca (aka cassava) flour and filled with sweet or savory ingredients. And finally, even though you will encounter classic pao de queijo at most sit-down restaurants and buffets, don't miss trying a fresh batch from a street vendor. The mildly flavored, delightfully squishy buns are a mix of springy tapioca flour and Minas Gerais cheese.
Not learning a few key phrases
Rio isn't Rome or Punta Cana or another major international tourist destination where English is rather commonplace. Outside of the hotels, you can't expect to find English spoken and understood. You'll do well to learn a handful of key phrases; start with:

—ola ("hello")
—bom dia/tarde/noite ("good morning/afternoon/night")
—por favor ("please")
—obrigado/obrigada ("thank you")
—desculpe ("pardon me")
—a conta ("the check")
—cuanta custo ("how much?")
—fala Ingles? ("do you speak English")
Hotel Pick:
You'll Also Like:
All products are independently selected by our writers and editors. If you buy something through our links, Oyster may earn an affiliate commission.